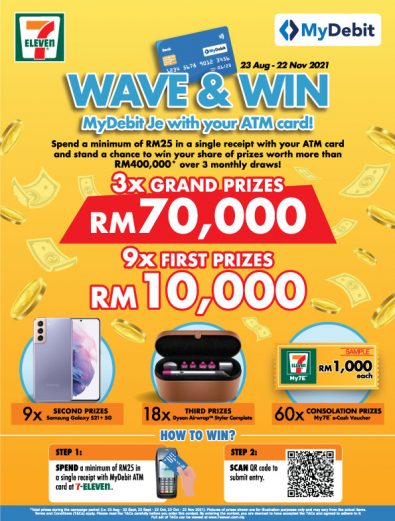 KUALA LUMPUR, 24 August 2021 – 7-Eleven Malaysia, in collaboration with Payments Network Malaysia Sdn Bhd ("PayNet"), the operator of the MyDebit card scheme, launched the MyDebit Je with Your ATM Card "Wave & Win" contest earlier today.  The contest will run for 3 months until 22 November 2021 to encourage more 7-Eleven customers to make cashless payments.  To participate, customers just need to purchase a minimum of RM25 in a single receipt at any 7-Eleven store nationwide using their MyDebit ATM card and submit their entries by scanning a QR code.  Successfully submitted entries stand a chance to win a share of prizes worth more than RM400,000.
Every month, 33 lucky winners will be announced.  Participants can increase their odds of winning by submitting as many entries as they can.  Irresistible prizes to be won throughout the contest include 3x RM70,000 cash (Grand Prize), 9x RM10,000 cash (First Prize), 9x Samsung Galaxy S21+ 5G (Second Prize), 18x Dyson Airwrap™ styler Complete (Third Prize), and 60x 7-Eleven RM1,000 My7E e-Cash Voucher (Consolation Prize).
7-Eleven Malaysia's General Manager of Marketing, Ronan Lee said: "In line with the Government's efforts to move towards a cashless society, we endeavour to promote digital payment adoption in our stores.  This campaign is the ideal way to thank our customers by rewarding them with double benefits – providing them with convenience and a chance to win fantastic prizes."
"Besides encouraging the use of cashless payment methods – such as MyDebit ATM card – that are safe, convenient, and seamless, we strive to enhance our customers' shopping experience by providing further convenience with a wide array of in-store services such as bill payment and reload services and the acceptance of credit cards and e-wallets.  We want our customers to enjoy maximum convenience when shopping with us," Lee added.
"PayNet is pleased to partner with 7-Eleven to increase the use of the MyDebit ATM card in the everyday spend segment as well as to encourage more Malaysians to adopt cashless payments.  With 47 million cards in circulation, the MyDebit ATM card provides a hygienic, safe and convenient payment option for the Rakyat amid the uncertainty and challenges of the Covid-19 pandemic.  Through the contest and with 7-Eleven's stores spread across urban and rural locations nationwide, we aim to increase awareness on the convenience of using the ATM card which also functions as a debit card for making cashless payments.  We want to make cashless payments a way of life," said Peter Schiesser, Group CEO of PayNet.
For more information on the MyDebit Je with Your ATM Card "Wave & Win" contest and full terms and conditions, visit www.7eleven.com.my or follow 7-Eleven Malaysia's official social media pages at 7ElevenMalaysia.