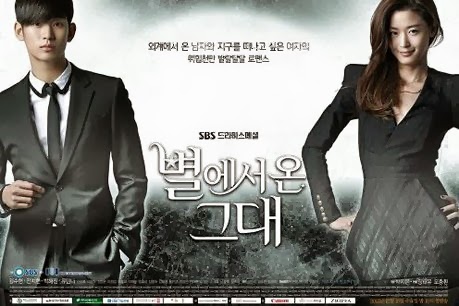 The hugely popular South Korean drama You Came from the Star (
별에서
온
그대
), which ended its last episode on 27 February 2014, has unintentionally ignited a rising interest for Korean-style fried chicken and beer. The South Korean beer and seasoning industry has to thank the script writer for making the female protagonist a huge fan of fried chicken and beer as her favourite supper treat.
In the drama, Jun Ji Hyun is repeatedly shown eating fried chicken with beer,  a common food combination available in the thousands of hof (호프) or Korean style bar or a place that serves fried chicken with beer in South Korea. Local beer and increasingly imported craft beer are sold in such premises.
The fried chicken and beer effect is felt strongest in none other than China where two of the online video platforms have bought the right to screen the drama the same time as it was broadcast in South Korea. Apart from the romance and the star-studded casts, Chinese K-drama fans have developed a strong interest in fried chicken with beer. One of the hottest topic on blogs and BBS in China is eating fried chicken with beer. Even the local Chinese media has caught up with the frenzy but cautioned readers that excessive consumption of beer with fried chicken is bad for health.
"If you love her, just give her fried chicken and beer"
China's Jiangsu Telecom even had a promotion from 27 February 2014 to 2 March 2014 where fried chicken with beer will be given for every purchase of designated Samsung smartphones. Samsung is the smartphone brand used in the drama.
For South Korean beer makers like Hite, now is a good time to renew their push into the Chinese beer market riding on the strong interest of such a unique food combination in China.