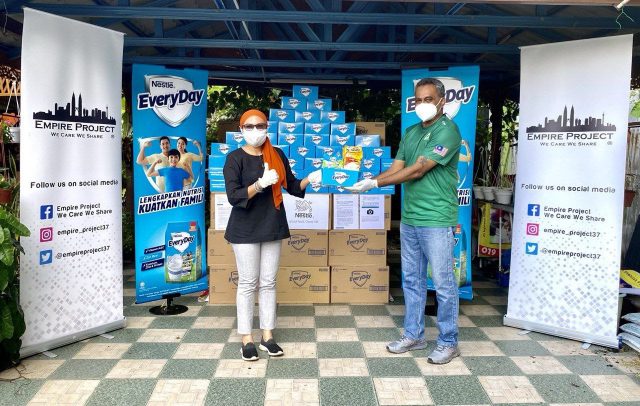 Petaling Jaya, September 8, 2021 – In an effort to provide immediate nutritional support to the urban poor and vulnerable communities, Nestlé EVERYDAY® recently teamed up with a local non-governmental organisation (NGO), Persatuan Empayar Kebajikan Malaysia (Empire Project) to distribute more than 20,000 "Bekalan Nutrisi" packs to B40 families.
This community initiative is part of Nestlé EVERYDAY®'s "Bekalan Nutrisi" campaign with the aim of educating Malaysians on the importance of good nutrition for health, while facing various challenges during the COVID-19 pandemic. Each pack contains NESTLÉ EVERYDAY® Milk Powder 300 gram and NESTUM® All Family Cereal 250 gram, providing essential vitamins and minerals to support children's growth and family's well-being. A healthy and balanced diet is vital to maintaining a healthy immune system to prevent, fight and recover from health challenges, paving the way for all to stay resilient.
Ms. Lam Pui Yuee, Business Executive Officer of Milks Division, Nestlé (Malaysia) Berhad, said, "It is a critical time now to ensure that all Malaysians, especially the underprivileged B40 families, have access to basic nutrition. Faced with financial challenges as well as a sedentary lifestyle amidst the COVID-19 pandemic, many familes and young children are deprived of a proper and  balanced diet.  It is our hope that we will be able to raise awareness and cultivate beneficial change towards improving nutritional intake especially amongst the vulnerable communities."
A study by UNICEF and the United Nations Population Fund (UNFPA) titled "Families on the Edge" (May 2021)[1]  revealed that, there are increased concerns about the rising food and nutrition insecurity among low-income families during the pandemic, as malnutrition and obesity are prevalent in Malaysia's B40 community.
According to Puan Suria Binti Jamaludin from PPR Desa Rejang, "We truly welcome this generous contribution from Nestlé EVERYDAY® and the Empire Project with open arms, especially for the poor and those who are facing hardships due to the pandemic. There are currently more than 2,000 households here in PPR Desa Rejang that are in need of food contributions. Many of the children within our community here are not meeting their minimum food and nutritional requirement because the families couldn't afford it. Therefore, we are truly fortunate and blessed that this 'Bekalan Nutrisi' packs will provide us the much-needed energy and nutrients to stay healthy and active during the pandemic."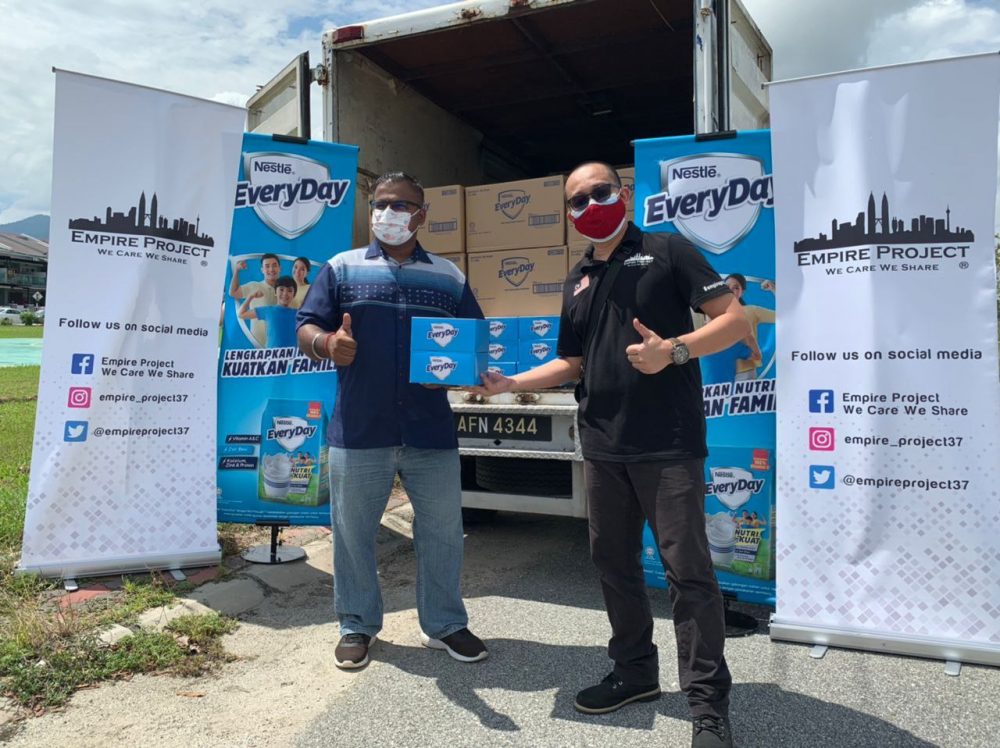 The Empire Project has been operating for the past four years as an independent individual carrying out charitable activities across Malaysia including the COVID-19 Food Aid foodbank and feeding the homeless. Empire Project Founder, Encik Mohd Ashraff Khan said that the COVID-19 pandemic has had an unprecedented impact on low-income families, with severe consequences for children's welfare and wellbeing. The number of people in need of food assistance has increased threefold as compared to last year. "I hope more people and organisations will stand together for Malaysia and continue to help each other," urged Ashraff.
Meanwhile, Encik Abdul Razak Bin Mamut from PPR Ayer Panas which is also a beneficiary of the 'Bekalan Nutrisi' packs shared that some families had to choose between paying household bills or buying food. And that the growing malnutrition crisis in Malaysia is indeed concerning. He expressed gratitude on receiving the generous contributions from Nestlé EVERYDAY® for the residents at PPR Ayer Panas.
"We at Nestlé are conscious of the challenges faced by the low-income families, which has resulted in nutrient deficiencies in these B40 communities. Our ongoing commitment to nutrition is reflected in our continued effort to ensure that we are able to provide tasty, affordable and nutritious high-quality products to all Malaysians and we will continue to support those who are in need," added Pui Yuee.
Additionally, Nestlé has also partnered with ElewsMart to provide Malaysians a convenient way to contribute for a good cause. With a minimum purchase of RM15 on any Nestlé's Milk products namely NESTLÉ EVERYDAY®, NESTLÉ OMEGA PLUS®, NESPRAY® and NESTUM® at ElewsMart outlets across Selangor and Kuala Lumpur, customers will receive one 'Bekalan Nutrisi' pack (whilst stocks last) which can also be donated to ElewsMart for its foodbank distribution.
For more information about 'Bekalan Nutrisi' campaign, please log on to https://www.dearnestle.com.my/milks-bekalan-nutrisi