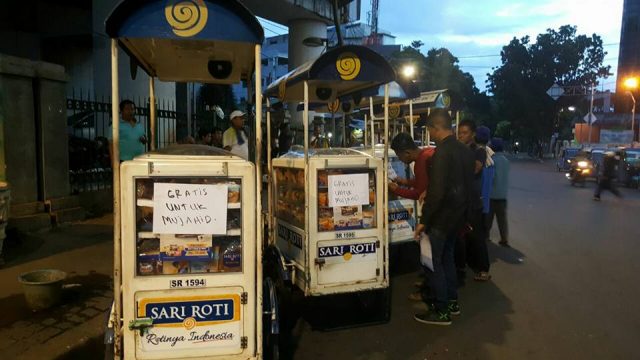 PT Nippon Indosari Corpindo Tbk (Sari Roti), Indonesia's biggest packaged bread manufacturer, has become embroiled in a public relations nightmare after the company dissociated itself from the 2 December 2016 (212) rally. At first, Sari Roti was viewed positively for its 'actions' in the rally but now the company is subject to consumer boycott.
Customer initiative brings unexpected goodwill but plants seeds of controversy
A "donor" coordinated to have a number of Sari Roti hawkers on tricycles distributing Sari Roti during a massive rally against Jakarta's major Ahok on Friday over blasphemy claims. The 212 rally saw at least 150,000 people from all over the country congregating at the National Monument in central Jakarta calling for Ahok to be jailed on blasphemy charges. (Image below from The Jakarta Post)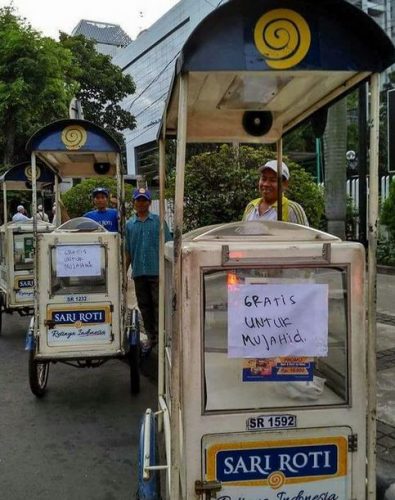 The participating Sari Roti carts carried the sign "Gratis untuk Mujahid" (Free for Mujahids). Images of these Sari Roti vendors distributing bread for free went viral and received a lot of praises from a section of the society.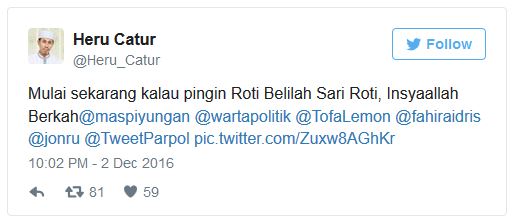 When PR turns bad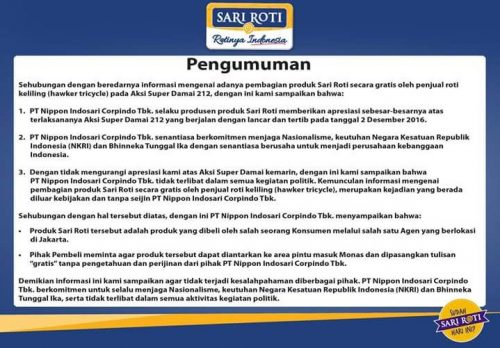 Soon after images of Sari Roti vendors participated in the 212 rally appeared, Sari Roti issued a press release to distance itself from the rally. The company claimed the distribution of the free Sari Roti was the actions of an individual acting without the official sanction from the company.
The company said it is appreciative that the 212 rally (Aksi Super Damai 212) went smoothly and with discipline. The company claims it is committed to safeguarding nationalism, protecting the sovereignty of the Republic of Indonesia and Bhinneka Tunggal Ika (Unity in Diversity). [This is when the statement starts to become political].
The company added it is "not involved in all sorts of politics" [A lot of people feel that the company is linking the 212 rally to politics.]
Here a person with the name Arini Al-kahfi sums up the reaction towards Sari Roti's statement, which suggests the 212 rally is political and is destabilising the country and 'Unity in Diversity.'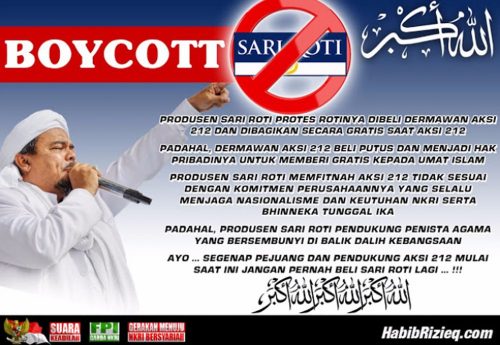 Muhammad Rizieq Shihab (image above) also known as Habib Rizieq is an Indonesian Islamic scholar, activist, the founder and the mastermind behind the Islamic Defenders Front. He is urging consumers to boycott Sari Roti.
What should be done instead
What the company should do is make use of the situation and thank the people for showing interest in Sari Roti. The company can then briefly explain the distribution of the bread at the rally was not officially done by the company but by an individual without the company's knowledge. Sari Roti can end the press release by thanking the support of its loyal customers and possibly add in some promotions. This helps the company to steer clear from sensitive subjects like religion and politics, which is often divisive.