Dairy powerhouse
Iran is a dairy powerhouse in the Middle East. According to the head of Holstein Association of Iran, Mohammad Reza Sanjabi, the country is the Middle East's second biggest exporter of dairy products after Turkey. By the end of the Iranian year (20 March 2017), dairy product exports from Iran would expect to reach USD 650 million, said the Dairy Industries Association of Iran  cited by Financial Tribune on 19 December 2016.
Iraq is a main export destination for Iranian milk. Iraq imports from Iran some 20% of the USD 600 million dairy products it bought from abroad, according to Ali Roumi, managing director of Food, Agriculture and Pharmaceuticals Holding of the Civil Servants Pension Organization.
Key players
The key players are Iran Dairy Industries Co. (Pegah), Kalleh Dairy Company, Mihan Dairy Group, Sahar Dairy, Damdaran Holding, Teen Dairy Products Company and Pak Dairy Company. Listed on the Tehran Stock Exchange are Pak Dairy, Kalber Dairy, Isfahan Pegah Dairy, Khorasan Pegah Dairy and West Azarbaijan Pegah. The revenue of one of the top players,  Kalleh, was expected to reach USD 300 million for the 12 months ending March 2016.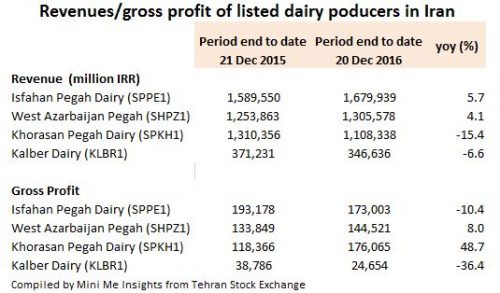 Top brands in dairy
The top brands in dairy as announced by the Trade Promotion Organization of Iran for the year ending 20 March 2017 are Kalleh, Pegah and Mihan.
Mihan Dairy Group was the 10th largest seller of ice cream in the world in 2015 with sales of USD 575 million, according to Euromonitor. Mihan's corporate website claims it has 65% of the market share in ice cream and 50% of the market share in UHT milk.
Below are some examples of liquid milk in Iran.
Lactose free
Lactose free UHT milk by Kalleh. The price is IRR 34,000 for a 1L in Tetra Pak carton packaging.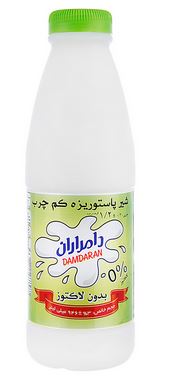 Damdaran lactose free milk. Priced at IRR 24,840 for a 1 litre in a plastic bottle.
Low lactose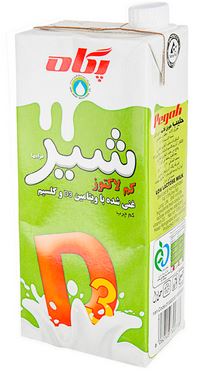 Pegah low-lactose vitamin D3 fortified milk is selling for IRR 34,300 (1L – Tetra Pak).
Fortified milk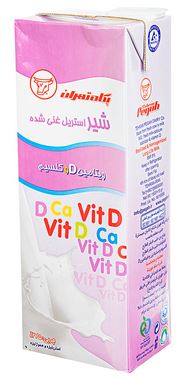 This Pegah UHT milk is fortified with Vitamin D and C and has calcium. The selling price is IRR 49,000 per 1.5L in Tetra Pak.

Milk by لیتری پاک  is fortified with vitamin D3. The price is IR 26,000 per 1 litre pack in a plastic bottle.
Enriched with Omega 3

Pasteurised low fat milk enriched with omega 3. It is made from fresh cow's milk. The fat content is 1.2 ± 0.2% gram. It is made by Teen Dairy. The volume is 946ml ± 3%ml and the price is IRR 23,000.
Flavoured milk – Cocoa Milk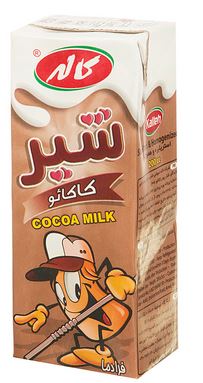 This Kalleh Cocoa Milk is priced at IRR 12,000 per 200ml.
Coffee milk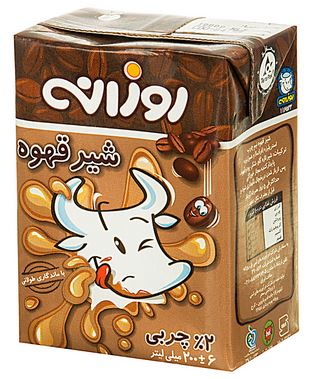 Coffee milk from Bel Rouzaneh, the joint venture between Bel and Sahar-Dairy. This 200ml coffee milk is sold at IRR 9,800 and comes in a Tetra Pak.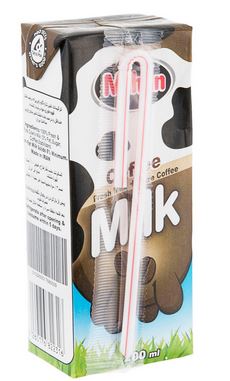 Mihan Dairy's coffee milk made from fresh milk iselling at IRR 9,700 for 200ml (Tetra Pak).
For children in triangle pouch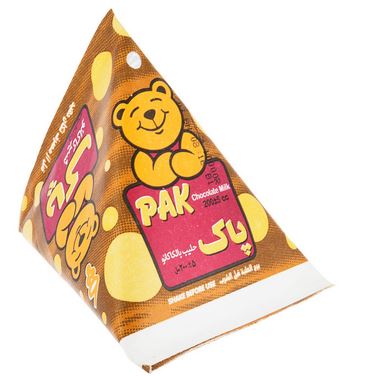 Pak chocolate milk in triangle pouch retailed at IRR 9,000 per a 200ml pouch.
Honey milk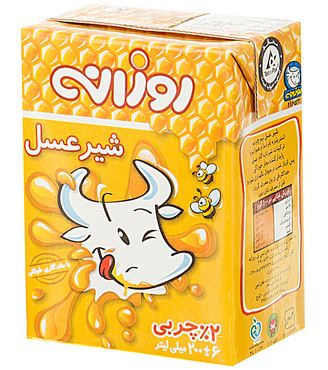 Honey milk from Bel Rouzaneh retailed at IRR 9,800 for a 200ml pack in Tetra Pak.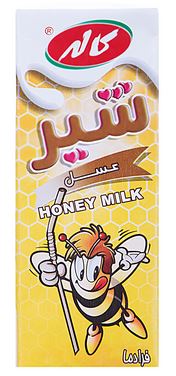 Kalleh honey milk is priced at IRR 13,300 for 200ml.
 Cantaloupe milk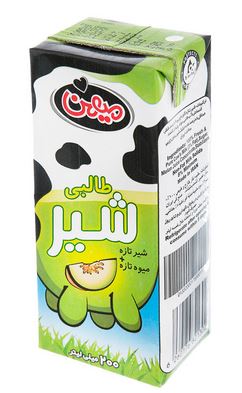 Mihan Dairy's cantaloupe milk in 200ml Tetra Pak selling at IRR 9,700.
Strawberry milk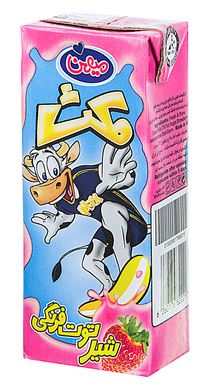 Mihan Dairy strawberry milk priced at IRR 9,700 for a 200ml in Tetra Pak.
Banana Milk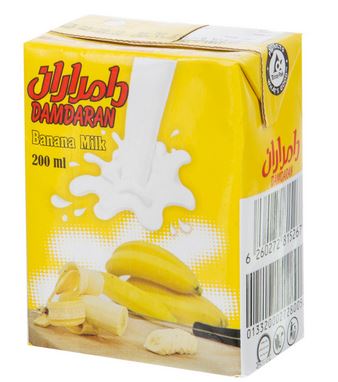 Damdaran's banana milk is 200ml Tetra Pak selling at IRR 11,040.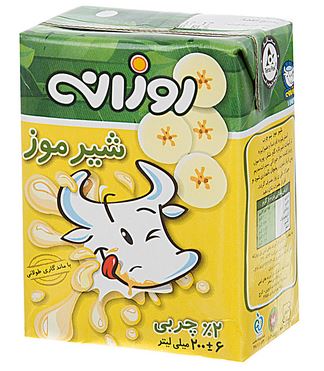 Banana milk (200ml – Tetra Pak) from Bel Rouzaneh selling at IRR 11,760.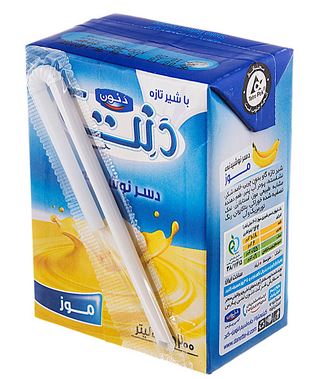 Danone Danette banana milk dessert is priced at IRR 12,600 for a 200ml in Tetra Pak. The Danone Danette range comprises the honey, cantaloupe, chocolate coconut, cappuccino, banana, and chocolate flavours.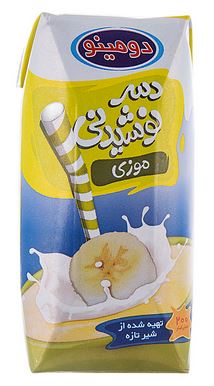 Dairy banana dessert drink 200ml selling at IRR 13,300 produced by Domino Dairy & Ice Cream Co.
Carrot milk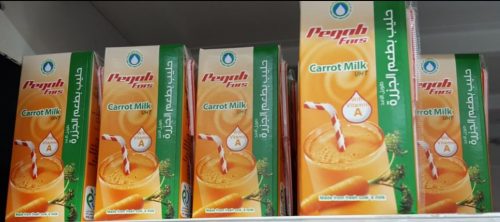 Pegah carrot milk (IRR 11,600).
Rose water and saffron milk

Pegah rose water UHT milk (IRR 12,350) and Pegah saffron UHT milk (IRR 13,300).
Date milk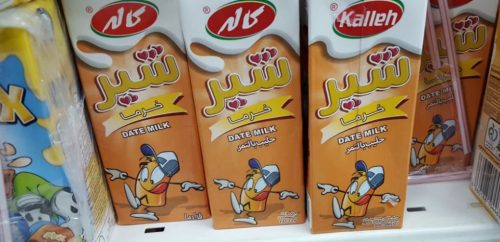 Kalleh date milk 200ml – IRR 12,350.
What Mini Me thinks
Saffron, rosewater and date flavoured UHT milk are interesting examples of localised flavours for UHT milk.
As for the banana flavour, it is not at all a surprise to see banana is popular with Iranians. The fruit is widely sold on the streets. Iran does not grow bananas. It has to import from countries like Ecuador,  India and Costa Rica. What surprises me is the acceptance of banana as a flavour in milk.
It is also interesting to discover there are lactose-free and low-lactose liquid milk options considering the fact that dairy is important in the Iranian diet. Dairy is eaten from young. But there is a section of society that faces the problem digesting lactose and this opens up the opportunity for lactose-free dairy products.