In Indonesia, the packaging size of Aje Big carbonated soft drinks with the recommended price appears to have shrunk from 535ml to 425ml. At the same time, the suggested retail price for the flavoured variant (eg strawberry) has been reduced to IDR 3,000 (USD 0.23) from IDR 3,250, while the price of the cola variant remains unchanged at IDR 3,000. In addition to the reduction in volume and price, the packaging design has been given a makeover.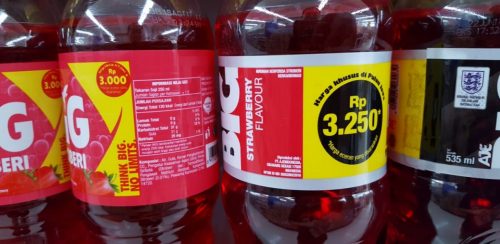 New pack size on the left. Image above was captured by the author

No price hike for years
Since it was introduced in 2010, Aje Big Cola (535ml) has always been sold at IDR 3,000. Speaking to MIX Marcomm magazine in 2015, PT AJE Indonesia Commercial Director M Aswan Nasution said the brand has not increased its price since 2010. The most likely reason for the capping of the price at IDR 3,000 was Aje Indonesia was focusing on winning the volume game in competition with Pepsi and Coca-Cola.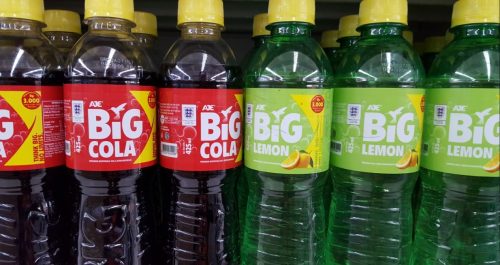 All Aje Big flavours now have a size of 425ml. Image above was taken by the author
Product launching timeline
Big Cola 300ml – October 2014
Sporade isotonic drink – October 2014 (likely to be have been withdrawn from the market)
Big Fress carbonated juice drink – 2015
Cielo bottled water – April 2015
Versus competitors
With the new price at IDR 3,000, the 425ml Aje Big Strawberry (PET) is still cheap compared to Coca-Cola's 390ml (PET) at IDR 4,000 and Pepsi's 410ml (PET) IDR 5,520 (promotion price IDR 3,680). The new price and volume nevertheless ensures Aje Big still continues to have a competitive edge over its rivals.
Existing 535ml with new packaging for c-store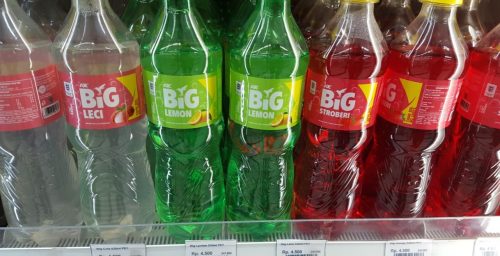 It is a different scenario at 7-Eleven (image above) where the 535ml packaging size survives and comes with the new packaging. The recommended selling price is not stated on the packaging as the convenience store charges a higher price for the convenience offered. The 535ml drink is priced at IDR 4,500 at 7-Eleven.