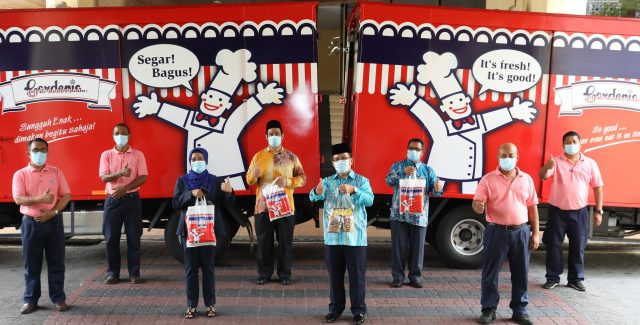 Gardenia Fulfils COVID-19 Aid Distribution, RM 1 Million Allocation Benefits Over 90,000 Front Liners and Underprivileged Communities
Shah Alam, 30 September 2021 – Malaysians have come forward to show true generosity and selflessness in the face of adversity over the past 18 months, helping each other survive and navigate the pandemic, particularly enriching the spirit of Merdeka and Malaysia Day this year. Similarly, Gardenia Bakeries (KL) Sdn Bhd (Gardenia KL) stepped forward to support front liners and B40 households since March 2020 through the Gardenia COVID-19 Aid Programme. It has since fulfilled the distribution of RM1 million in aid, benefitting over 90,000 recipients comprising front liners and underprivileged communities.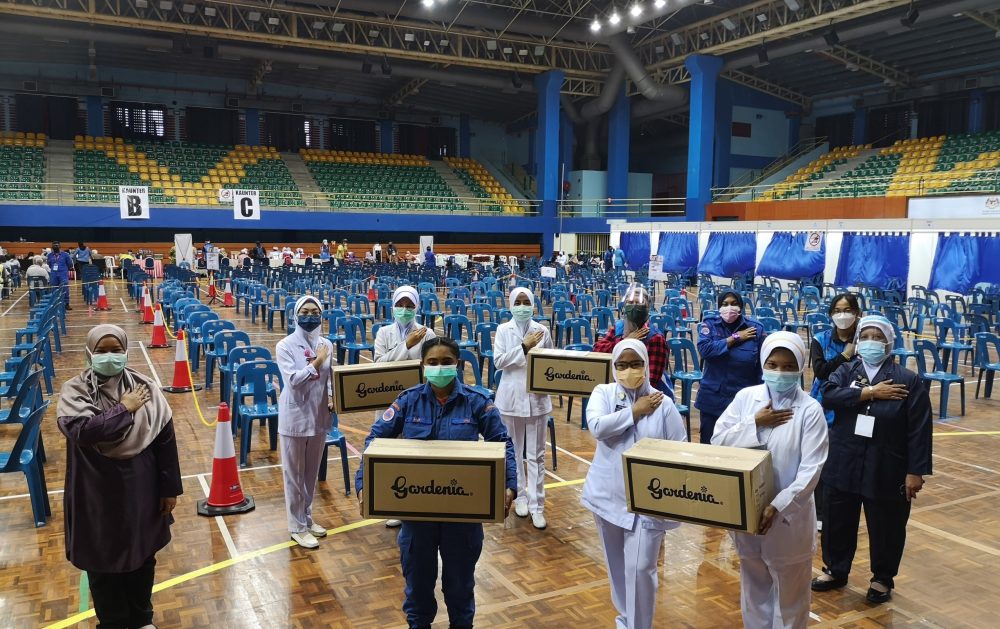 Gardenia KL Corporate Affairs and Public Relations General Manager, Hazlinah Harun, said, "We believe everyone has a role to play in helping Malaysia emerge from the pandemic stronger than ever. As a brand that cares, Gardenia KL is fortunate to be in a position to help keep our front liners fuelled through the long hours and alleviate some of the burden B40 households face. We thank our team of volunteers who diligently worked to ensure timely distribution of aid under the Gardenia COVID-19 Aid Programme over the past 18 months. Our heartfelt thanks also to Gardenia KL's community partners who helped increase the reach of our aid to the most vulnerable communities."
The Gardenia COVID-19 Aid Programme was rolled out across eight phases from March 2020 to August 2021. Through the programme, Gardenia KL distributed over 500,000 Gardenia products to more than 90,000 recipients comprising medical frontliners at 500 vaccination centres throughout Peninsular Malaysia, economic front liners such delivery riders, and B40 households. Additionally, aid was also extended to support university students relying on the Varsity Food Bank programme.
Centre for Orang Asli Concerns (COAC) volunteer, Koong Hui Yein shared, "We're very thankful to Gardenia KL for their support in delivering food aid to Orang Asli communities affected by the first MCO. The sight of the Gardenia trucks arriving in Kampung Sungai Mai in Jerantut, Pahang was a heart-warming moment."
The prolonged Movement Control Order (MCO) implemented to curb the chain of infection saw numerous small and medium businesses close permanently, leaving many unemployed and struggling to make ends meet. In this light, Gardenia KL was attentive to the financial implications of the pandemic on daily wage earners, particularly communities around two of Gardenia's largest factories. Picking up on a desperate request from the Kampung Bukit Naga residents in Bukit Kemuning, Gardenia KL contributed a special cash aid totalling RM55,000 across three months in April and May 2020, and January 2021, as part of its COVID-19 Aid Programme.
Offering insights from the situation on the ground, Kampung Bukit Naga village head, Abdurrahman Misbah, who opened up his home to serve as a food distribution centre for the needy shared, "On some days, there are as many as 50 household heads, including foreigners, who come by my house to collect the food aid. Some had no more money to buy powdered milk for their toddlers and no food for their children. Thankfully, the communities have been generous with their donations, and their kind gesture has allowed us to continue providing for needy families." He added that residents consisted of the urban poor, odd-job workers, and single mothers.
In an effort to maximise the reach of its aid, Gardenia KL worked closely with community partners including the Social Welfare Department (JKM), COVID-19 Immunisation Task Force (CITF), Malaysian Muslim Consumers Association (PPIM), Zakat Collection Centre of the Federal Territory Islamic Religious Council (PPZ-MAIWP), and Federal Territories Islamic Religious Department (JAWI), Oasis of Hope (Pertubuhan Kebajikan Oasis Harapan), Pertubuhan Sukarelawan Kita Kawan, and Absolute Malaysia (AMAL) among others.
JKM recounted the teamwork between JKM staff with the help of the Malaysia Civil Defence Department (APM) and Malaysian Volunteer Corps Department (RELA). Collectively, the Gardenia COVID-19 aid food items distributed by JKM benefited over 13,000 recipients comprising the poor, disabled, elderly, and families caring for orphans. Moved by Gardenia KL's willingness to help Malaysians affected by the pandemic, JKM hopes to continue the noble joint-effort for the benefit of underprivileged communities.
Gift bags prepared under the Gardenia COVID-19 Aid Programme comprised a combination of favourites such as Gardenia's Original Classic bread, Auntie Rosie's Original Homestyle Kaya, Delicia Toaster Waffles, NuMee Gardenia, as well as cream rolls, and muffins. Aid distributed in conjunction with festivities during Ramadhan and Hari Raya Aidil Fitri included additional items such as dates and seasonal cookies respectively.
"The successful fulfilment of our RM1 million COVID-19 aid pledge is another milestone in our legacy as a brand that cares. We realise that the journey to recovery is on-going, so we remain attentive and actively present in communities that need a helping hand. We also take this opportunity to encourage communities to stay vigilant in observing all health guidelines to ensure the wellbeing of everyone. We are optimistic that together we can break the chain of infection as a resilient nation," Hazlinah concluded.