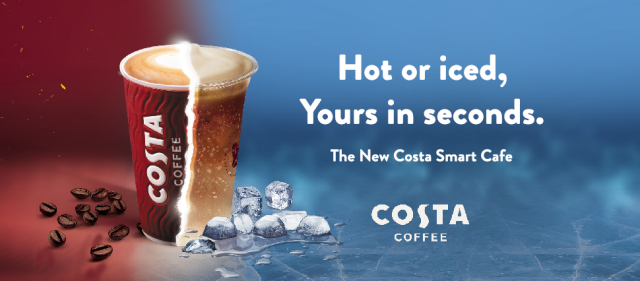 Costa Coffee Malaysia steps up its coffee game by introducing state-of-the-art technology self-serve coffee innovation this International Coffee Day
KUALA LUMPUR, 1 October 2021: Calling all coffee lovers, the next big thing in coffee is here! This International Coffee Day, Costa Coffee officially launches its latest breakthrough in technology, the new Costa Smart Café. This introduction is part of Costa Coffee's continuous effort in dialing up its innovative brilliance and is a testament of its 50th birthday milestone, and what better time to officially launch this than on International Coffee Day.
Not just an ordinary coffee machine, the Costa Smart Café is the world's first integrated self-serve iced coffee machine that is reinvented to deliver the ultimate convenience. What this means is that now, the Costa Smart Café has an enhanced capability to deliver self-serve barista quality coffee, both hot and now iced, at the touch of a button. This Costa Smart Café is truly a revolution, a state-of-the-art technology which has a built-in intelligent system that is able to directly dispense the precise amount of ice cubes in every single cup. Costa Coffee fans would also notice the latest high-definition display touch screen which has been refreshed to ensure it's even more user friendly and engaging for our coffee drinkers.
JuLee Lim, Head of Marketing of Costa Coffee Malaysia shared, "Costa Coffee has been serving barista quality coffee on the go to Malaysians since 2017.  Costa Coffee prides itself for its competitive edge as a technologically advanced provider of self-serve barista quality coffee. With the introduction of our revolutionary new Costa Smart Café, we believe that Costa Coffee has raised the ante, immersing Malaysians in a whole new coffee experience – to enjoy a perfectly crafted cup of barista quality coffee, hot and now iced, simply and literally at the touch of a button. At Costa Coffee, we believe that enhancing accessibility and connectivity in this new on-demand world is the key to complementing Malaysians' busy lifestyle. We will continue to delight our consumers and it is our ambition to double up our presence in Malaysia by the end of this year. In the months to come, Malaysians can expect more exciting news from Costa Coffee."
For more information on Costa Coffee's new Costa Smart Café, please visit the below channels and stay tuned for more updates: