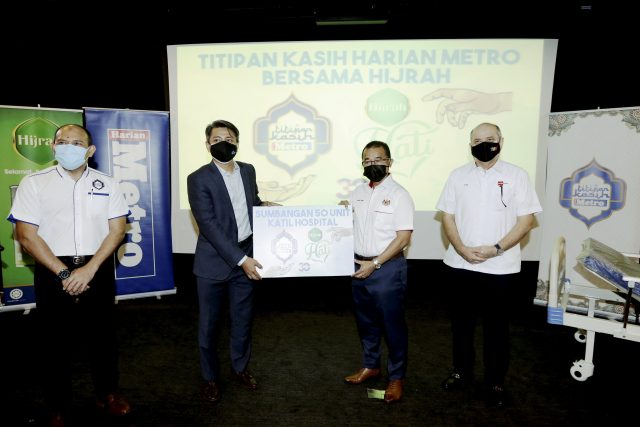 Hijrah extends help to the community by donating hospital beds and providing essential items to those in need
KUALA LUMPUR, 11 October 2021 – Cultivating the importance of adding value to the community, even during dire circumstances, Hijrah, Malaysia's go-to sweetened creamer worked closely with Harian Metro for its Bermula Dari Hati campaign. Together with the support of the National Disaster Management Agency (NADMA) – COVID Special Aid, this impactful campaign aimed to extend a helping hand and reduce the burden for our frontliners as well as those in need.
As regulations start to ease and various sectors open once again, it is no doubt that the fight is far from being over. While we look towards a hopeful future, the pandemic has resulted in several vulnerable groups in the community being in need for basic necessities. Recognising the need to make a difference and alleviate the worries of both the underprivileged and those tirelessly combating the virus, Hijrah's Bermula Dari Hati campaign will be able to provide a sense of hope and encouragement to them.
The term 'Hijrah' is often associated with acts of goodwill, kindness and charity that have a positive impact on the community at large. This could include helping neighbours or distraught family members in times of need. Staying true to its namesake, Hijrah has gone beyond offering creamers to Malaysians by showcasing a larger responsibility to the community in difficult times through acts of kindness and goodwill.
"As Malaysians continue to navigate through the COVID-19 pandemic, it is no doubt that they may face many uncertainties. However, it is still important that the basic needs of Malaysians are met and paid close attention to. At Hijrah, we recognise that persevering through this pandemic is a collective effort and our Hijrah, Bermula Dari Hati campaign will help Malaysians know that we're all in this together. As we carry out various activations within this campaign, we hope that Malaysians will be onboard with us as we try to be better versions of ourselves each day," said Khalid Alvi, Chief Executive Officer – Malaysia, Singapore and Brunei at Etika Group of Companies.
In conjunction with Titipan Kasih Khas Harian Metro 2021, Hijrah has donated 50 hospital beds to a few hospitals where COVID-19 patients are treated, to help them receive the required medical attention they need. With this, the Deputy Health Minister, Dato' Dr Haji Noor Azmi has received the beds on behalf of the Ministry of Health, on 8 October. Through this donation, the extra resources will allow hospitals to increase their treatment capacity – increasing care efficiency whilst reducing the burden placed on the frontliners.
In addition to that, Hijrah also provided 500 care packages to members of the underprivileged sections of society through Majlis Perwakilan Penduduk, on 14 August. The packages consisted of home essentials and personal care to help Malaysians attend to their basic needs. These items included Hijrah Sweetened Creamer, flour, noodles, cooking oil, canned food, milk, bar soaps and such.
Hijrah encourages Malaysians to undertake acts of charity and kindness through social media, radio stations and influencers
As the only sweetened creamer brand in Malaysia that stands firm on the importance of giving back to society, this campaign has reminded Malaysians to provide assistance to those in need during this challenging period. To educate Malaysians on how they can do their part to be better individuals, Hijrah collaborated with selected influencers, who shared their own personal experience on how they have become better versions of themselves. Through this, Malaysians will be able to look out for ways and practical tips on how to impact their own lives, families and communities around them.
To further showcase that Hijrah is a brand that cares for the well-being of Malaysians, they will be able to learn about the urgency of developing #HijrahDariHati and continuously evolving to have the best practices through social media and radio stations like HOT FM and TV3's Buletin Utama segment.
"We are humbled to have the support of the National Disaster Management Agency (NADMA) – COVID Special Aid for this initiative and we hope Malaysians will do their part to spread kindness and care, even during this time. We believe Hijrah is a brand that goes way beyond the shelves and we are proud to see Malaysians walk together with us, setting an exemplary example of community strength," added Khalid.
To find out more information on Hijrah, kindly visit   https://www.etikaholdings.com/campaigns.