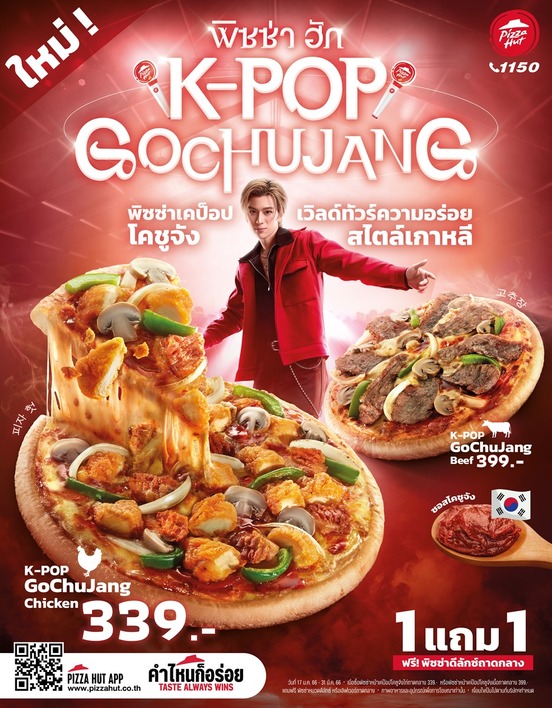 Tuesday 17 January 2023 – Pizza Hut 1150, a world-class pizza brand under the management of PH Capital Co. Ltd., launches a new fantastic recipe of K-POP Gochujang with a perfect taste and rich condiments. Take a world tour of Korean-style delicious cuisine with special gochujang sauce especially available at Pizza Hut. Chicken pops or premium-grade Charolaise beef are two new toppings available in a full size of pizza at the starting price of only 339 baht. Come with special promotion, Buy 1 medium K-POP Gochujang pizza, Get free 1 medium pizza deluxe or lovers.
The K-POP Gochujang with flavourful recipe is guaranteed to please Pizza Hut customers and Korean fan club in Thailand. Ready to serve at all branches and channels of Pizza Hut from January 17 to March 31, 2023.
Pizza Hut K-POP Gochujang comes with 2 new toppings and a "Buy 1, Get 1 free" promotional campaign. Choose the deliciousness you like.
K-POP Gochujang pizza with chicken pop topping, full topping with New Orleans chicken pops for only 339 baht.
K-POP Gochujang pizza with premium-grade Charolaise beef topping, savoury and mellow taste for only 399 baht.
Special promotion of buy 1 get 1 free. Buy 1 medium-sized K-POP Gochujang pizza, get 1 free medium-sized Pizza deluxe or Lovers.
Extra promotion with Combo set of K-POP Gochujang Chicken start at 439.- (from 627.-) and Combo set of K-POP Gochujang beef start at 499.- (from 687.-)
Miss Muenfun Thanyaphaisit, Chief Marketing Officer, PH Capital Co. Ltd, said "We perceive a marketing opportunity from the trend of Korean fever, so we created Gochujang, a Korean-style chili sauce, as a special recipe only available at Pizza Hut. Customers can taste the deliciousness of Korean style together with soft crust or crispy crust consistent with the uniqueness of the Pizza Hut Brand. After launching the "K-POP Gochujang" menu, we expect Pizza Hut will reach new potential customers including Korean Fan Club. For Pizza Hut's business direction, Pizza Hut will not only fast respond to customers' lifestyle but also continue the concept of being top of customers'minds by creating new fantastic menus, with superior nutrition and value for money so that customers can receive deliciousness and good nutrition.
Pizza Hut challenges you to taste fantastic Korean-style K-POP Gochujang with its "Buy 1 Get 1 free" promotion, available from January 17 until March 31, 2023 at all participating Pizza Hut branches. You can also call 1150, visit www.pizzahut.co.th, or use the Pizza Hut Application for all pizza lovers. Quick, easy, and fresh delivery. Download now from Google Play (Android) or the App Store (iOS).
Upgrade Condition
Pay 130 Baht more per pizza pan to upgrade to Cheese or Cheese Sausage Crust.
Pay 40 Baht more to upgrade Deluxe or Lover Pizza to Supreme Pizza.
Pay 60 Baht more to upgrade Deluxe or Lover Pizza to Seafood Pizza.