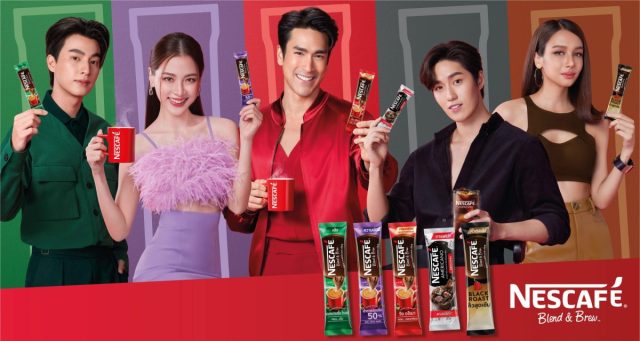 Tuesday 10 January 2023 – Meet the real movers & shakers in the Thai coffee industry as NESCAFE kicks off 2023 with its biggest campaign of the year, called "The Right Sachet for the Life You Choose." The campaign reinforces NESCAFE BLEND & BREW as a quality coffee offering great taste that caters to the needs of the new generation living any lifestyle. The campaign concept was created to appeal to Gen Z by featuring superstars including Nadech Kugimiya, Tor Thanapob, Baifern Pimchanok, and Gulf Kanawut who represent coffee lovers in each lifestyle group, as well as welcoming the latest presenter for NESCAFE BLACK ROAST, Bowkylion, a very talented female artist and music influencer.
The five presenters share their experiences drinking a variety of coffee mixes in a new commercial released in conjunction with a new single and music video called "Khor-NES-Nueng," or "Give me some NES(CAFE)". Bowkylion, who has a uniquely powerful voice, sings the backing track for the commercial, which premiered concurrently on TV and digital channels on January 7. The response was overwhelming with more than a million views overnight. NESCAFE invites all coffee and music lovers to join in making the Khor-NES-Nueng song the coolest phenomenon as it is breaking the norms of the coffee industry and will become this year's most influential song.
New Generation Trends and Changing Coffee Drinking Habits
NESCAFE BLEND & BREW is adapting to the changing needs of the new generation. A Nielsen consumer survey in 2022 showed several interesting trends in coffee consumption by Thai consumers:
1. Changing consumption trends and diverse preferences: 60% of the new generation of 16- to 24-year-olds prefer hot coffee, with the remaining 40% choosing iced coffee. Around 62% prefer drinking white coffee with milk or cream added, while the remaining 38% like black coffee. Americano is the preferred black coffee at 46%. Favorite styles of iced coffee include cappuccino, espresso with milk, and latte. Most of the new generation add sugar to both hot and cold cups.
When it comes to all Thai consumers, more than 70% choose in-home coffee consumption. 60% prefer hot coffee while 61% want a white cup with added milk. Coffee mixes remain the most popular, with estimated sales up to 58%, while 22% of consumers choose soluble coffee and 19% go for finely ground roasted coffee (Source: Euromonitor).
2. Coffee drinkers are increasingly having coffee at certain times. For example, hot coffee is a popular drink in the morning but is chosen less often at other times throughout the day. More than 50% of coffee consumption occurs before and during breakfast. Thai consumers love having iced coffee around noon or during the afternoon. Most people have coffee at home in the morning and at night and drink it out-of-home during the day.
3. Greater priority for health and well-being. Having adjusted their lifestyles for more than two years due to COVID-19, Thai consumers have become more conscious about healthy food and drink and are willing to spend more to get healthier physically and mentally. They make more contactless purchases of products and services through online omni-channels. Creating in-home entertainment experiences by seeking products to fulfill happiness at home, Thai consumers also long for the good old memories and unique experiences that brands used to offer.
"NESCAFE BLEND & BREW" to Capture Gen Z with Music Marketing
Mr. Jojo Dela Cruz, Coffee and Creamer Business Executive Officer, Nestle (Thai) Ltd., said that NESCAFE, the leader in Thailand's coffee market, is committed to offering NESCAFE BLEND & BREW as quality coffee with five variants. Whether the new generation of coffee drinkers who like it hot or cold, black or white, hardcore drinkers who need coffee for stimulation, coffee drinkers who want to enjoy coffee for pleasure, people who need a refreshing moment, or those who take good care of their health, NESCAFE BLEND & BREW caters to all needs and lifestyles of the new generation, for any moment or any occasion.
According to Jojo: "This year, we are kicking off 2023 using a music marketing strategy with today's launch of the NESCAFE BLEND & BREW 'The Right Sachet for the Life You Choose' campaign. NESCAFE's biggest campaign of the year, it aims to connect with Generation Z living any lifestyle, who listen to any genre of music, no matter what kind of coffee they prefer. They can always enjoy The Right Sachet for the Life You Choose because NESCAFE BLEND & BREW offers the right sachet catering to the needs of the new generation."
NESCAFE BLEND & BREW is NESCAFE's core product portfolio in Thailand. NESCAFE has sustained its position as Thailand's number one coffee brand that has nurtured stronger bonds with Thai coffee lovers for many decades. NESCAFE BLEND & BREW stands out as a coffee mix that offers a well-balanced taste and aroma that meets the needs of all coffee lovers.
Ms. Sriprapha Chingprasertsuk. Business Manager, Coffee and Creamer, Nestle (Thai) Co., Ltd., said, "We are moving forward with a full range of marketing activities for the campaign that appeal to the new generation. The first phase begins with the launch of a new commercial starring all five NESCAFE BLEND & BREW presenters – Nadech, Gulf, Tor, Baifern, and our latest presenter Bowkylion. They represent every group of coffee lovers portraying 'The Right Sachet for the Life You Choose' concept with the special 'Khor-NES-Nueng' music single sung by Bowkylion. The song is also used in the new commercial launched concurrently with the Khor-Nes-Nueng music video on TV and all digital channels, which is already receiving great positive response."
"The campaign is being supported with OOH media, sampling distribution on campuses, caravans, promotional stages at points of sale, activities via digital media, and road shows, which will delight coffee lovers across the country. We have allocated several hundred million-baht budget for the campaign and are confident it will reach more than 10 million coffee lovers and the new generation across Thailand. We expect the Khor-NES-Nueng song will be a phenomenon that becomes a hit and charts on all platforms," concluded Ms. Sriprapha.
The Khor-NES-Nueng single was inspired by the lifestyle of the new generation who love to have a variety of coffee, especially NESCAFE BLEND & BREW, which gives them a consistently perfect blend of great taste and aroma. It's definitely the right choice for the new generation.
Choose Your Favorite from Five Styles of NESCAFE BLEND & BREW Sachets
The new campaign features five presenters each representing the different needs of the new generation with five styles of sachets:
RICH AROMA with Nadech Kugimiya representing "Sociable" coffee lovers. NESCAFE BLEND & BREW RICH AROMA comes with a perfect blend that offers an approachable and friendly vibe to anybody who wants to get close to you.
ESPRESSO ROAST with "Gulf" Kanawut Traipipattanapong representing "Progressive" coffee lovers, the new generation with so much inner passion who think fast and adapt well to any situation. NESCAFE BLEND & BREW ESPRESSO ROAST is ideal for progressive coffee lovers who want to master their own destiny.
Refreshing AMERICANO with "Tor" Thanapob Leeratanakachorn representing "Casual" coffee lovers who live a carefree and relaxing life. They look for activities to refresh themselves and live life to the fullest. NESCAFE BLEND & BREW AMERICANO is perfect for chill and energizing coffee moments.
LESS SUGAR with "Baifern" Pimchanok Luevisadpaibul representing "Healthy-minded" coffee lovers. NESCAFE BLEND & BREW LESS SUGAR is for confident people who have a good heart. They pay attention to details in their lives, beauty, health, and the world.
BLACK ROAST with "Bowkylion" Pichsinee Veerasuthimas representing "Courageous" coffee lovers who love challenges and taking risks, have extreme fun with friends, and never let their friends down. NESCAFE BLEND & BREW BLACK ROAST is the best choice for strong and bold people.
Coffee drinkers can purchase their favorite flavor of NESCAFE BLEND & BREW coffee at convenience stores, supermarkets, and hypermarkets nationwide, or through online channels.