McDonald's crew brought birthday parties to 400 orphanage homes nationwide, in conjunction with National Children's Day
KUALA LUMPUR, 2 November 2021 – Taking up the feat of bringing cheer and happiness to underprivileged children this Children's Day, McDonald's Malaysia through its Program Komuniti @ McD & RMHC hosted McD parties and celebrated the birthdays of more than 12,000 children at 400 orphanages nationwide.
The effort which is in conjunction with McDonald's Community Month is part of the company's Program Komuniti @ McD & RMHC, which was first initiated in 2017. Program Komuniti @ McD & RMHC exemplifies the quick-service restaurant's purpose to feed and foster communities and is in line with McDonald's commitment to support those in need.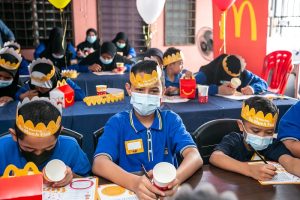 "We believe that every child deserves a happy childhood, and McDonald's is committed to create positive impact on their lives. We are thrilled to be able to bring the McD Parties to the children, and it is particularly special for them as they have not received any visitors for two years due to the limitations of the lockdown. In conjunction with Children's Day, we believe it is the perfect time for us to bring a smile to the children who need it the most," said Azmir Jaafar, Managing Director and Local Operating Partner of McDonald's Malaysia.
McDonald's served the children with Happy Meals, birthday cakes, and treated them to games and activities, while ensuring compliance to Standard Operating Procedures (SOPs) during the parties.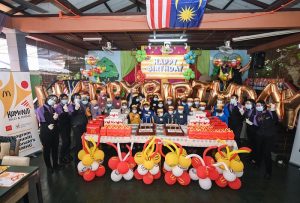 "When we reminisce about our childhood, we tend to recall fondly on our birthday parties. With this celebration, we hope to give the children this joyful experience and happy memory to cherish for years to come," said Azmir. McDonald's and Ronald McDonald House Charities (RMHC) invested a total of RM350,000 into hosting birthday parties as well as donations such as mattresses, pillows, pillowcases, and bedsheets to the orphanages in need all over Malaysia.
Now in its fifth year, McDonald's Community Month is carried out every October by the quick service restaurant to support underprivileged children. Prior to the outbreak of COVID-19 in Malaysia, McDonald's carried various initiatives, including educational trips, visits to hospital wards and other celebrations. Over 7,000 community activities are successfully organised each year under Program Komuniti @ McD & RMHC to support communities across the nation.
McDonald's and RMHC also donated "Back to School" packs to primary school children from families in need. The company hopes that with the donation of "Back to School" packs, the children would be more motivated to return to school. The initiative also aims to ease the financial burden of parents and families from vulnerable communities. Nearly RM9 million worth of "Back to School" packs have been donated and distributed to over 95,000 children nationwide since the program began in 2017