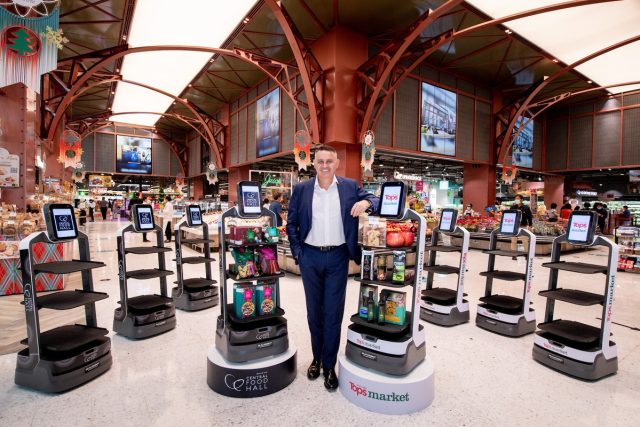 Friday 19 November 2021 – COVID-19 has accelerated all businesses to adapt themselves in line with the new normal, as social distancing is key to preventing the spread. Central Food Retail under Central Retail reaffirms its position as the leader of constantly evolving supermarket innovation by introducing Temjai, an AI Service Robot, the first of its kind in Thailand's supermarkets. Using artificial intelligence (AI), the robot serves as an assistant to store staff to fulfill needs and offer another level of service, connecting the world of robotics and shopping. Temjai AI Service Robots are now officially in use at 21 Tops Market and Central Food Hall stores nationwide.
Stephane Coum, CEO of Central Food Retail Company Limited under Central Retail, said, "We've collected data on customer behavior over the past two years since the start of the pandemic, and have found that the COVID-19 situation has changed customer behavior and daily lives, resulting in a New Normal. Our customers plan their purchases in advance in order to reduce the time spent in our stores, and they care about social distancing, contactless activities, and minimum interactions with people in the store. To adapt to these new shopping behaviors, we've decided to introduce Temjai, an AI Service Robot, to assist our store staff. We are the first supermarket in Thailand to officially use artificial intelligence (AI) to service our customers. We hope that our AI Service Robots will offer a unique and fun customer experience, thereby increasing sales opportunities for brands in every situation. These robots will also help our store staff, and uplift Tops' and Central Food Hall's image as leading supermarket brands that recognize the importance of finding innovative ways to introduce new experiences to customers. Undeniably, innovation is an important success factor in the service sector."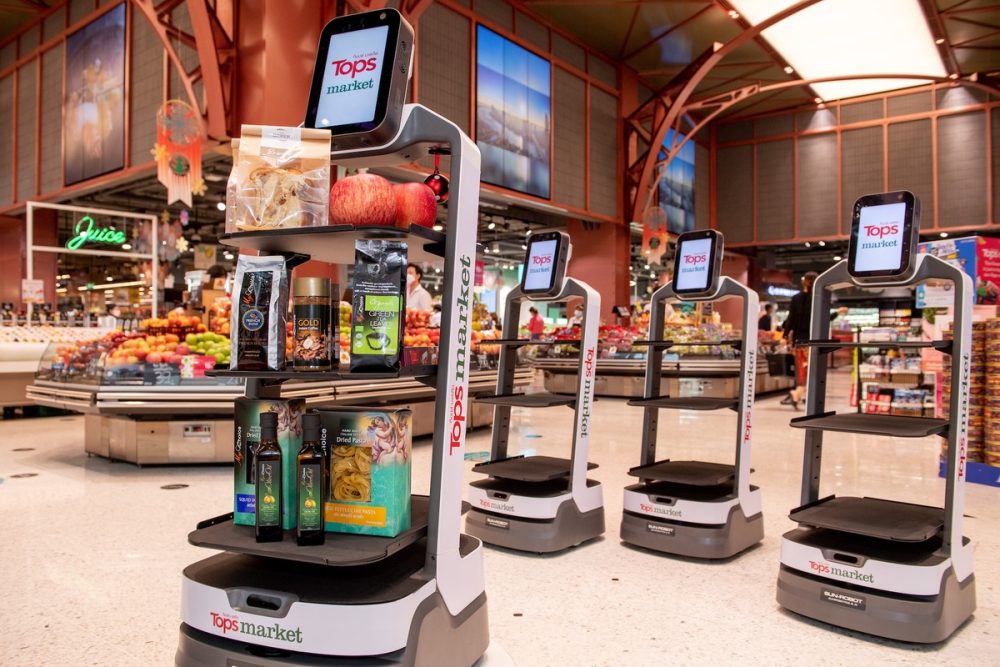 Key features of the AI Service Robot include two main modes:
Cruising Mode: In this mode, the robot will help promote products such as promotional items and new products. Each store can select what products they want to feature based on the timing. This helps increase sales opportunities, and customers will not miss special price items. The robot can also hand out product samples to customers so they can try promotional products. Temjai will cruise around the store and offer products to customers directly. This mode utilizes AI-based Facial Detection technology to detect customers' faces in front of the robot. When the robot meets a customer, it will slow down and stop so that the customer can pick up or sample the products.
Navigation Mode: In this mode, the robot can help lead customers to where they want to go. Customers can select the zone that they want to visit, and the AI Service Robot will take them there, making it easier for customers to find what they're looking for and save time. This mode utilizes Lidar sensor and Vision Positioning technology, similar to a self-driving vehicle. This technology can detect objects and tells the robot in which direction to move. By detecting obstacles in front of the robot, and being programmed to take a route that will not disturb walking customers, this technology can help the robot prevent possible accidents. It also allows the robot to install virtual mapping of the store without any additional devices or markings to help it navigate.
"For this year's installation plan, Central Food Retail aims to have the AI Service Robots at 21 Tops Market and Central Food Hall stores in Bangkok, Nonthaburi, Pathumthani, Samutprakan, Nakhon Pathom, Chonburi, Ayutthaya, Chiang Mai, Suratthani, Phuket, Khon Kaen, and Nakhon Ratchasima, some of which already have these AI Service Robots in place with great feedback from customers. Temjai, AI Service Robots, is a new smart technology that has never been launched in any other supermarket. Having AI robot technology to offer services is part of our company's digital transformation plan in order to become an 'Innovated Supermarket' in the future. Central Food Retail has plans to introduce other interesting innovations to facilitate customers and offer a seamless shopping experience in every aspect, and to use technology to create a circular economy to achieve our sustainability goal. This will prepare us to drive our business forward and enter a new era of supermarkets," said Stephane.