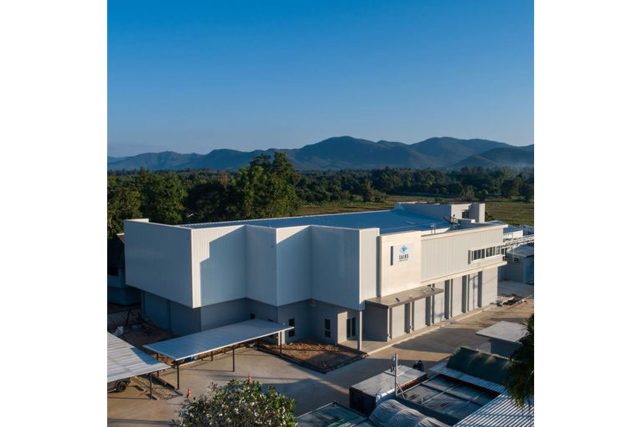 Bangkok, Thailand, 22 December 2021 – Salus Bioceutical (Thailand) Co. Ltd. (SBT), in partnership with Salus International Management Ltd. (SIM), a partially-owned subsidiary of MPX International Corporation (MPXI), a multinational diversified cannabis company, is opening a 600-million-baht cannabis/hemp production plant ('the Facility') in Doi Saket district of Chiang Mai province in Thailand. The Facility will initially produce CBD products to cater to growing international and local demand, whereby THC products and medicine will be developed subject to government approval under applicable laws.
The world-class Facility is expected to have an annual capacity for the extraction of over 200,000 kilograms of biomass, and production of over 50,000 liters of CBD oil and 90,000 kilograms of isolate powder and water-soluble CBD isolate, making SBT one of the largest cannabis/hemp manufacturing plants in Thailand and the most sophisticated production site outside of North America. The 800 m2 plant covers indoor cultivation and an additional building, high capacity extraction and distillation capability employing some of the most technologically advanced equipment available in the cannabis industry as well as a medical grade laboratory for hemp and cannabis analysis, which will allow for a unique distillation process, ultimately producing high-yield and quality CBD products that stand out from competitors.
With expertise from MPXI, an emergent global participant in the cannabis industry operating across five continents, SBT will implement best-in-class manufacturing practices into their Thai GMP and EU-GMP compliant medical production facilities. SBT has recently been granted a Hemp Extraction License, which allows SBT to operate and extract hemp flower legally under the laws of Thailand, making it one of the first companies in Thailand with complete licensing for CBD manufacturing.
Amid the global cannabis wave, Thailand, with a population of over 70 million, is a promising national jurisdiction for the industry following its legalization for the medical use of cannabis in 2019. There are an estimated 600,000 Thai patients that can undergo cannabis treatment, and with Thailand currently being the third-most visited country by medical tourists in the world, the integration of cannabis into the medical tourism industry alone is forecast to bring in $60 million in 2024. Medical professionals are also encouraging medical cannabis to be considered a cultural heritage aspect of Thailand.
SBT will be working closely with the Cannabis & Herbs Institute, Rajamangala University of Technology Isan, where institutional research will be conducted to understand the agriculture and agronomy of cannabis and hemp plants in the tropics as well as the extraction for medical purposes as a precursor for various industrial sectors. Additionally, SBT also aims to participate in developing communities and local farmers in operations for outdoor and greenhouse cultivation of high-CBD/low-THC hemp biomass. SBT has built demonstration sites for the outdoor growing of hemp in five different campuses of the Rajamangala University of Technology Isan to develop cultivation techniques and pass on know-how to local farmers.
As Thailand continues to venture into the market for medical cannabis, various opportunities will open up for future business. As the first North American medical cannabis company to enter the Thai market, SBT will initially be producing EU-GMP compliant medical-grade cannabis products such as CBD distillate, isolate powder, and water-soluble CBD isolate for domestic sales. The company will focus on producing high quality products for the domestic market and aims to dominate the ASEAN community by expanding sales throughout the entire Southeast Asia region. With Thailand declaring itself as an export country, the export potential can be estimated at $618 million for 2024.
By moving forward with a strong client database and client support, SBT will be branching out into various sectors in the market. Having received interest from various Thailand-based food & beverage, cosmetics, healthcare, supplement, massage and spa, and animal feed manufacturers, SBT will potentially produce CBD distillate/isolate for commercial use by the fourth quarter of 2021. In the pharmaceutical realm, SBT is under the process to qualify the Facility for GMP-grade medical cannabis, and subject to government approval, will produce sublingual tablets and capsules, suppositories, transdermal patches and medical quality edibles containing other medically-beneficial cannabinoids.