Where can we get the best burger stall in Malaysia? Unilever Food Solutions (UFS) Malaysia has just launched a website in April 2017 called Burger Kat Mane, literally means "Where is the burger." The website comes in Malay and English.
Location-based website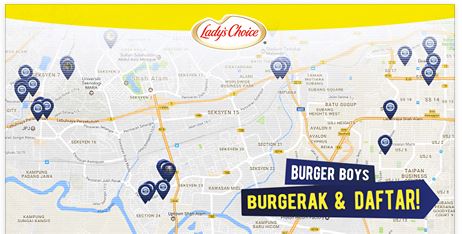 "Diners can check out their local burger options or even go on a burger foodie trail as the site is map-based and makes finding the locations a breeze," said Unilever Food Solutions (UFS) Malaysia Marketing manager Angeline Ho in a statement published in The Star newspaper on 25 April 2017.
She added that "they can also choose to rate their favourite burger joints on Burger Kat Mane and share their opinions with other users via the Burger Kat Mane Facebook page."
Top destination for burger at night
The burger stalls in Malaysia normally start operating at night and well into the wee hours. So far, the burger stalls are independently owned and run mainly by enterprising Malay entrepreneurs serving halal burgers. They do not have a physical store but has a permanent location (ie in front of a 7-Eleven) where consumers know where to find them. The clienteles come from all walks of life and from all segments of the society.
There is no exact statistics on the number of burger stalls in Malaysia. The site Burger Kat Mane claims to connect to nearly 10,000 burger stalls nationwide. The exact number of burger stalls in the country should be more than that because the barrier of entry is very low.
These burger stalls form a formidable challenge to fast food operators like McDonald's especially at night and during the "graveyard slot" from 12am to 2am.
Burger Kat Mane coverage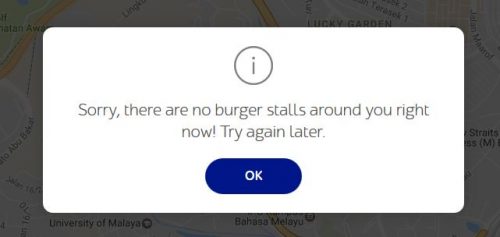 The author's favourite burger stall at Bandar Baru Ampang is not listed on the site. Nevertheless, the portal has done a good job in coming out with the listing that covers all the states in Malaysia including Sabah and Sarawak. Most of the listings are concentrated in the Klang Valley region, which includes Kuala Lumpur.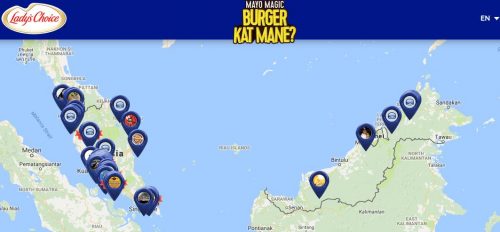 Here is an example of the listing at Serdang Perdana in the state of Selangor. The site includes detailed information about the location and the contact number. Consumers can share it on Facebook and Twitter as well as rank it.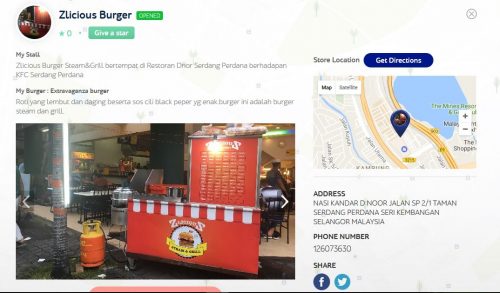 What Mini Me thinks
UFS' Burger Kat Mane is seen as an initiative by the mayonnaise supplier to strengthen its relationship with burger stall operators who are also the main users of the Lady's Choice mayonnaise. The value-added service will work towards securing the bond between the burger stall operators and Lady's Choice mayonnaise by helping to link end-consumers with the burger stall operators where some of them are still not social media savvy.