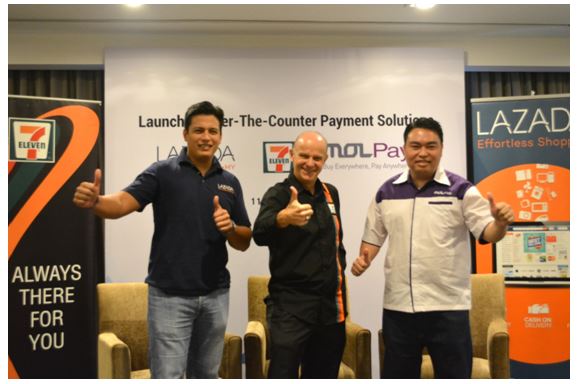 PRESS RELEASE

Kuala Lumpur, 11th May 2017 – 7-Eleven Malaysia Sdn. Bhd., a wholly owned subsidiary of 7-Eleven Malaysia Holdings Berhad and the No.1 standalone convenience store chain in the country with over 2,100 stores is proud to announce its latest in-store service offerings. With immediate effect, 7-Eleven Malaysia Sdn Bhd will roll out Lazada Malaysia's offline payment services in stores nationwide through partnership with MOLPay, 7-Eleven's strategic partner and technology provider for in-store payment services.
With enablement of this payment service, 7-Eleven Malaysia further extends its convenience of enhancing customers' online shopping experience in Lazada Malaysia. Once customers have confirmed their order and proceed to checkout with 7-Eleven as the preferred payment option, they can continue with their transaction by presenting a printed slip or SMS code of their online purchases to the cashier at any 7-Eleven stores nationwide.
"The partnership is a strategic fit, leveraging on 7-Eleven and MOLPay's individual strengths, and we see this as an alternative payment option for online shoppers. Through this collaboration, we enable Malaysians to shop for over 12 million items available on our website, combining it with the familiarity of paying over-the-counter at any 7-Eleven stores nationwide," said Hans-Peter Ressel, CEO of Lazada Malaysia.
This further reinforces 7-Eleven Malaysia's commitment in bringing the latest retail offerings as well as added convenience to more than 900,000 daily customers with 7-Eleven Malaysia CEO, Mr. Gary Brown saying, "Our aim is to ensure that we fulfill our customers' expectations and provide them with the convenience they need. Hence, we believe it is important for us to keep up with the hottest trends as well as introduce new products and services that would garner further attraction and leave a positive impact on our customers. Lazada's over-the-counter payment presents an ideal alternative for shoppers to enjoy shopping online further, as they can now process their transactions offline at any 7-Eleven stores, 24-7."
Mr. Eng Sheng Guan, CEO of MOLPay also commented, "This MOLPay CASH offered in 7-Eleven stores provides financial inclusion to ensure all households and businesses have access to and participation in Malaysia's digital economy regardless of their income level. We should not neglect the fact that Malaysia still has substantial of population which do not have or limited access to digital banking. The partnership with Lazada and 7-Eleven thus creates awareness as well as releases the potential to access to broader customer base that has not been captured before."
With more than 2,100 outlets across the country, 7-Eleven Malaysia continuously aspires to elevate customers' shopping experiences and to scale greater heights as the largest stand-alone convenience store operator in Malaysia. To meet today's expectations in providing convenience to customers; 7-Eleven Malaysia opts to stay close to its customer's heart by staying true to its motto, Always There for You.
About 7-Eleven Malaysia
7-Eleven Malaysia Holdings Berhad through its subsidiary 7-Eleven Malaysia Sdn. Bhd. is the owner and operator of 7-Eleven stores in Malaysia. Incorporated on 4 June 1984, 7-Eleven Malaysia has made its mark in the retailing scene and have been a prominent icon for over 32 years. 7-Eleven Malaysia is the pioneer and largest 24-hours standalone convenience store operator in Malaysia with over 2,100 outlets nationwide and serves more than 900,000 customers daily. 7-Eleven stores can be found across bustling commercial districts to serene suburban residential compounds throughout Malaysia, from petrol stations and LRT stations to shopping malls and medical institutions. 7-Eleven is Always There For You.