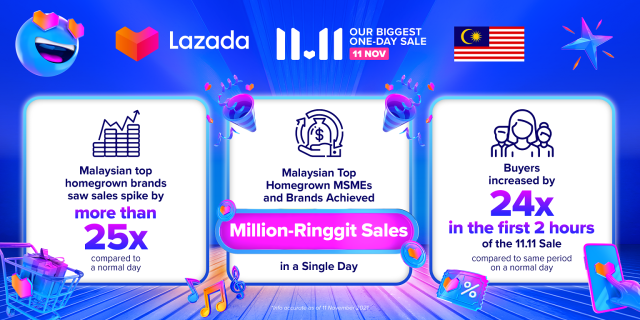 Top local brands saw sales spike by more than 25x compared to a typical day
Buyers increased by 24x in the first 2 hours of the 11.11 Sale
Nearly 1 in every 2 newly onboarded sellers secured first sale in less than 7 days
KUALA LUMPUR, 24 NOVEMBER 2021 – More than 25 times as much sales was generated by Lazada's 11.11 Biggest One-Day Sale for top Malaysian homegrown brands compared to a typical day, with top micro-small-and-medium-sized enterprises (MSMEs) exceeding the one-million-ringgit threshold in a single day. 
As the local economy gradually recovers, local MSMEs continue to develop at a robust pace, with nearly 1 in every 2 newly onboarded businesses securing their first online customer within less than 7 days after going live, in the lead up to the recent Lazada 11.11 shopping season. 
"It is exciting to see that local MSMEs and homegrown businesses are embracing digitalisation and showing a healthy growth trend, from store set-up to their first successful sale and beyond, as seen during the recent 11.11 Sale. We are inspired by their resilience and will continue to support their growth by connecting them to our community of online shoppers," said Darren Rajaratnam, Chief Operating Officer, Lazada Malaysia. 
According to Lazada's latest Digital Commerce Confidence Index (DCCI) report, 76% of Southeast Asia's online sellers stated that they are optimistic about future growth despite a challenging operating environment. The findings also indicated that ahead of the year-end online shopping festivals, such as 11.11 and 12.12, businesses looked to ramp up their inventories and staff levels. 
Businesses saw their preparations bear fruit as Lazada Malaysia saw a 24x increase in local buyers on its platform during the first 2 hours of the 11.11 sale this year, compared to an average day during the same period, demonstrating a burgeoning trend of midnight bargain hunters with a high purchase intent. This upward trend served as a springboard for local businesses to gain new customers and accelerate their digital growth. 
Johnson, owner of The Hopz Sdn. Bhd, said: "Even though our store only went live on Lazada just two months ago, we are immensely thrilled to have our sales reach over one million ringgit in less than 24 hours on 11 November. Not only that, our store followers rapidly increased by more than 26% after the Lazada 11.11 Sale. We are grateful to Malaysians for supporting local MSMEs on Lazada during these uncertain times and we are also thankful to Lazada for providing the tools, training, and support for local entrepreneurs to grow our business seemingly overnight." 
Koo Ye Fei, founder of popular homegrown mattress brand, NeckPro, said: "This year is our 5th year participating in Lazada's annual 11.11 Biggest One-Day Sale and as always, our brand continues to offer great value to customers. In the recent 11.11, not only did we experience a phenomenal 25x sales uplift compared to a normal day, we also further strengthened our brand by spreading awareness, winning new customers, and gaining market share on LazMall." 
11.11, dubbed the year's most anticipated shopping event, is widely regarded as the mother of all online sales. First introduced by Lazada to Southeast Asia in 2013, Lazada's '11.11 Effect' has now become the industry standard, popularising double-digit mega sales and cultivating a vast online shopping community across the country – propelling economic activity in the digital space. Being one of the first major ecommerce players in Malaysia that shaped the thriving modern-day digital economy, Lazada has been a key driver of digital transformation for both local MSMEs as well as large corporations. 
For more info on Lazada, please visit: https://lzd.co/MegaSale
To sign up on Lazada as a seller, please visit: http://lzd.co/SellOnLazadaMY
For more info on Lazada's Pintar Niaga package for MSMEs, please visit: http://lzd.co/SellerPPN