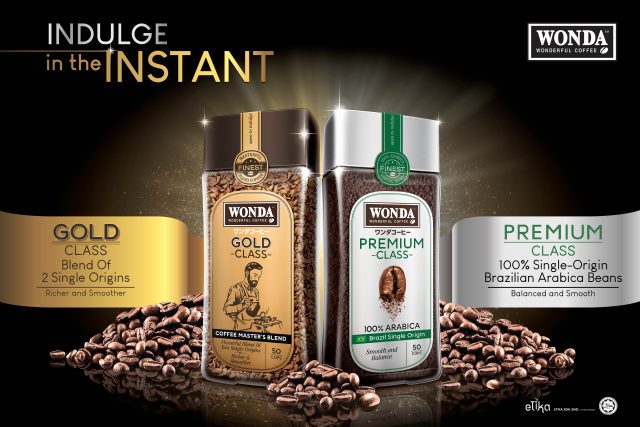 WONDA Coffee's latest range will enable consumers to enjoy a premium coffee experience with an affordable price tag.
WONDA Instant Coffee is the brand's first Instant Coffee in the world!
WONDA Coffee will provide sampling of their latest products at top retail outlets to give consumers a taste of their premium coffees
KUALA LUMPUR, 26 November 2021 –  Since their entry in the Malaysian market, WONDA Coffee has quickly grown to become a favourite coffee brand. From premium ready-to-drink (RTD) coffee to 3-in-1 premix coffee, WONDA Coffee's many variants continue to draw consumers to the brand for a Cup of Joe that tastes like freshly brewed coffee. Continuing to expand their current offerings for consumers in Malaysia, WONDA Coffee has decided to launch its first Instant Coffee range in Malaysia. With the positive growth of WONDA Coffee RTD range, the market has given WONDA Coffee the confidence to grow their brand further expanding their footprint in the hot coffee segment.
The past few years has seen more and more consumers shopping for mainstream and premium coffees, driving aggressive growth for the instant coffee segment. This consumer behaviour was further enhanced during the COVID-19 pandemic, as home based consumption of coffee increased and consumers started infusing their own style in their home brewed cups of coffee. This change in buying habits and behaviours, catapulted instant coffee ranges to become the fastest growing segment within the hot coffee category.
Leveraging these trends and responding to the changing preferences of customers, WONDA Coffee's move into this segment, not only allows the brand to expand its product portfolio but also bring a WONDA-ful blend of gourmet coffees for Malaysians without burning a hole in their wallets.
"Over the past few years, WONDA Coffee and our products have always been crafted to excite Malaysians with innovative product offerings and engaging marketing strategies, helping us to become one of the fastest growing brands within this category for 5 consecutive years. This growth would not be possible without the support of our loyal customers and therefore, as we grow, we will continue to bring new products for them. It is with great excitement that we are introducing more premium and gourmet coffees in an instant coffee format to bring a brand new WONDA Coffee experience for our customers. Our new range will continue to take our customers taste preferences into consideration while offering a delightful creamy texture and giving our consumers more value for their purchases," said Yee Pek Kuan, Vice President of Marketing at Etika Sdn Bhd.
Bringing an aromatic blend of beans, WONDA Coffee's latest instant coffee will be made available in two exciting variants, namely WONDA Gold Class Instant Coffee and WONDA Premium Class Instant Coffee.
The WONDA Gold Class Instant Coffee is a blend of single origin Robusta and Arabica coffee beans that lends your everyday brew a richer taste and a smoother coffee texture. Packed in a 100g modern glass jar and prepared using a freeze dried technology, this coffee mix consists of frozen coffee granules that give your home coffee a renewed freshness and a premium café taste. Whereas the WONDA Premium Class Instant Coffee is 100% of Arabica beans from Brazil single origin, proving a smooth and balanced coffee taste which is available in a stylish 100g jar as well as refillable 100g and 50g pouches.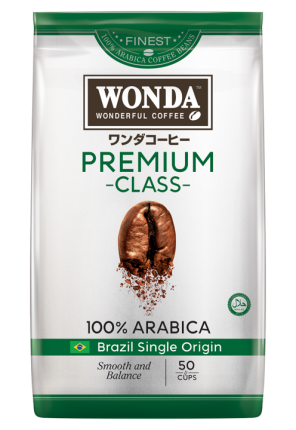 Both the blends will allow consumers to enjoy a perfectly delightful cup of coffee, with the right notes of bitter, sweet and sour, giving it a taste of just brewed coffee. Customers can also look forward to customising their coffees based on their own taste, choosing to make cappuccinos, lattes or even dalgonas with WONDA Coffee's gourmet instant coffee.
The new WONDA Instant Coffee range will be made available to consumers in addition to their existing products including RTD coffees, that match the urban on-the-go lifestyle and premix coffees that allow customers to enjoy a hot cup of coffee at an instance's notice.
WONDA Coffee is offering samplings of WONDA Instant Coffee at selected retail outlets over the upcoming weekends so stay tuned to WONDA Coffee's Facebook page https://www.facebook.com/WondaCoffeeMalaysia.