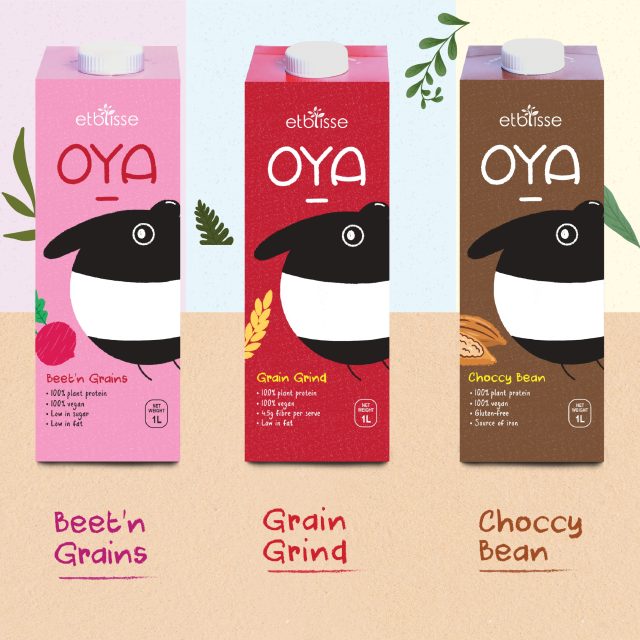 Malaysia's Biogreen showcased its latest plant-based milk Etblisse OYA, which is also 100% vegan, at the recently concluded IFood Expo at Pavilion Bukit Jalil.
OYA is a multigrain plant-based milk that comes in 3 flavours:
Choccy Bean – 6x more true cocoa, 30% less sugar
Grain Grind – 13 types of grains in one sip, 7.3g protein per serving, 4.5g of fibre
Beet'n Grains – With real beetroot to enhance rosy skin complexion
Choccy Bean: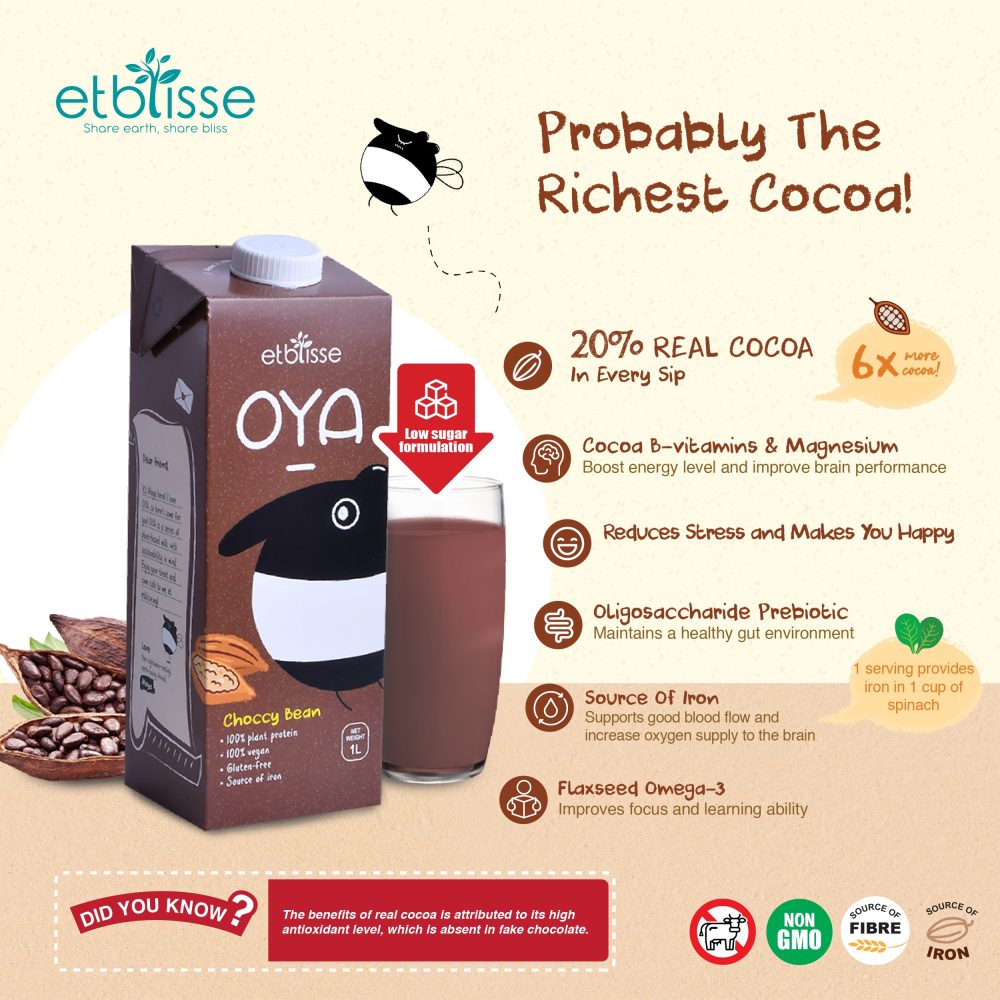 Water*, Organic Soybean, Organic Cane Sugar, Cocoa Powder, Oat, Oligosaccharide Prebiotic, Corn Syrup, Wheat Fibre, Soy Protein, Soy Lecithin, Nutritional Yeast, White Sesame, Flaxseed, Sea Salt
Grain Grind: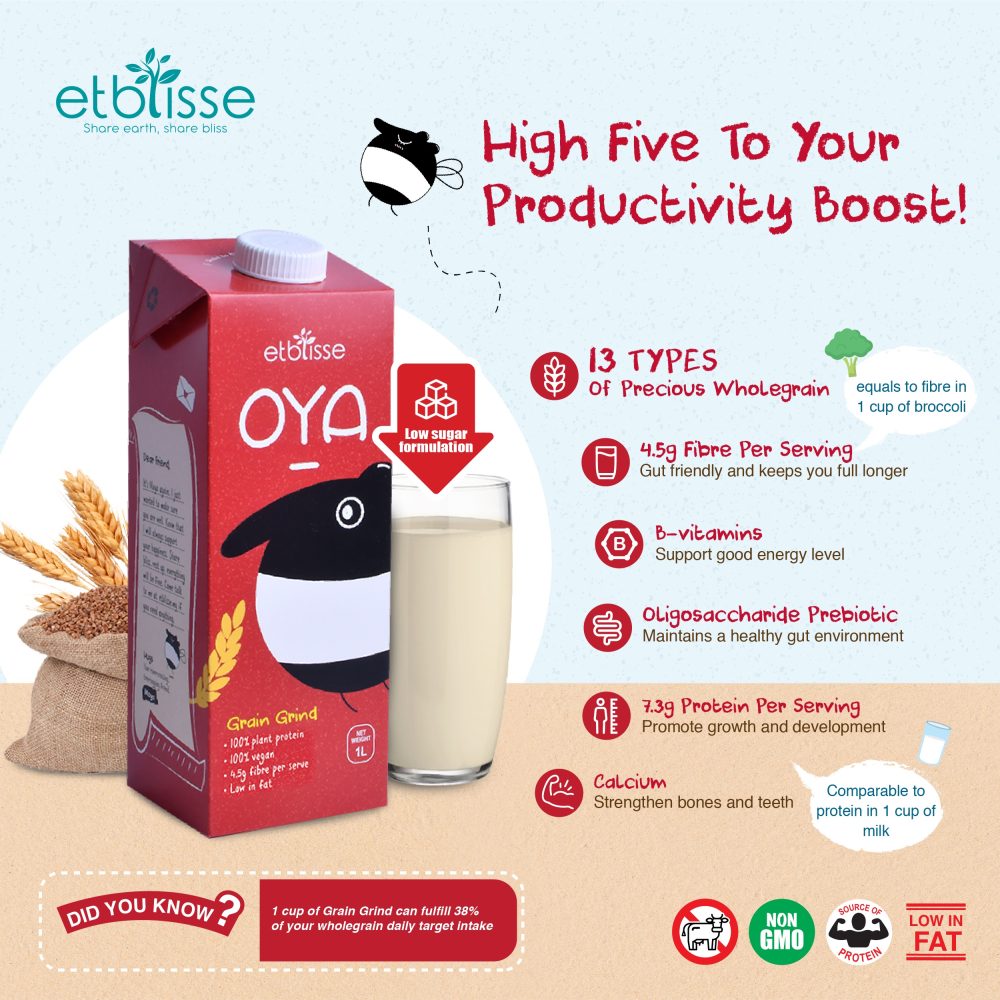 Water*, Organic Soybean,  Oligosaccharide Prebiotic, Cane Sugar, Oat, Green Kernel Black Bean, White Sesame, Barley, Brown Rice, Buckwheat, Sorghum, Millet, Red Wheat, Purple Rice, Red Glutinous Rice, Soy Lecithin, Pearl Barley
Beet'n Grains: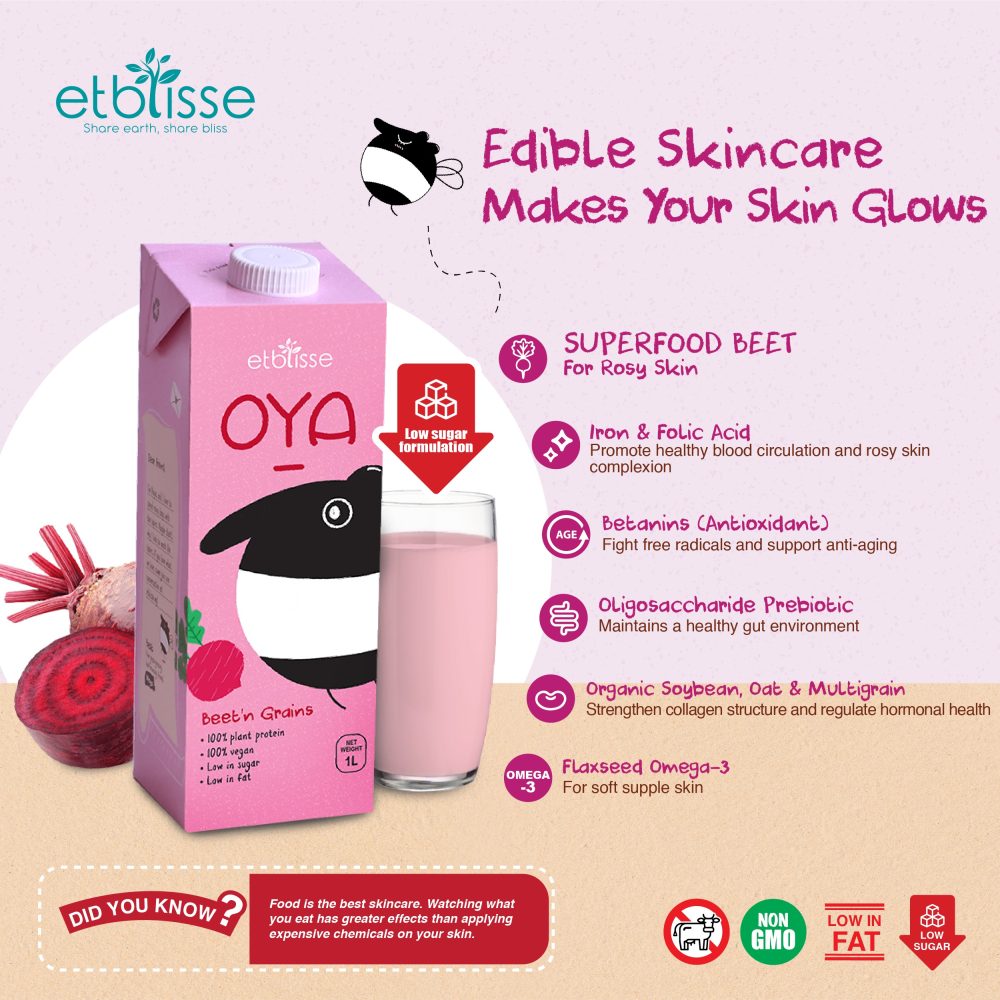 Water, Oat, Organic Soybean, Oligosaccharide Prebiotic, Organic Cane Sugar, Corn Syrup, Beetroot, Soy Protein, Brown Rice, Mung Bean, Red Bean, Job's Tear, Buckwheat, Millet, Purple Rice, Barley, Black Bean, Red Lentil, Soy Lecithin, Wheat Fibre, Nutritional Yeast, White Sesame, Flaxseed, Sea Salt, Blackcurrant Concentrated Powder, Radish Concentrated Powder, Apple Concentrated Powder
*Ultrafiltered & UV filtered water
All the OYA variants contain oligosaccharides prebiotic to maintain a healthy gut environment. Two servings of OYA Grain Grind provide 36% of the daily fibre need. Gut health is important as studies have found 70% of the immune system exists in the gut.
Rather than just an earth-friendly plant-based milk, OYA is conserving the life of endangered Malayan tapir. For every OYA sold, 3% goes to the Moya Conservation Fund for the conservation of the endangered Malayan tapirs.
Click here to purchase on Shopee.