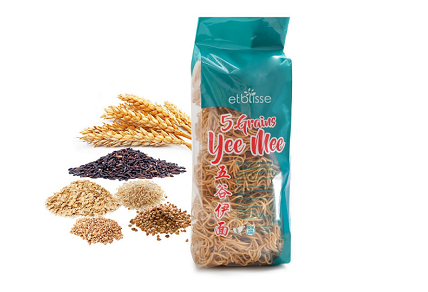 Biogreen has launched Etblisse 5 Grain Yee Mee in Malaysia to bring a healthy twist to the usual yee mee. Yee Mee is a variety of flat Cantonese egg noodles made from wheat flour. They are known for their golden brown color and chewy characteristics.
This special yee mee is made healthier due to the use of brown rice, barley, buckwheat, sorghum, millet, purple Chinese yam, red wheat, black glutinous rice, job's tear, lotus seed, wolfberry, soy bean, green kernel black beans, white sesame and oat. The other ingredients are wheat flour and tapioca starch.
Etblisse 5 Grain Yee Mee:
Made with organic unbleached wheat flour
Added value with premium multi grains
No egg, sodium bicarbonate & sodium carbonate
No artificial preservatives, colouring and flavourings
Click here to purchase.