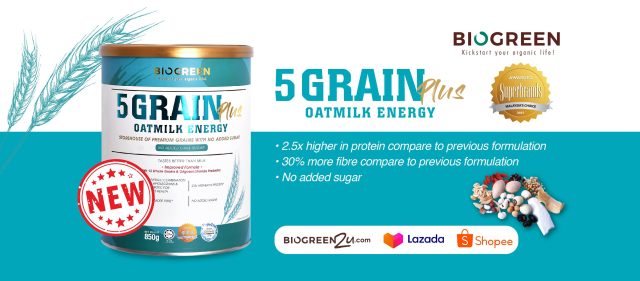 Biogreen has updated its 5 Grain Oatmilk Energy Powder to feature 2.5x higher protein and 30% more fibre compare to the previous formulation. Moreover, it does not come with added sugar.
The new 5 Grain Plus Oatmilk Energy is an improved formula plant-based milk with not just 5, but 13 types carefully selected, nutrient-dense premium grains for better nutritional value and enhanced palate satisfaction. Aside from just multigrain, nourishing Chinese herbs are also added as an additional source of several important nutrients for a healthy and well-rounded diet.
Designed to meet current health needs, 5 Grain Plus Oatmilk Energy is also fortified with oligosaccharides prebiotics for better digestion, nutrient absorption and immunity. Friendly for people of all ages, this upgraded formula has a better grain-aroma and retaining the old goodness with "No added cane sugar".
The key ingredients are: Oat, Black Bean, Oligosaccharide Prebiotic, White Sesame, Barley, Buckwheat, Brown Rice, Sorghum, Millet, Red Wheat, Purple Rice, Red Glutinous Rice, Soy Lecithin, Soya Bean, Pearl Barley, Chinese Yam, Lotus Seed, Gordon Euryale Seed, Poria, Dwarf Lilyturf Root, Lily, Wolfberry, Ginkgo.
Click here to purchase on Biogreen official store on Shopee.