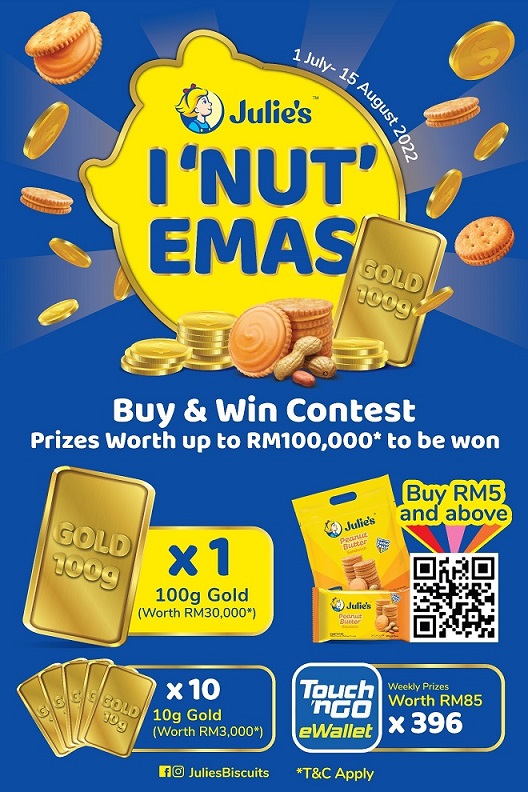 ·       The 'I NUT EMAS' Contest is Julie's Peanut Butter Sandwich Biscuit first grand giveaway for the year and was inspired by the signature sandwich biscuit's golden baked biscuit shape and buttery gold-like filling.
·       Contest is open to all Malaysians nationwide from 1 July to 15 August 2022, with the Grand Prize being a 100g gold worth RM30,000.
1 July 2022, Kuala Lumpur – Founded in Melaka in 1985, Julie's heritage-rich background and reputation built on quality and taste has been deeply rooted in the heart of every Malaysian. Julie's biscuits have since then travelled all over the world with everyone sharing a bite of the variety of options the brand offers, including its signature Peanut Butter Sandwich Biscuit that is loved by many till today.
Tzy Horng Sai, Director of Julie's Biscuits, attested that Julie's Biscuits is more than just a biscuit company. "It's also us making memories for every Malaysian, young and old, as they enjoy their favourite Julie's products on all occasions," he said.
"For as long as our 38 years of establishment, our Peanut Butter Sandwich Biscuit has always been a legacy, a must-have biscuit and snack in many Malaysians' households. The aroma that emits from every packaging opened is iconic and ignites fond memories."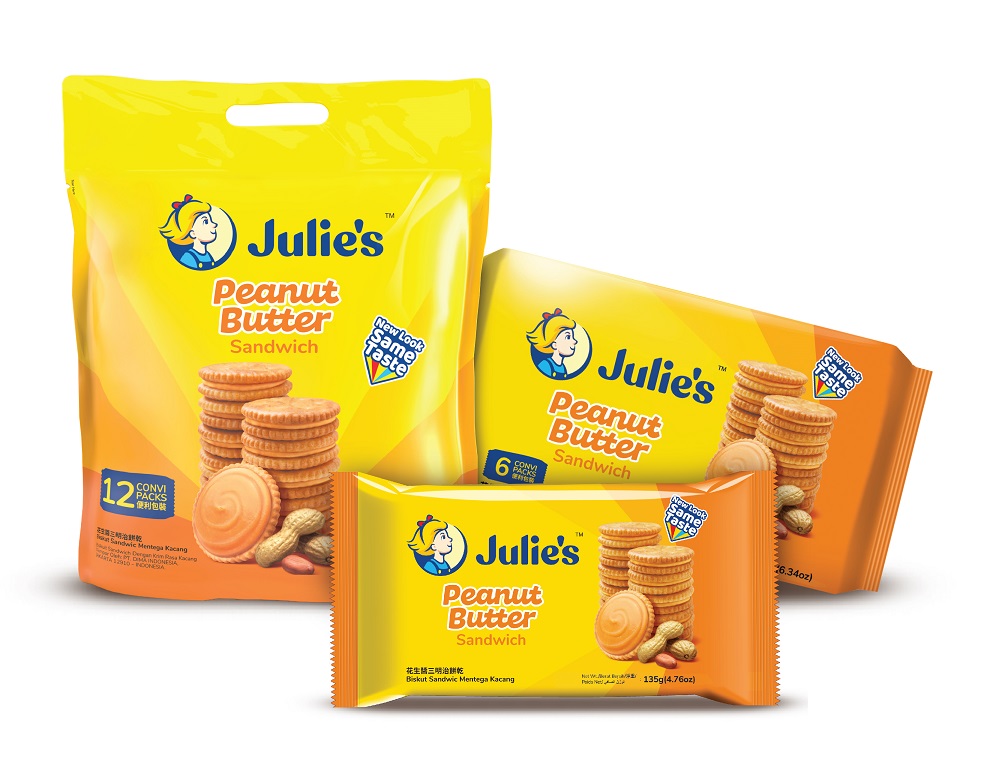 The original and signature Julie's Peanut Butter Sandwich Biscuit has a unique combination of sweet and savoury taste. The peanut butter cream filing is smooth, buttery, and fragrant, and pairs exceptionally well with the slightly salty, golden baked biscuit. It tastes great as a dipper biscuit or eaten alone.
Go Nuts with Julie's 'I NUT EMAS' Contest!
To celebrate their 38th anniversary, Julie's is proud to announce the 'I NUT EMAS' contest where customers can stand a chance to win prizes worth RM100,000 in total, with the Grand Prize being a 100g gold worth RM30,000.
 Inspired from the Peanut Butter Sandwich Biscuit's shape and gold-like appearance, the Julie's 'I NUT EMAS' contest is a playful homophonous to the Bahasa Malaysia term 'I WANT GOLD'. It is the brand's fun way to incorporate the word 'nut' from 'peanut' and 'want' ('nak' in Bahasa Malaysia) into a tagline that all Malaysians could relate to.
How to Participate?
Between 1 July 2022 to 15 August 2022, purchase any pack size of Julie's Peanut Butter Sandwich Biscuit worth RM5.00 and above in a single receipt.
Take a clear picture of the receipt. Ensure the store name, receipt date, receipt number, and product bought is clear in the photo.
Scan the QR code from point-of-sales material (e.g. poster), or visit http://juliesinutemas.com/ to submit the receipt photo.
Remember to keep the original receipt as this would be required for winner verification!
The contest is opened to all Malaysians nationwide between 1 July 2022 to 15 August 2022. Purchases of Julie's Peanut Butter Sandwich Biscuit can be made at any e-commerce or retailers as long as there is a valid receipt as proof of purchase.
In terms of prizes*, there will be –
Prizes & Description
Quantity
Weekly Prizes
RM85 Touch 'n Go e-Wallet credit
396 winners
(66 winners x 6 weeks)

First Prize
10g Gold (worth RM3,000)

10 winners
Grand Prize
100g Gold (worth RM30,000)
1 winner
*Contest terms and conditions apply.                              
Learn more about Julie's 'I NUT EMAS' contest details at: https://www.julies.com.my/julies-i-nut-emas-tnc/.
"Biscuits are more than just a culinary delight, it's about people making connections, breaking barriers, and building bridges. We hope that our I NUT EMAS contest campaign can help to change someone's life. Over the last 37 years, we have been looking up confidently into the future like Julie, our trademark icon, and we hope it would aspire Malaysians to do the same – look up, smile, and put on your best energy, grab a pack of your favourite Peanut Butter Sandwich Biscuit as we all stride together to positivity in life," said Sai.
Julie's Peanut Butter Sandwich Biscuits comes in assorted, convenient packaging. There's the tubs and tins sizes that are good for households, and the convenient packs for those who are always on the go or for a quick snack in school or in the office. Party packs are also available in boxes and cartons.
Stay updated with the brand's happenings at their official social media channels on Facebook and Instagram @JuliesBiscuits.