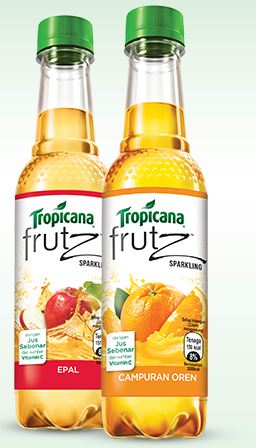 Permanis Sdn Bhd, the official bottler of PepsiCo and a unit of Asahi Group, has just launched Tropicana Frutz, a new range of sparkling juice made from real apple and orange juice. Tropicana Frutz was previously launched in the Philippines in August 2015 and before that in Vietnam in July 2014. The refreshing sparkling juice drink was developed to offer consumers with on-the-go convenience.
7-Eleven Philippines announcing the availability of Tropicana Frutz in August 2015
A look at the key launches made over the past two years shows Malaysia's Permanis Sdn Bhd, a unit of Japan's Asahi Group Holdings, is focusing on growing the non-CSD segments such as Wonda coffee and Tropicana juice. In fact, Pepsi only contributed less than 15% of revenue, while between 10% to 20% respectively came from Revive, Mirinda, Tropicana Twister and Mountain Dew, according to The Star article dated November 2013.
In the CSD category, Mountain Dew is the only CSD brand that is getting more marketing dollar. The brand has been successfully positioned as a youth-focused CSD concentrating on gaming, music and sport. Mountain Dew is growing double-digit every year.
Permanis has big ambition in the fresh milk segment. The Good Day fresh milk brand from the latest purchase of Etika Dairies was given a new look and a virtual brand ambassador Dee Dee the Cow.
Dee Dee the Cow and Good Day Bone Density Scan Campaign
Tropicana Frutz is seen as a move to tap into the permissible indulgence space with the best of both words – fizzy taste and real fruit juice.
Asahi Group Holdings Southeast Asia revenue growing at strong double digit
Asahi Group saw strong growth as a result of M&As in Southeast Asia (2011: Permanis; 2014: Etika Dairies) and the successful introduction of Wonda coffee and Mountain Dew in Malaysia. The joint venture in Indonesia with local Indofood CBP Sukses Makmur has laid a strong growth foundation for Asahi in the non-alcoholic beverage category. Ichi Ocha RTD tea was the new product of PT Asahi Indofood Beverage Makmur, introduced in December 2013. Asahi Indofood opened a new plant in Sukabumi in 2015 producing Ichi Ocha and bottled coffee Cafela (launched in mid-2014). The capacity of the new plant is 100 million litres per year.
Non-CSD such as RTD tea and RTD coffee will provide the necessary engine to fuel Asahi's growth in Southeast Asia going forward. However, Indonesia continues to underperform due to strong competition in the RTD tea space, which means more work has to be done there.