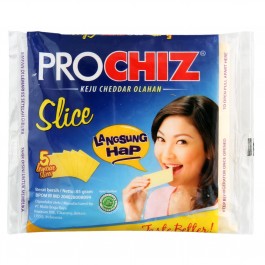 I mentioned in my earlier posts on how Indonesian dairy companies are exporting cheese, yoghurt and fresh milk abroad to countries like Singapore, the Philippines, Malaysia and Hong Kong. I recently spotted PT Mulia Boga Raya's Prochiz  at Hero Supermarket, Malaysia imported and distributed by Puchong-based Premium J Enterprise. Hero Supermarket has become a hub for Indonesian products and therefore making it a good distribution channel for the new sliced cheese from Indonesia.
Prochiz is the cheapest slice cheese in town. Interestingly, the price is the same, albeit with a new flavour (Prochiz Sliced Strawberry – 10 slices), at the Indonesian minimartket chain Alfamart with a selling price of IDR 15,700 (RM 4.90).
Malaysia cheese and curb imports – Indonesia saw a big jump
Indonesia's share of cheese and curb export to Malaysia is very small at 0.2% of total export value in 2015 but represented a big increase over the past two years. I believe the huge increase in export is attributed to higher export of Greenfields cheese.
New Zealand became the top exporter in 2015, toppling Australia. However, both countries remain the biggest cheese and curb exporters, grabbing a combined share of 76.1%.
It would be interesting to see if Prochiz latest product strawberry flavour will make it to Malaysia.