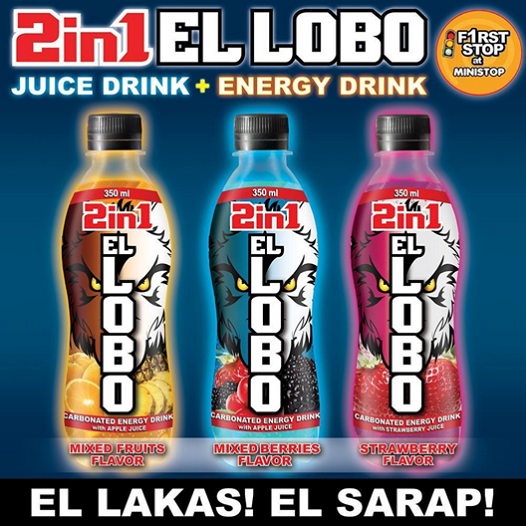 One of the most interesting new energy drinks in the Philippines is 2in1 El Lobo, which combines juice drink and energy drink. This carbonated energy drink by Refreshment Republic, Inc comes in the flavours of mixed fruits, mixed berries and strawberry. This product is positioned as a healthier energy drink. It is s made with juices, not ordinary juices but imported juices.
The energy drink market in the Philippines is dominated by Asia Brewery Inc's Cobra Energy Drink. Cobra knows the market well by introducing its value-for-money 350ml drink in PET bottle. In addition to the low price, Cobra has been segmented into different variants to meet the specific needs of consumers whether it is the working class looking for instant energy or students burning the midnight oil. Cobra Fit, for example, comes with the ActivBurn technology plus L-Carnitine to burn calories, while Cobra Smart has gingko biloba for instant brainergy.
The 2in1 El Lobo in 350ml contains the same amount of taurine and inositol as the Cobra Energy Drink at 105mg and 16mg per serving. El Lobo has total carbohydrate of 32g per serving and sodium of 95mg compared with 46g and 50mg for Cobra.
As an energy drink with juices, 2in1 El Lobo may be serve as an alternative for consumers wanting something more natural to boost their energy levels.