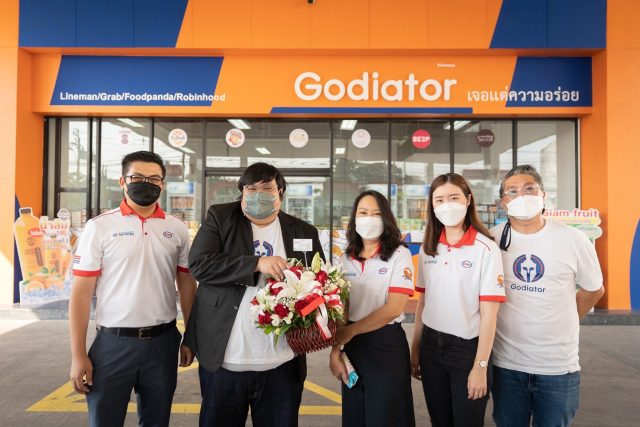 Esso (Thailand) Public Company Limited gladly presents the first release from proposed ideas in Esso Hackathon program by the introduction of "Godiator Cloud Kitchen" where customers will enjoy yummy and mouthwatering experiences, firstly launched at Esso service station-Wang Hin branch, Ladprao, Bangkok (Chayaphat (1954) Co.,Ltd). Customers are invited to visit the site or order online from now on.
Godiator Cloud Kitchen is a new service of desserts and drinks in an open kitchen where customers will see what chefs are doing and no more dark kitchen.   In alliance with Esso following the start-up idea pitching in Esso Hackathon program, Godiator will kick-off its service in Esso service station-Wang Hin branch with drive thru format in the concept "Serving Delicious Desserts and Drinks at One Point".
Orders to Godiator can be made via Lineman, Grab, FoodPanda, and Robinhood delivery services with attractive promotions.  Customers to the Esso service station can order and pick up foods at site per their convenience.
Participating delectable shops includes:
DoC.DoB – Ministry of Rosters for chocolate lovers
Siam Fruit – legendary fruit shop from Siam Square
Aji Bread – delicious crispy croissants
Pasta Kitchen – ready to eat  home-made Italian spaghetti
Memo – homemade ice cream
So Fresh – orange juice
Delicious Destination – frozen fruits with Thai traditional desserts
Something Savor – soft cookies
Grilled Squid "Muk Yang Daen Mangkorn" – spicy grilled squid from renowned Yaowarat street foods area
Ajumma Corndog – Korean style corndog/hotdog
Mr. Jesada Chancherngkij, Director and Retail Sales Manager of Esso (Thailand) Public Company Limited said, "We are glad to introduce one of the winning ideas from Esso Hackathon program Godiator to provide innovative services in delivering quality and delicious foods to customers.  We evolve Esso's offerings to maximize value for customers who look for high quality fuels and great customer experience in the eco-conscious era and variety of technology adoptions.  This copes with our vision to power life with premier energy experience."
Mr. Pavat Kunoopakarn, CEO of Godiator added, "Godiator will be available in various locations.  As a startup, we emphasize on speed and scale to grow our business with analytical sales data.  We are happy to do this business with the goal to serve and deliver tasty desserts to people at their homes.   We have good alliance with major oil service stations via strategic locations and effective platform delivery.  More importantly, we have delicious dessert shops as the key value chain of the Godiator."
Godiator is offering attractive promotions with 10 participating delectable shops and operating with Safe Plus for cleanliness and measures under Covid-19 prevention. Let's visit Godiator at Esso service station-Wang Hin branch to enjoy the delicacy from now on #Godiator  ด้วยกันได้แล้ววันนี้!!  #Godiator #Essoวังหิน #fooddelivery #เจอแต่ความอร่อย.