Your introduction to French wine, cuisine and culture
Singapore, 10 January – Aether House, by Aether Wines & Spirits, is the newest French-influenced contemporary bistro and wine bar debuting at 35 Robinson Road, on the ground floor of So Sofitel. Bringing a taste of French fare to Singapore, Aether House is modelled after French bistros serving up délicieux French cuisine, complemented by an extensive range of French wine, and a selection of coffee and tea for teetotallers. A retail section also features French inspired merchandise for Francophiles to bring home a piece of France.
Inspired by Parisian sensibilities, Aether House is a chic pastel coloured all-day-dining restaurant and wine bar that seeks to be a cultural wine destination that will set future oenophiles off on their journey of discovery and exploration of French culture and wine. 
"Aether House was the natural next step for Aether Wines and Spirits. We wanted to create a physical experiential destination for oenophiles to enjoy their wine from the moment they make their purchase to the moment they savour the complex flavours as they pair it with the authentic taste of France. In doing so, we hope to demystify the pleasure of wine appreciation for a future generation of oenophiles and journey with them as they discover the beauty of French culture, wine and cuisine by making them accessible and relatable. With a talented culinary team led by Chef Laurent Brouard, we are excited to bring a bite of France to Singapore." – Douglas Soh, Managing Director of Aether Wine & Spirits Pte Ltd.
Menu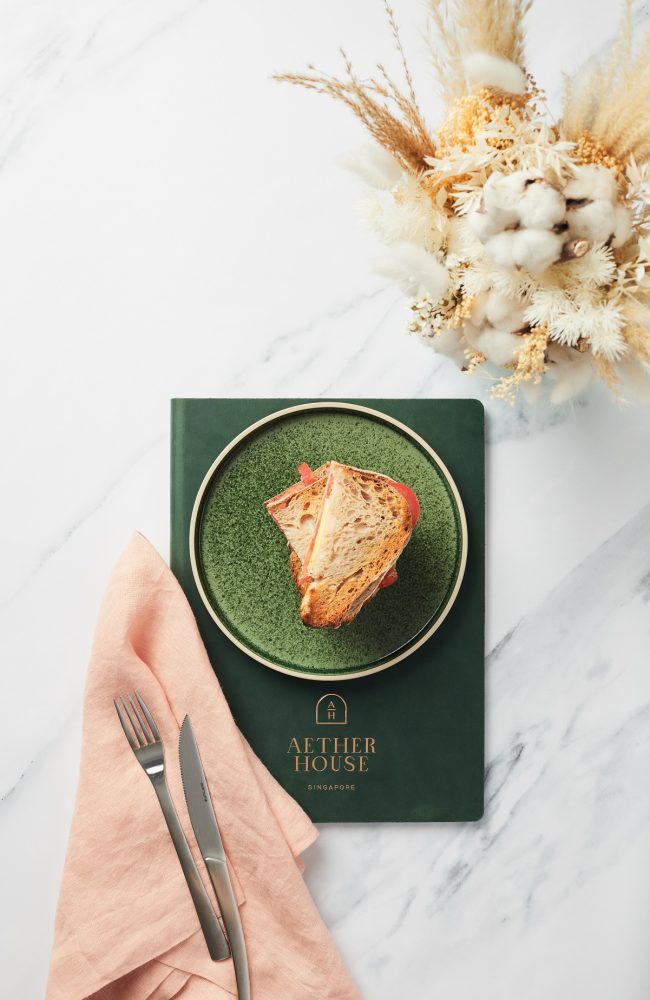 Tantalise your tastebuds and experience the French joie de vivre with the Les Petits Plats menu. Select between a three or five dish menu personalised to your taste and dietary preferences by Chef Laurent Brouard, Aether House's Operations and Culinary Director.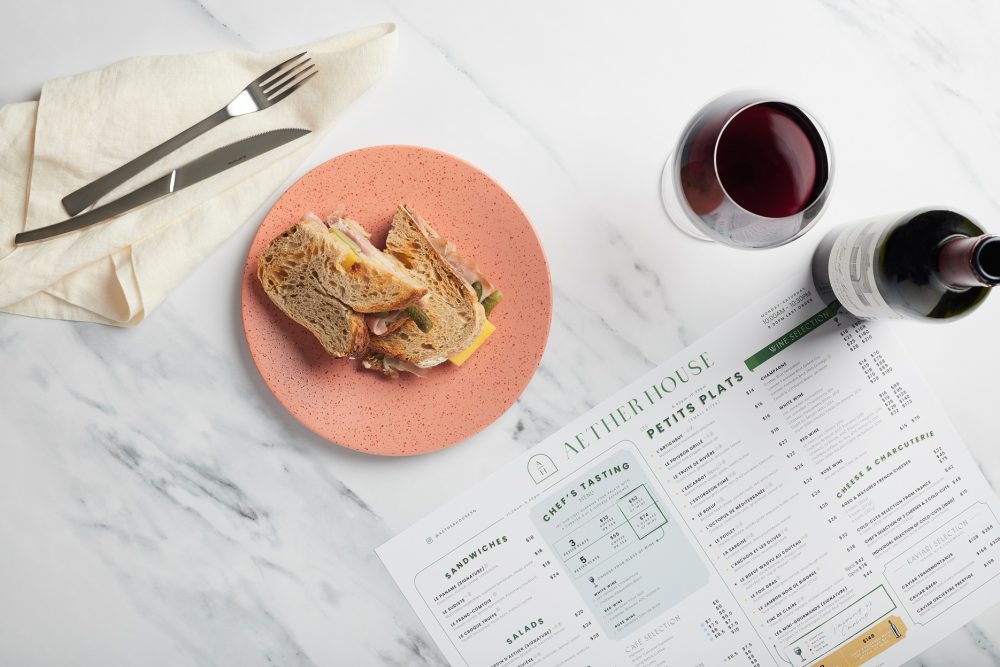 Kick off with an Amuse Bouche – a dish of Wagyu Beef and Oyster tartare with "Kaviari" caviar paired off with a flute of Varnier-Fanniere Brut Zero (Zero sugar Champagne!).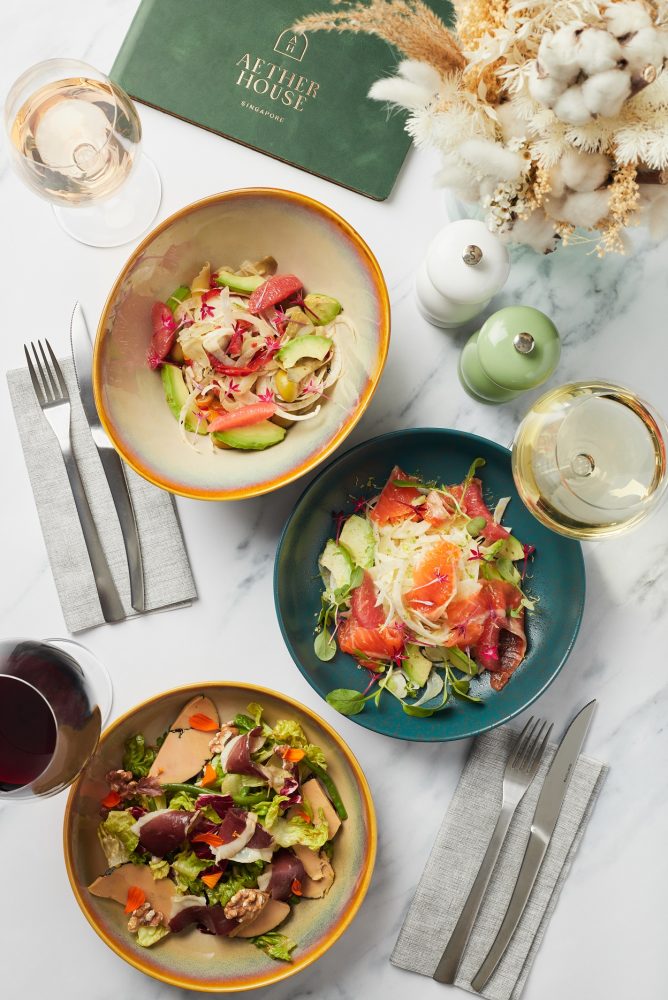 Moving on to the starters, go for a glass of Dopff Au Moulin (Riesling Europe 2014) that complements the flavours of Truite De Riviere, a cured french trout that comes with grapefruit, avocado and fennel.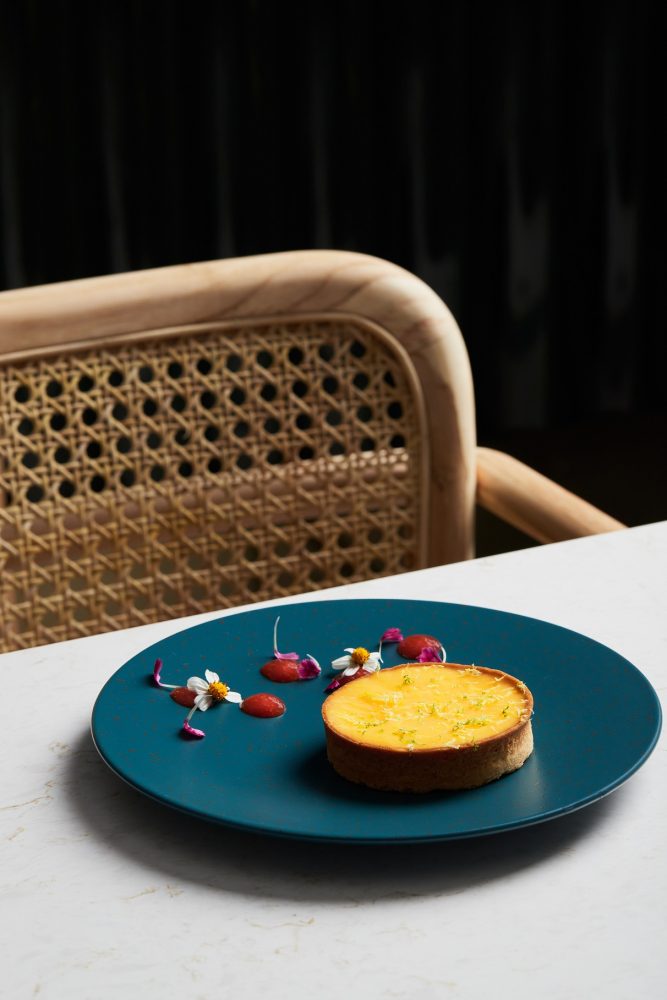 For something more filling, savour the Le Poulet, a chicken ballotine served with sides of potato gratin espuma, truffle sauce and French winter truffle. Complete your meal with a glass of Chateau La Valliere (Lalande De Pomerol 2015).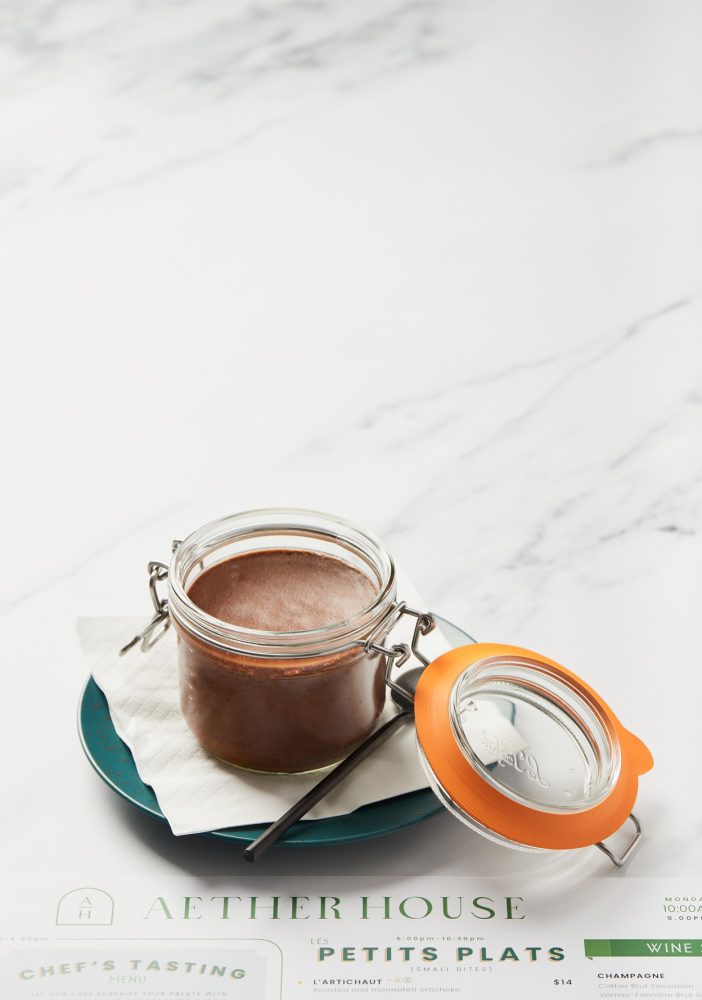 Teetotalers or diners new to wine, fret not, you can try the selection of craft coffee or wine-inspired tea like Riesling Tea or Pinot Noir Tea to go with Aether House's signature Le Paname Sandwich served with Paris ham, French comte and cornichons – perfect combination for brunch or weekend lunch dates.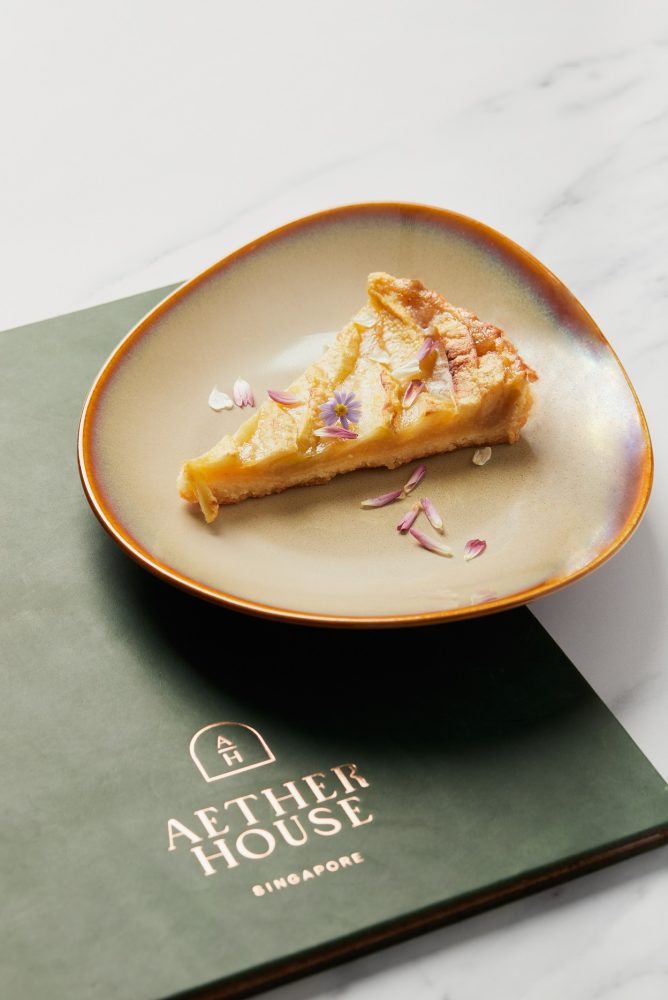 Looking to have something light yet savoury to go along with your drink? Consider Aether House's Cheese & Charcuterie. Enjoy some cold-cuts and cheese that are imported straight from France – teleporting you to France in no time! 
If you are craving for something sweet to energise you on a hot afternoon or to end the day on a sweet note, go for the house's special, Le Soufflé De Singapour, Kaya and Pandan Soufflé served with gula melaka ice cream – the chef's own creation of the baked egg-based dish, originated from France, with a local twist. Balance the sweetness and end your meal on a good note with a glass of Dopff Au Moulin sweet wine (Muscat Reserve 2014).
Interior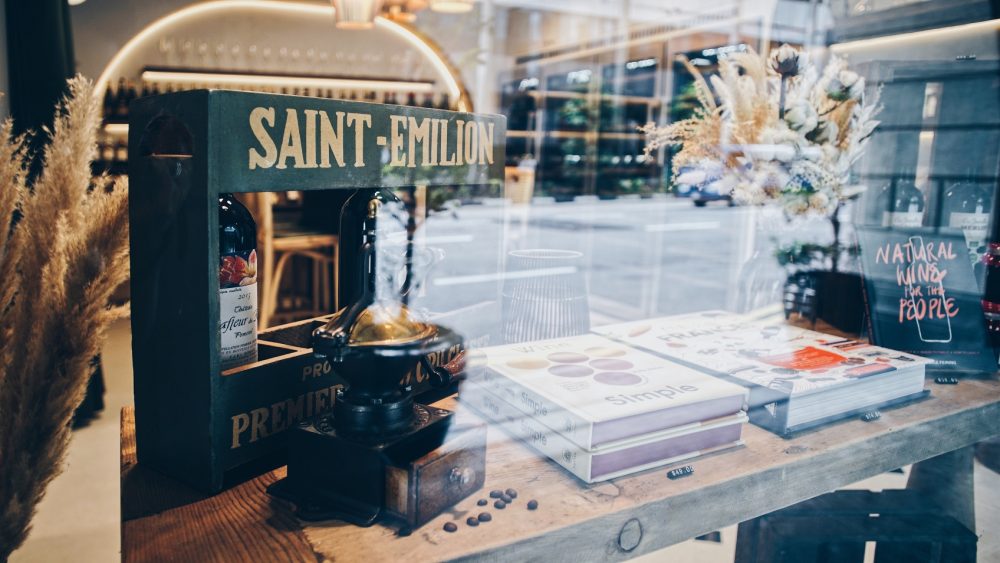 Aether House is an inviting and photogenic space bathed in natural light with beautiful arches and pastel interior cleverly contrasted with the deep emerald tiles of the wine bar that steal the show. An ingenious light fixture right above the wine bar features a virtual sun from INNERSCENE that creates an illusion of a window in the ceiling and an artificial sun that works to provide more depth to the space and introduce even more natural light into the space.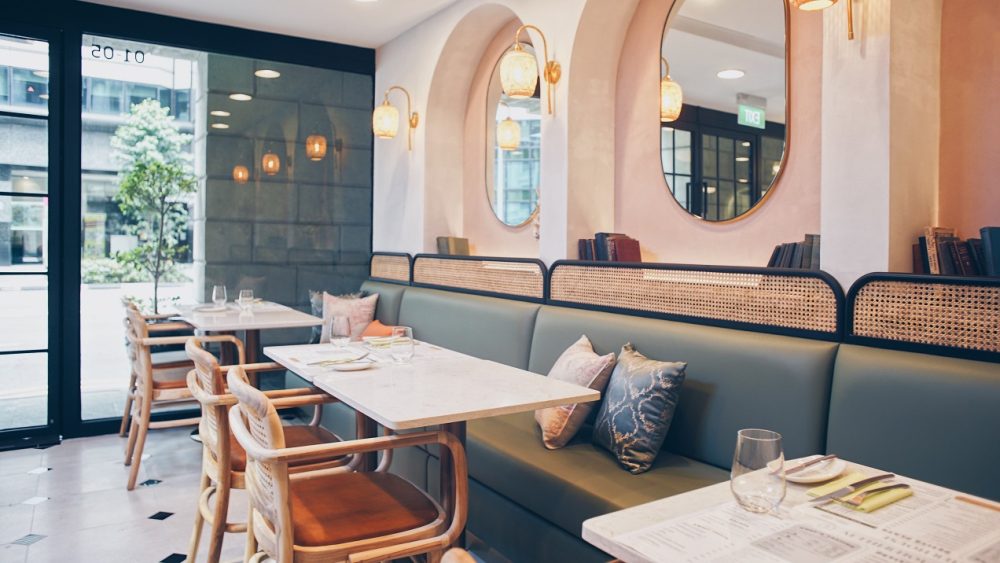 Look around and discover French tales of yesteryears with antique books specially flown in from France littered around the restaurant. Enjoy an afternoon of leisurely people watching on the high-top window seats or delight in friendly banter with family and friends in the couch seats lining the restaurant.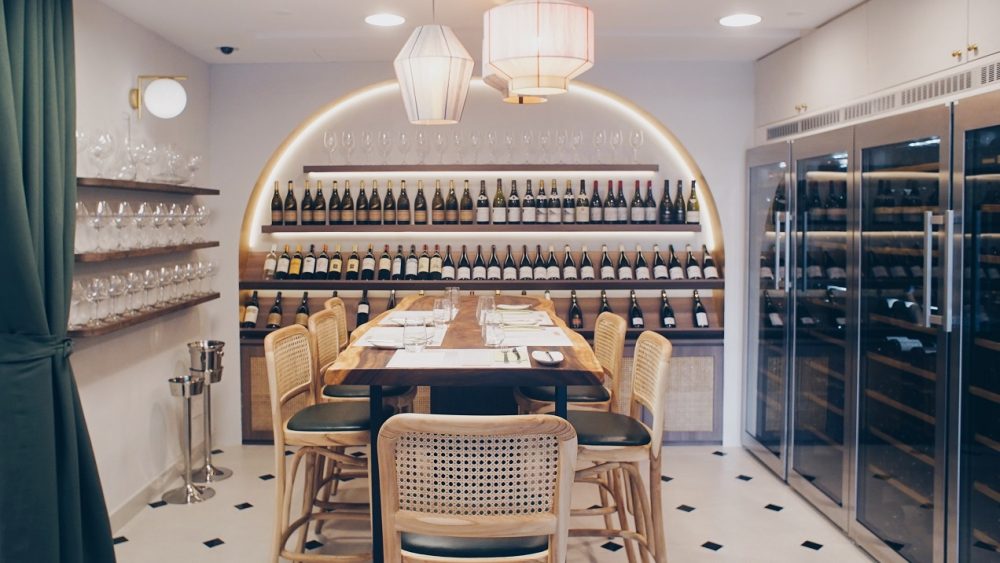 Retail
Aside from its culinary delights, Aether House also features a quaint retail space right offering a plethora of merchandise ranging from exclusive collector's wines, jams and condiments to lifestyle products like Moleskine wine journals and informative wine books specially picked out by sommeliers at Aether House.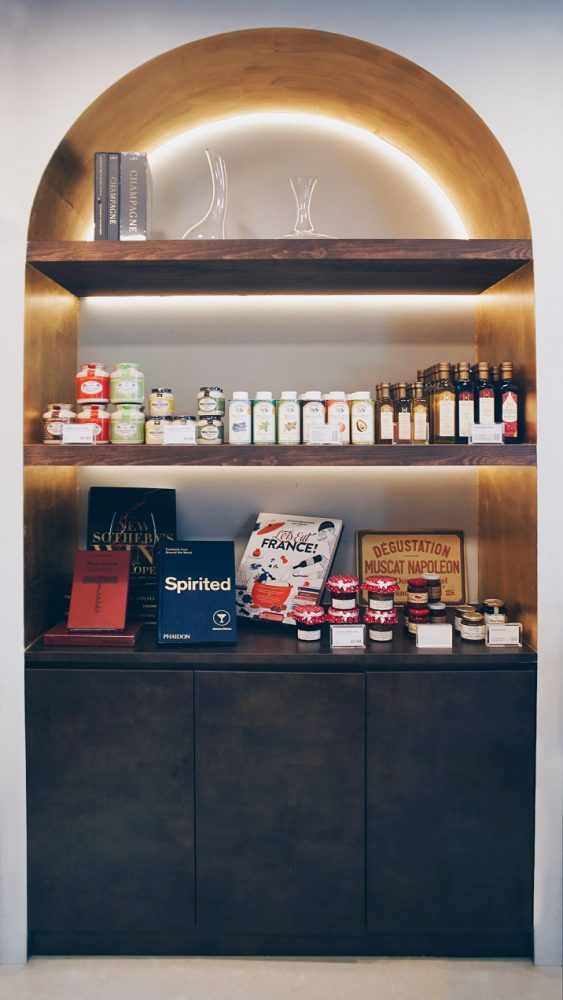 Available exclusively at Aether House, French artisan candle maker "Botel" has collaborated with the brand to introduce wine-scented candles. Infuse the house with scents like Champagne and Mulled Wine parfum that are packaged in recycled wine bottles. Create the ambient mood with these scented candles that can be doubled up as a nice decor for the space and is eco-friendly at the same time.  
Hitting all five senses, Aether House further enhances your wine appreciation by introducing wine jelly – 100% Parisian jellies. A collaboration between Confiture Parisienne and Vignerons, wine lovers or even beginners can explore this collection and pair wine snacks such as crackers and bread with the wine jellies that come in various flavours – red, white and rose wine and priced from $16 to $22.
Revel in the enchantment of France with Aether House and get started on your journey to wine appreciation in the heart of the central business district. 
Aether House is open from Monday to Saturday, 11:00AM – 10:30PM (Closed on Sundays & Public Holidays) 
For more information or should you wish to make reservations, please visit our website at https://www.aetherhouse.sg/ / instagram https://www.instagram.com/aetherhousesg/