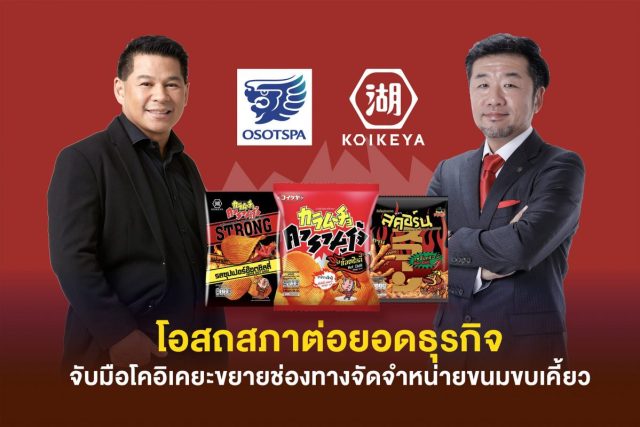 Thursday 13 January 2022 – Osotspa Public Company Limited in collaboration with Koikeya (Thailand) Co., Ltd., one of the Japanese snack market leaders, penetrates the Thai market by expanding distribution channels to cover traditional channels and Makro, totaling over 400,000 outlets, to compete for a share of the snack market in Thailand.
Mr. Sarayut Jitcharoongphorn, Chief Customer Development Officer-Thailand, Osotspa Public Company Limited or OSP, revealed that Osotspa Public Company Limited, Thailand's leading manufacturer and distributor of consumer products, is appointed by Koikeya (Thailand) Co., Ltd., the Japanese snack company, to become a distributor of Karamucho and Sucorn products, overseeing distribution through traditional trade and Makro, effective from the beginning of January.
Koikeya (Thailand) Co., Ltd. is a subsidiary company of KOIKE-YA Inc., pioneer of potato chips market in Japan. Currently, the Company offers three snack brands in Thailand, which are Karamucho, Sucorn and Strong. All three brands are popular snacks from Japan, made from meticulously selected raw materials with a standardized production process, seasoned with a unique recipe, characterized by its spicy and intense flavor fond by many consumers. As a result, it has further developed a wide selection of products, styles and flavors that are popular around the world.
"We see a lot of growth opportunities in Thailand. We are confident in Osotspa's strong distribution channels which will help our product distribution to further cover all target customers in all channels and will drive the company to achieve its goal of becoming one of the leading companies in the snack market in Thailand." said Mr. Tsuyoshi Komine, Managing Director of Koikeya (Thailand) Co., Ltd.
Osotspa's strong distribution channels, long experience and knowledge working with partners from Japan together with the Japanese products quality that consumers trust and like, will ensure the target growth of 30%.
"The partnership as a distributor of Koikeya products is in line with Osotspa's core strategy of expanding the business through cooperation with new partners and leveraging the potential and strong distribution expertise that helps promote the partner's products to the consumer via a network of more than 400,000 outlets nationwide, including van sales and local modern trade. This is Osotspa's first step into the snack market too," said Mr. Sarayut.