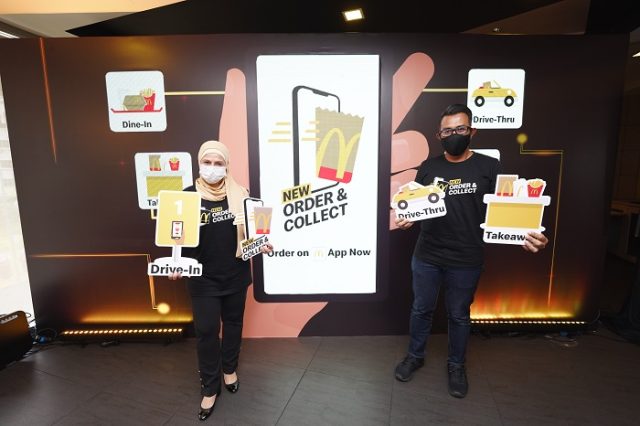 The new app feature enables customers to order and pay for their meals, directly from the McDonald's App
KUALA LUMPUR, 26 January 2022 – Enjoying your favourite meals at McDonald's has become even more convenient with the new Order & Collect feature on the McDonald's App. This new app feature offers a more seamless customer experience, allowing users to order, pay, and choose how and where they want to collect their order, directly from their mobile phones.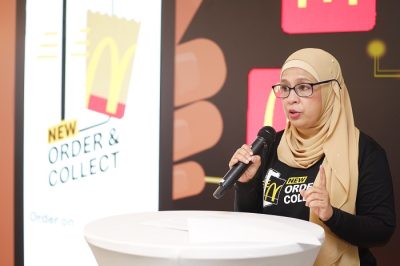 McDonald's Malaysia consistently strives to enhance customers' experience, be it in store, online or through the McDonald's App. Whether you're a working mother with children, or an on-the-go student, this new Order & Collect feature was designed to be a time-saving tool, enabling customers to easily order their favourite McDonald's meals with just a click of a button. Orders will then be prepared immediately by the customer's preferred restaurant upon payment, which can be made via Visa or Mastercard.
Customers can opt to collect their orders through four available channels at their selected McDonald's restaurant:
Takeaway
Customers can skip the ordering queue in the restaurant by ordering directly on their mobile, and collect their orders from the takeaway counter.
Dine-in
Customers can relax, grab a seat in the restaurant before ordering on their mobile. Their orders will be then served to their table in the restaurant.
Drive-Thru
Customers can order ahead of time and collect at the restaurant's Drive-Thru within 2 hours after payment.
Drive-In
Customers can park their car at the designated parking spot at the restaurant of their before placing their order on their mobile. Orders will be prepared immediately and delivered to the customer's car.
"At McDonald's Malaysia, we're always thinking of new and innovative ways to improve our services and provide only the best customer experience. We now live in an era where consumers are more connected than ever. Their wants and needs have changed, and convenience has become a priority in their everyday lives. With the Order & Collect feature, we are eliminating the hassle of queuing and waiting to order – and making it a more seamless experience for customers to enjoy their favourite McDonald's meal," said Melati Abdul Hai, Vice President and Chief Marketing Officer of McDonald's Malaysia.
The Order & Collect feature was first introduced in October 2021 at selected restaurants in Klang Valley and has since expanded to all McDonald's restaurants nationwide. Malaysia is the first market in the Southeast Asia region to rollout this feature.
"The rapid change of consumer demands and expectations has required F&B companies to be more agile, and at McDonald's, we have had to move fast in the same rhythm as market changes. Technology and digitalisation will continue to play a key role in moving our business forward, and our focus will be on providing a more enhanced and personalized experience to our customers, especially through our McDonald's App," said Melati.
Launched in April 2018, the McDonald's App has quickly became one of the top apps in Malaysia. The app has since garnered up to nine million downloads on the App Store and Google Play Store, and is one of the most popular apps when it comes to great value and savings for customers' favourite McDonald's meals.
From now until 6 March, customers can enjoy a free reward every week when they spend RM25 on Order & Collect with Visa. To experience the new Order & Collect feature, download the McDonald's App from Apple Store or Google Play store.