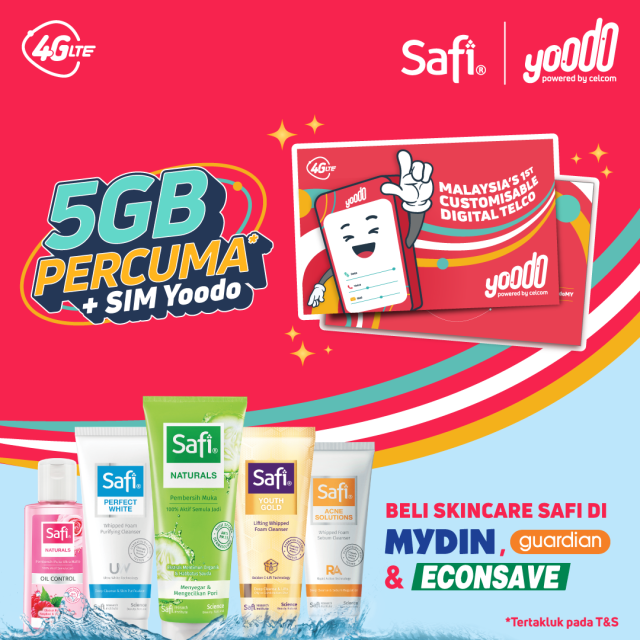 *Get Your Hands on Free Yoodo SIM Cards at Mydin, Econsave and Guardian
7 FEBRUARY 2022, KUALA LUMPUR –  The next time you head out to restock your must-have Safi facial cleanser, micellar water, or essences, keep an eye out for a familiar salmon-red band on the packaging to get a complimentary Yoodo SIM card with 5GB high-speed data! This promotion comes from a special collaboration between Yoodo – Malaysia's first fully customisable and 100% digital telco – and Safi, renowned and trusted Halal skincare brand in Malaysia.
Commenting on the announcement, Chow Tuck Mun, Head of Yoodo, shared that the strategic move gives Safi customers the opportunity to experience ultimate customisation and connectivity with Yoodo. "We're now able to offer connectivity, flexibility and customer satisfaction to a wider segment of the population than before, as they experience the best in Halal beauty. It's an irresistible deal and a win-win situation for both key Malaysian brands."
Tuck Mun added that new Yoodo users have additional perks to look forward to once they receive their Yoodo SIM card. "Users who activate their Yoodo line will receive 5GB of high-speed data for free. It's all part of Yoodo's ongoing efforts to increase access to connectivity in the country, to ensure that Malaysians can always stay connected with their loved ones come rain or shine."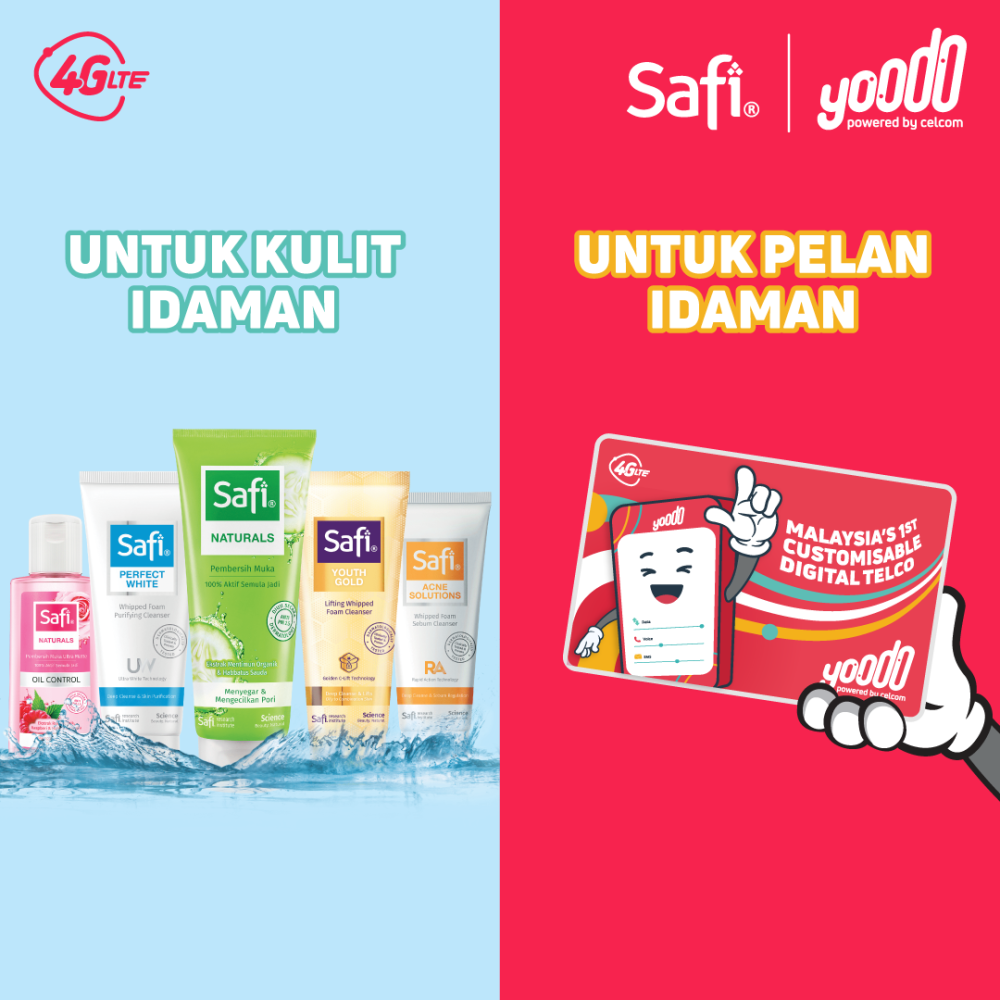 "Part of our brand ethos at Safi is to offer a wide range of high quality skin care to consumers, inspired by nature and science backed by Safi Research institute with revolutionary technology to provide women the best of modern skincare in line with Islamic beliefs,"shared by Safi brand representative. "We are proud to be collaborating with Yoodo for this exciting opportunity to reward our customers to empower women to stay confident with glow, while staying connected with their friends and family ."
Customers who purchase any Safi skincare products worth RM15 and above in a single bill will receive their free SIM card. The promotion is available in all Mydin retail outlets as of today and will also kick off in Econsave and Guardian outlets beginning 1st February 2022.
This special promotion from Yoodo and Safi is will continue until 31st March 2022 at all Mydin retail outlets and 30th April 2022 at all Econsave and Guardians outlet across the country while stocks last. For more information, please head over to https://www.yoodo.com.my/safi/. or Safi Malaysia Facebook page.
* Free Yoodo SIM card with every purchase of RM15 worth of Safi skincare products in one bill
About Yoodo
Launched in January 2018, Yoodo is an independent digital mobile service that is owned and operated by Celcom Axiata Berhad. It offers the country's first truly customisable mobile service with complete transparency, flexibility and customer convenience.
For more information on Yoodo, log on to yoodo.com.my or look up yoodoMY on Facebook, Instagram, TikTok, YouTube and Twitter or get the latest esports updates by following @yoodoesports on Facebook.
About Safi
SAFI is a leading halal brand which consists of a unique and comprehensive range of skincare, personal care, and toiletry products developed exclusively to meet the needs of modern Muslim women and men. Made with the finest natural ingredients that confirm to Syarak requirements, and certified HALAL by a stringent independent body – Jabatan Kemajuan Islam Malaysia (JAKIM) – SAFI is firmly steeped in Muslim traditions with products that are alcohol and gelatin-free. SAFI is manufactured in ISO and "Good Manufacturing Practice" (GMP) certified production facilities. SAFI endeavours to provide the best quality products to meet the growing needs of our consumers. To ensure product quality, consistency, and flexibility of supply, SAFI is 100% manufactured in factories located in Malaysia.
Since 1985, SAFI has been offering a wide range of high quality skin care to consumers, inspired by nature combined with revolutionary technology in line with Islamic beliefs.  SAFI has received multiple awards, including most recently, Trusted Brand Reward by Reader's Digest Voted by consumers
SAFI Research Institute – the world's most advanced HALAL skincare R&D Facility has developed the SAFI skincare range to address specific Asian skin issues by combining the power of science and technology, and using natural derived ingredients, to restore skin to its natural best.
This is in line with SAFI's tagline, Science. Beauty. Natural.