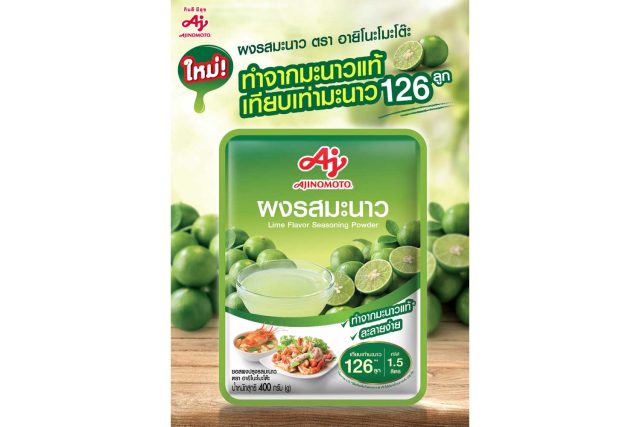 Ajinomoto Co., (Thailand) Ltd., penetrates the food service business market deeper with the launch of "Ajinomoto Lime Seasoning Powder", saving restaurant operators time cooking while controlling taste quality and managing costs.
Nowadays, food vendors increasingly tend to use lime seasoning powder instead of fresh lime due to the high price. Ajinomoto, as a leading food company with specialty seasoning powders, has therefore developed "Ajinomoto Lime Seasoning Powder". The product offers the fragrance of lime and gives just-right sour taste with no bitterness. Plus it's easily dissolved and convenient to use – perfectly for all kinds of savoury, sweet, and beverage menus.
Ajinomoto Lime Seasoning Powder is specially designed to serve the needs of restaurant operators who want stable quality products so they can standardise the taste of every dish. They also want to save the time spent preparing lime juice and help controlling costs so they can make more profit while at the same time ensuring customers get high-quality food and come back for more.
It's all part of Ajinomoto's "Eat Well, Live Well" society and Ajinomoto Group Creating Shared Value policy (ASV).
Ajinomoto Lime Seasoning Powder is available at Makro (except Food Service), Food Service Business Sales Department (tel. 0-2247-7000 ext. 1263-1270), and online channels Lazada and Shopee under "Ajinomoto Official Shop". Keep up-to-date with Ajinomoto products for food vendors at www.ajinomotofoodservicethailand.com.