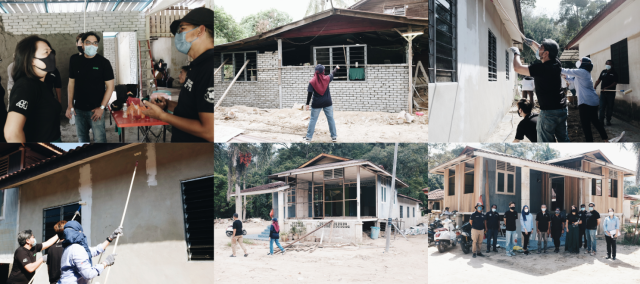 Petaling Jaya, 14 February 2022 – Five weeks after kicking off its #BantuanBanjir initiative, Grab Malaysia in partnership with MERCY Malaysia has raised enough donations to fund the rehabilitation efforts in Hulu Langat, benefitting over 500 families. The humanitarian aid is made possible by voluntary contributions from Grab users. In addition to GrabPay, Grab users were able to convert their GrabRewards into donations, with Grab matching the contributions. 
"I am moved by the outpour of support we have received for the #BantuanBanjir initiative and partnership with MERCY Malaysia. As health and safety remains our top priority, we are working quickly to adapt our technology to respond in times of extreme circumstances and ensure we are helping to provide support to those in need. Today, we're honoured to do our small part to  address immediate aid and relief to the affected communities. This initiative is made possible by the compassion and generosity of Malaysians that uphold the true spirit of togetherness," said Cheryl Goh, Group VP of Marketing and Sustainability.
MERCY Malaysia President, Prof Dato' Dr. Ahmad Faizal Mohd Perdaus responded to the support for relief efforts, saying "MERCY Malaysia appreciates Grab Malaysia's partnership in rallying support of its users and employees for the Malaysia flood relief efforts. The donation will be channelled towards rehabilitation and reconstruction activities to help communities in the affected areas to rebuild their lives and livelihoods. This unity in purpose inspires MERCY Malaysia to brace through the overwhelming challenges of post flood disaster management." 
With the donations, MERCY Malaysia has expanded its relief efforts which includes food and grocery essentials, as well as hygiene kits for more than 500 families. Besides providing necessities, the funds collected will also be used to restore the area. This includes acquiring assets and supplies for two schools, rebuilding 10 homes and centres, as well as constructing 18 new latrines and repairing 15 sewerage systems. 
In addition, a portion of the funds will also be used to employ members of the community to be a part of the workforce to rebuild Hulu Langat. Moving forward, MERCY Malaysia will be added onto GrabRewards permanently, so that Malaysians can easily contribute to their disaster management initiatives across Malaysia.   
"This effort comes as part of Grab's ongoing #TechUntukSemua focus – using technology as a force for good to empower people be it physically, economically, or socially, that impacts the world for the better. Helping our fellow Malaysians rebuild their lives is part of this mission, and we will continue to support communities who deserve the right to recover their  livelihood", concluded Cheryl.