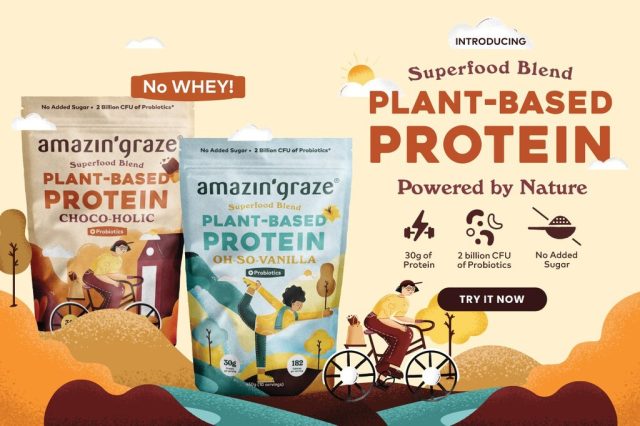 Amazin' Graze has expanded into plant-based protein blend. This whey-free, plant-based protein blend comes in chocolate and vanilla flavours. It contains 30g of protein per serving, 2 billion CFU of probiotics and is free from added sugar.
This vegan protein blend contains the perfect combination of pea, mung and fava bean protein isolates, as well as turmeric and green tea extracts for antioxidant & immunity benefits.
You can mix 3 scoops (45g) to water, milk or any beverage of choice or 1 scoop to increase your daily protein intake.
Ingredients: Pea Protein Isolate, Vanilla Powder, Mung Bean Protein, Fava Bean Protein, Stevia Extract, Fibersol 2, Bifidobacterium Longum, Acerola Cherry Extract, Tumeric Extract, Green Tea Extract.
Click here to purchase on Shopee.