Domino's has the best pizzas in town when it comes to all things cheesy! With up to half a kilogram of cheese on your pizza and support for local artists at every turn – you simply can't go wrong.
Douglas Lim entertains Malaysians with cheesy wit and humour while showing us how much better life is with some good old-fashioned cheese on pizza!
KUALA LUMPUR, 5 March 2022 – Malaysians are in luck because Domino's Pizza has heard them loud and clear, delivering on the brand promise of "It's All About You" by giving cheese lovers a mega cheesy experience with up to ½ kilogram of cheese on their new Domino's Mega Cheese Pizza.
Linda Hassan, Group Chief Marketing Officer at Domino's Pizza Malaysia, Singapore and Cambodia, said, "At Domino's, we want Malaysians to know and feel that "It's All About You". That's why we pay attention to what our customers have to say, and we go above and beyond to meet their love for cheesy goodness. In this case, it is all about giving cheese lovers pure satisfaction when they bite into a slice of pizza and watch stringy cheese being pulled away from their mouths. That excitement is what we want Malaysians to hold as a cherished mouth-watering cheesy experience."
"We believe our Domino's Mega Cheese Pizza is one of Malaysia's most extraordinary pizzas. It has an extra-large helping of cheese which we know you'll love! The Domino's Mega Cheese Pizza comes in three different sizes – 6", 9" and 12", and also features three different customisable base sauces, which is only available for a limited time," she added.
The Domino's Mega Cheese Pizza comes with a selection of three base sauces— Top Secret, Signature and Cheese sauce. The pizza packs a punch for its cheesylicious flavour and nothing can get cheesier than this as it contains up to ½ kilogram of cheese (3x more than usual!).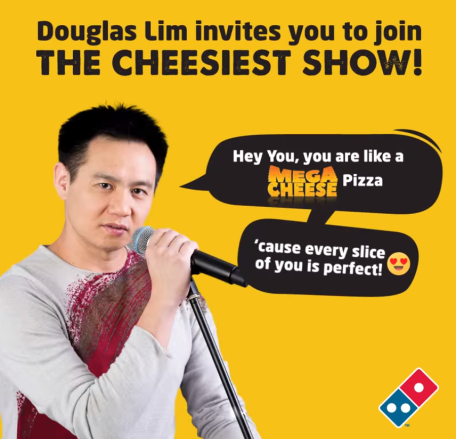 At the recent introduction of the new Domino's Mega Cheese Pizza on the Cheesiest show ever, Douglas Lim took to the virtual stage to entertain audiences in the cheesiest way possible and showcased the mouth watering amount of stretchy cheese on the new Domino's Mega Cheese Pizza.
Kicking off the event with a comical yet cheesy skit, Douglas cracked hilariously cheesy jokes and got steamy with audiences as he challenged them to come up with the cheesiest pick-up lines which were then read out and rebutted in true comedic style.
Among the cheesiest pick-up lines sent in from the audiences included "Hey there, do you believe in love at first bite? Or should I add more cheese?" sent in by Sue YaLee. Some of the more creative pick-up lines of the day were "Are you a pizza? Because every slice of you is perfect" sent in by Fathin and "Know what's on the menu? Me n U", by Anis. For showing off their creativity and wit by coming up with some of the cheesiest pick-up lines, Domino's surprised ten lucky people who brought the cheese and entertained Malaysians to a Mega Cheese Combo feast.
Douglas Lim himself was left in stitches with extremely cheesy lines coming in hot and fast from the audiences. He also dished out cheesy pick-up lines like "If you were a pizza and I were cheese, I'd melt all over you like the new Domino's Mega Cheese Pizza." and "Do you like raisins? How do you feel about a date? Because I think we would be Gouda together,"
Missed out on the cheesiest comedy show in Malaysia to date? You can catch all the cheesy action on Domino's Pizza Malaysia's Facebook page. Enjoy the show with a belly full of the new Domino's Mega Cheese Pizza which is currently available in all Domino's outlets nationwide, giving cheese lovers a reason to celebrate their love for cheese. For more information, please visit https://www.dominos.com.my/