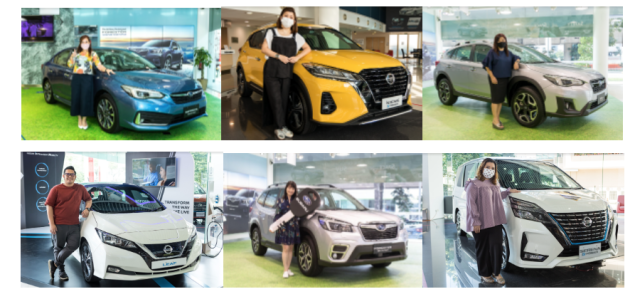 Singapore, 7 April 2022 — CapitaLand has successfully concluded its largest consumer giveaway, "Spend and Win Big" in partnership with Tan Chong International Limited, with the prize presentation of the grand draw prize – a 100% electric, zero emission Nissan LEAF. The 15-month-long campaign rewarded shoppers with over S$580,000 worth of attractive prizes in total, including six brand new Nissan and Subaru cars and eCapitaVouchers.
The "Spend and Win Big" campaign was launched on 16 October 2020 to show support and appreciation to CapitaLand shoppers and retailers amidst the pandemic.
Mr Chris Chong, CEO of Retail & Workspace (Singapore & Malaysia), CapitaLand Investment, said: "We are pleased that the partnership with Tan Chong International Limited was a success and delighted shoppers with the chance to win a car of their dreams.  The Spend and Win Big Campaign was our way of showing support and expressing our appreciation to our shoppers and retailers, and we look forward to presenting more buzzworthy and rewarding giveaways at CapitaLand malls."
"This was a great collaboration between Tan Chong and CapitaLand that gave retailers an extra boost. It not only made shopping more exciting, it gave shoppers the opportunity to appreciate how Nissan's and Subaru's key features and technologies suit our families and our lifestyles. Nissan's electrified models empower drivers with unparalleled driving performance, via 100% electric drive and instant acceleration for more sustainable mobility.  And as safety should never be compromised, Subaru's focus on performance and safety means that Subaru drivers get greater peace of mind drives, since every Subaru is equipped with more than 100 safety features," added Mr Glenn Tan, Deputy Chairman and Managing Director of Tan Chong International Limited.
Benefitting Tenants
Designed to complement other strategies in driving the performance of CapitaLand malls during COVID-19, the "Spend and Win Big" campaign not only generated consumer spending, it also boosted confidence in consumers and tenants alike.
Shopper traffic at CapitaLand malls rose steadily during the campaign and tenants reported improved sales performance.  Through this campaign, eCapitaVoucher sales registered a 135% year-on-year growth and the monthly app traffic on the CapitaStar app hit a record of more than 5.7 million views in December 2021.
Mr Eiki Sato, Managing Director, Best Denki (S) Pte. Ltd., said: "The Spend and Win Big campaign was beneficial for tenants like us as it gave shoppers the opportunity to win a high-ticket item while doing their day-to-day shopping.  We're happy to share that Best Denki customers contributed one of the highest numbers of receipts for this lucky draw, and this was telling of the increase in retail activity in our stores."
"We're thankful to be a part of the Spend and Win Big campaign as we saw a growth in footfall in our stores throughout this period. Generally, customers were more willing to spend as they would be entitled to enter this lucky draw – in hopes to win a brand new car. Even if they didn't win the car, many had the opportunity to win cashbacks in the form of eCapitaVoucher.  That in itself is also a benefit of shopping in CapitaLand malls," added Mr David Chong, Director, POP MART South Asia.
Delighting Shoppers
The final prize presentation ceremony of the "Spend and Win Big" campaign was held on 21 February 2022 at the Nissan showroom. The grand prize of the campaign presented at the event was the 100% electric, zero emission Nissan LEAF – a full electric vehicle in alignment with CapitaLand's commitment to sustainability.
Mr Law Choon Keong, Spend and Win Big Grand Prize Winner, said: "My favourite CapitaLand mall is definitely Plaza Singapura because it is one of the largest malls in Singapore, plus there is Hai Di Lao! I told all my friends to download the CapitaStar app because of how convenient it is to use and there are so many CapitaLand malls in Singapore so getting rewarded is as easy as a click of a button."
"I have always used the CapitaStar app like it is second nature whenever I shop at CapitaLand Malls because it is so rewarding! I get rewarded with STAR$ and redeem eCapitaVouchers but would never have expected that I would win a car!" said Ms Chua Lan Ping, Spend and Win Big Draw 3 Winner.
Ms Diyanawati Binte Abdul Malik, Spend and Win Big Draw 4 Winner, added: "Shopping at CapitaLand malls will always be my number one choice, from the endless amounts of rewards you can get from utilising the CapitaStar app to even winning a car! Thank you CapitaLand."
The 15-month-long campaign – which ran across all CapitaLand malls including ION Orchard, Jewel Changi Airport, and its digital platforms – was CapitaLand's biggest campaign to date in terms of the prize value, number of participating malls and platforms.  Shoppers received one lucky draw chance for every S$50 spent at any participating CapitaLand malls, and on CapitaLand's twin digital platforms eCapitaMall and Capita3Eats.
As the giveaway drew to a close, S$580,000 worth of prizes were presented to winners including a Subaru Impreza 4D 2.0i-S EyeSight, a Nissan Kicks e-POWER crossover, a Subaru XV 2.0i-S EyeSight, a 7-seater Nissan Serena e-POWER, a Subaru FORESTER 2.0i-L EyeSight, The Extraordinary SUV, and a 100% electric, zero emission Nissan LEAF. An additional 60 shoppers – 10 at each of the six draws – received S$250 worth of eCapitaVouchers each.
CapitaLand extends its most sincere gratitude to all customers for their support in making this campaign a success, and looks forward to engaging the public with more rewarding shopping experiences at CapitaLand malls.