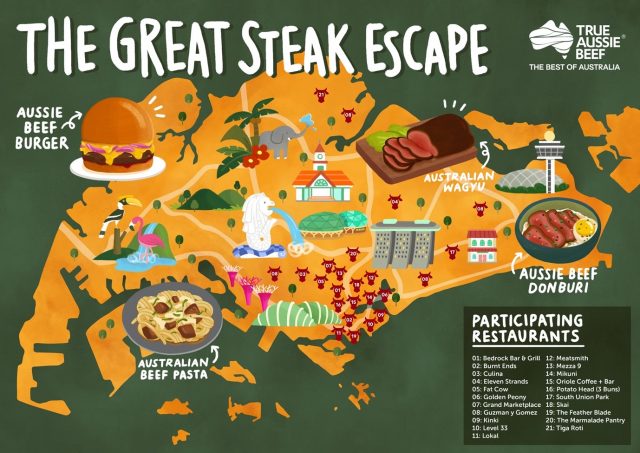 Meat & Livestock Australia is hosting The Great Steak Escape from 28 June – 25 July 2021 island-wide in partnership with Singapore restaurants
SINGAPORE, 24 June 2021 – Meat & Livestock Australia (MLA) leads the herd with its latest campaign, The Great Steak Escape, by encouraging Singapore to get back out to restaurants and enjoy the rich flavours of Australian beef. From Monday, 28 June to Sunday, 25 July 2021, each of the 21 participating venues across the island will feature menu items that showcase and celebrate the delicious flavours of Aussie beef.
With much of the little red dot feeling the absence of travel, the Great Steak Escape offers a chance to venture on a gastronomic "escape" down under to discover and indulge in Australian beef's natural goodness. Home to healthy cattle that are naturally raised in Australia's vast backyard, Australian beef is both nutritious and offers a delectable taste profile that is perfect for many international cuisines. During a time of travel restrictions and border closures, The Great Steak Escape aims to bring beefy goodness to Singapore with a bit of love from Australia's farmers.
Whether diners are looking for a quick bite to eat or a special evening at one of the island's best restaurants, The Great Steak Escape's partners offer a variety of cuisines from around the globe, showcasing delicious and enticing beef creations. Participating venues include Burnt Ends, Culina, Guzman y Gomez, Kinki, Level 33, Meatsmith, Potatohead (3 Buns), SKAI, Golden Peony and The Feather Blade, to name a few.
"The Great Escape invites consumers to indulge in Australian beef and its great benefits and flavour profile. But, more importantly, we want to showcase the fantastic partners we work with at MLA. It has been a trying time for the food & beverage industry, and we want to support them by encouraging diners to get back out to venues," said Valeska, Regional Manager, Southeast Asia for MLA.
Australian beef is a natural product of its environment, bursting with the nutritional benefits of Iron, Zinc, Omega-3, Amino acids and other essential nutrients. From rich and flavourful Wagyu steak to juicy, mouth-watering burgers, when guests choose to dine on Australian beef, they are making the discerning choice for a meat that is produced with care, by the best in the business for multiple generations.
The Great Steak Escape begins Monday, 28 June, until Sunday, 25 July 2021. Visit True Aussie Singapore on Instagram and Facebook to learn more about the restaurant partners and their dishes or visit the campaign site here for more information.
Diners are also encouraged to keep their eyes peeled, as MLA will be hosting a social media contest where participants can enter into a lucky draw, with the opportunity to with a grand prize of a two-day, one night stay at the Grand Hyatt with S$300 dining credit at MEZZA9 for the complete Australian dining experience.
APPENDIX: The Great Steak Escape partners and their featured Australian beef menus
Bedrock Bar & Grill
Established in 2008, Bedrock Bar & Grill was founded and built on the vision of serving up the finest steak cuts and dishes. Marked by a respect for tradition and product, wood-grilled, smoked hot or cold, with exotic spices or keeping things classic, customers can indulge in Australian beef creations like their 30 Day Aged Vintage OP Ribs. 
Burnt Ends 
Founded by Chef-Owner Dave Pynt, Burnt Ends is a modern barbecue restaurant in Singapore's Chinatown neighbourhood serving modern Australian barbecue and boutique wines and spirits in a fun, relaxed atmosphere. Try the Steak Sando at Asia's 14th best restaurant and 59th in the world for your dose of Australian beef.
Culina
Culina houses the best speciality ingredients from around the world under one roof. They also provide some of the best Australian beef to many steak restaurants across Singapore. They also house their own bistro that offers some Australian beef menu items like their Josper Grilled Steaks.
Eleven Strands
Eleven Strands offers an affordable Italian and French dining concept in Serangoon. This friendly neighbourhood restaurant offers Australian beef that comes in the form of an Angus Beef Short Rib Pasta that will make your mouth water.
Fat Cow
Fat Cow is an award-winning modern fine-dining Japanese restaurant by Commonwealth Concepts, serving up the finest Japanese beef experiences. Luxuriate your taste buds with The Fat Cow Donburi that will fulfil your Australian beef fix.
Golden Peony
Immerse yourself in the elegance and opulence of the highly-acclaimed Golden Peony at the Conrad Centennial Hotel. Savour the flavour of their Pan Seared Beef in Red Wine Sauce for an Asian twist on Australian beef.
Grand Marketplace
If home cooks are looking to stock up their refrigerator for a home-cooked feast, Grand Hyatt Singapore's culinary team has assembled three limited bundles that bring every aspiring home chef on a culinary adventure from the comfort of their homes to mark the launch of the Grand Marketplace, the hotel's one-stop online grocery shop. If you are looking to bring the taste of Australian beef home, the Oasis Bundle or Mezza 9 Bundle are perfect options for a barbecue.
Guzman y Gomez
Guzman y Gomez Mexican Taquería is all about the food. They pour passion into every ingredient they choose, where it comes from and how it's prepared. Celebrate all things Latin with Guzman y Gomez and its many outlets across Singapore. Get their grilled steak filling with any Guzman y Gomez menu item for your touch of Australian beef.
Kinki
Kinki Restaurant + Bar are shaking up the dining scene with an ambience that defies tradition, modern Japanese dishes peppered with their own touch.  Get your hands on their Wagyu Garlic Teppanyaki to get a smack of their take on Australian beef.
Level 33
Level 33 is a unique award-winning rooftop dining concept with the world's highest urban microbrewery. Enjoy the spectacular view over Singapore's Marina Bay and city skyline from the penthouse unit of the Marina Bay Financial Centre (MBFC). While taking in the view relish in some Australian beef at a different altitude.
Lokal
In 2014, Aussie Chef Darren Farr started The Lokal, a casual Australian Restaurant-Bar with an open kitchen concept, providing customers with honest house-made comfort food from day to night. Order the Bass Strait Australian Grass Fed T-Bone Steak that will take you back to Australia with the help of Australian beef.
Meatsmith
Meatsmith offers the real-barbecue across its' three outlets in Singapore. This laid-back joint offers a hearty wood-fired BBQ like 300g King Island Grass Fed Striploin that is 100% Australian beef.
MEZZA9
A lifestyle restaurant located on the mezzanine level of Grand Hyatt Singapore, this semi-casual space showcases nine unique dining concepts. One of them is the western grill where you can find some Australian beef. Take a special someone out for some Chargrilled over Jarrah wood, New South Wales Sangus beef 1kg Porterhouse or Prime Rib.
Mikuni
Mikuni offers a culinary tour through exquisite creations from its stunning Teppanyaki with some Aussie beef and Sushi live stations, each helmed by a master chef, highlighting the most premium seasonal Japanese produce. Be delighted by Stanbroke Wagyu MB8 Tenderloin, Vegetables, steamed rice, Chawanmushi Egg Custard, pickles, Miso Soup, Dessert of the day while you take in theatre that Mikuni has to offer.
Oriole Coffee + Bar
A café by day, serving up freshly brewed speciality coffee, Oriole turns into a bar by dusk, with house pour wines, beers, and a selection of refreshing cocktails. Diners can expect savoury café classics and hearty global fare throughout the day with Oriole Coffee + Bar. Start your morning right with Australian beef, which comes with their Ribeye Steak & Baked Eggs. 
Potatohead (Three Buns)
Three Buns is an award-winning restaurant concept from Potato Head that redefines the classic burger joint. With a huge variety of house-made sauces and pickles, using amazing quality meats like Australian beef, they create modern playful twists on classic burgers like their Baby Huey.
Skai
SKAI is a refined yet lively contemporary grill restaurant, situated on the 70th floor of Singapore's acclaimed Swissôtel The Stamford. Savour the new menu curated by Executive Chef Paul Hallett, who has blended cutting edge culinary skills with a cooking philosophy honed through years of experience to create a truly personal and progressive fine grill offering. Let your tastebuds indulge in Stanbroke, Black Angus MB4 Porterhouse (on the bone) 900g, Green Peppercorn Sauce, Hokkaido Corn, Hand-Cut Chips for a refined take on Aussie beef.
South Union Park
Housed in a nondescript shophouse in a quiet residential neighbourhood in Kembangan, South Union Park creates a casual dining experience with pastas, burgers and more. The venue is home to a Roast Wagyu Beef that uses Australian beef that will keep you wanting more.
The Feather Blade
All The Feather Blade's steaks are sourced from Australia with the main cut being the Feather Blade steaks. Also known as the Flat Iron steak, the Feather Blade is a cut from the shoulder region and is the most tender cut after the tenderloin. The venue offers some great Australian beef options such as The Feather Blade Steak, The Feather Blade Gyudon with Scallops and The Feather Blade Burger. 
The Marmalade Pantry
A homegrown bistro since 1999, The Marmalade Pantry serves up delectable pastas, afternoon tea, hearty weekend brunches, as well as signature cakes and cupcakes. Don't be too surprised, The Marmalade Pantry offers some delectable Aussie beef creations. Get your hands on their Truffle Beef Burger or visit their ION outlet for their Wagyu Steak and Eggs.
Tiga Roti
Tiga Roti is a new Muslim-friendly cloud kitchen concept by Three Buns that recreates their signature burgers, all with halal ingredients. Even though they only do delivery, their Aussie beef creations never tasted better. Order the Hot Dang the next time you open your food delivery app.