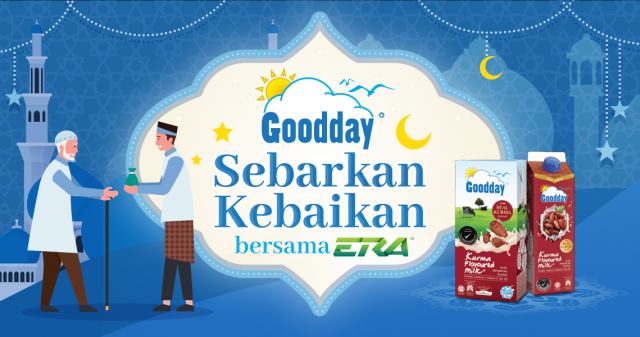 'Goodday Sebarkan Kebaikan' campaign garnered over RM29,000 in donations
Kuala Lumpur, 24 June 2021 – Goodday Milk, one of Malaysia's favourite milk brands since 1968, recently concluded their Goodday Sebarkan Kebaikan campaign, a community campaign that was created to help the underprivileged during the holy month of Ramadan. The campaign received over 8,000 entries and garnered over RM29,000 in donations for Pusat Jagaan Al-Fikrah Malaysia.
As a brand that stands for the good of the community and consumers, Goodday Sebarkan Kebaikan campaign addressed the need of the hour by not only rewarding their loyal consumers but giving them an option to undertake acts of charity during Ramadan right from their own homes. This is crucial right now, where many people are stuck at home and are going through various challenges in the wake of the COVID-19 pandemic.
Through this campaign, consumers were given prizes every time they purchased Goodday Milk or Tropicana products worth of minimum RM15 in a single receipt. From their purchase, consumers were able to choose to redeem their prize in Touch n' Go e-credit worth up to RM30 or to spread the kindness by donating the amount to an old folk's home. Through the goodwill of Malaysians, who generously donated their rewards, Goodday Milk was able to garner over RM29,000 donations which was then contributed to Pusat Jagaan Al-Fikrah Malaysia.
"At Goodday Milk we have always been advocating campaigns that add goodness to the life of our consumers, be it through meaningful partnerships or exciting rewards. With Ramadan festivities dampened in the wake of the pandemic, we hope that through Goodday Sebarkan Kebaikan campaign, Malaysians were able to come together as a community and help those in need," said Yee Pek Kuan, Vice President of Marketing at Etika Sdn Bhd.
As part of the meaningful campaign, Goodday Milk also worked together with Era FM, one of Malaysia's leading Malay-language radio stations, to further amplify the message of spreading kindness and goodness during Ramadan with two main activities called Goodday Turun Padang and Goodday Renungan Ramadan Live.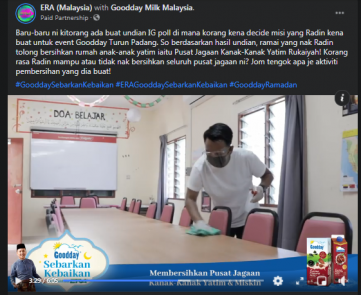 In Goodday Turun Padang, Era FM's followers voted on an Instagram poll to choose the task to be carried out by radio announcer, Radin. Based on the results, Radin went to Pusat Jagaan Kanak-Kanak Yatim Rukaiyah where he did come cleaning activities at the centre. He also went to Pusat Jagaan Dan Rawatan Orang Tua Al-Ikhlas and Pusat Jagaan Al-Fikrah Malaysia to distribute food packs.
Dato Dr Haji Mohd Fadzilah Kamsah, a well-known motivational speaker together with  Radin have carried out Goodday Renungan Ramadan Live on 29th of April, which garnered 210k reach. The Facebook live session provided tips on how to keep a positive mind, cultivate goodness within themselves as well as share ideas on how Malaysians can extend goodness even during unprecedented times.
Despite the pandemic, Goodday Milk has conducted campaigns for the benefit of their consumers and the community at large. This includes conducting virtual moreh sessions and even a partnership with navigation app Waze that would allow Malaysians to shop at less crowded supermarkets.
"As a brand that has always been supported by Malaysians, we wish to continue to support the community especially in these uncertain times. We will continue to bring more goodness for Malaysians and the communities we live in whether it is through charitable initiatives or interactive campaigns," added Pek Kuan.
For more information on Goodday Milk's initiatives and future activities, stay tuned to Goodday Milk Malaysia Facebook page www.facebook.com/gooddaymilkmalaysia.