Shah Alam, April 11, 2022 – Ramadan is here, and Ayam Brand has prepared five  quick, healthy, delicious and affordable Sahur meals for everyone.
With some prep the night before, most of these meals can be ready in 20 minutes or less so that you, and your loved ones can have a hearty meal with minimal stress to carry out ibadah berpuasa from sun-up to sun down. You can scale these up for a family of four or scale it down for singles. The recipes provide generous servings for two adults. There's a healthy balance of fibre from vegetables and fruit to keep you full for longer, protein to keep you strong and carbohydrates for energy.  Ayam Brand™ understands that cost is a concern especially when feeding families, and has included an estimated cost per person as well.
These recipes products can be done in a basic kitchen with stove top and refrigerator, but can be completed much faster if you have toaster, micro-wave oven and air fryer. Read on to find the ones that are right for your taste and the equipment that you have. Take what you can use and make it your own. Please season to taste with pepper, salt, sugar, tamarind, vinegar or other condiments.
All Ayam Brand products are Halal, preservative-free, MSG-free, non-GMO with no added flavouring or colouring for healthier, more convenient meals. The fish products are packed with protein, Omega 3 and calcium, while the coconut milk is as good as fresh and equivalent to one fresh coconut.
On to the recipes!
Triple Decker Mackerel Fillet Sandwiches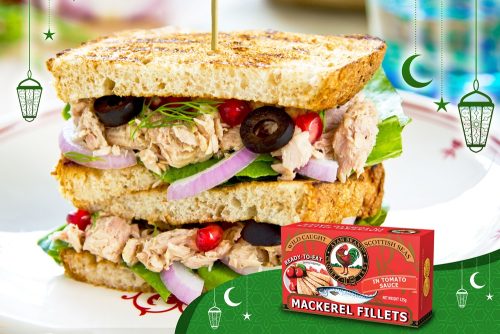 Sandwiches are easy to make, and if you add on more vegetables and a good source of protein such as mackerel, they can be very filling. Here is a triple decker treat that can be done in 10 minutes.
Start by toasting bread, we use wholemeal as it is higher in fibre and has a lower glycaemic index. If you don't have a toaster, you can toast it in a pan on your stove top. Open a pull-tab can of Ayam Brand Mackerel Fillets in Tomato Sauce. Take the fillets out, mash roughly with a fork, add chopped onions, and finely sliced chilli,  include some of the tomato sauce for a saucier mackerel spread. Slice a large tomato into thick rings. Wash a large handful of lettuce, dry with kitchen towels.
Set three slices of toast on a plate. On the first slice add a few large lettuce leaves and top with two slices of tomato, then cover with another slice of toast. Next add two heaped tablespoons of your mackerel mix and spread it out. Optional add-ons : a slice of cheese, a fried egg or sliced boiled egg. Cover with the remaining slice of toast. Repeat for another triple-decker mackerel fillet sandwich.
Skill level: Easy
Time : 10 minutes
Serves: 2
Optional prep: boil eggs the night before
Cost: RM6.50 per person (with egg!)
Nasi Lemak with Fried Chilli Sardines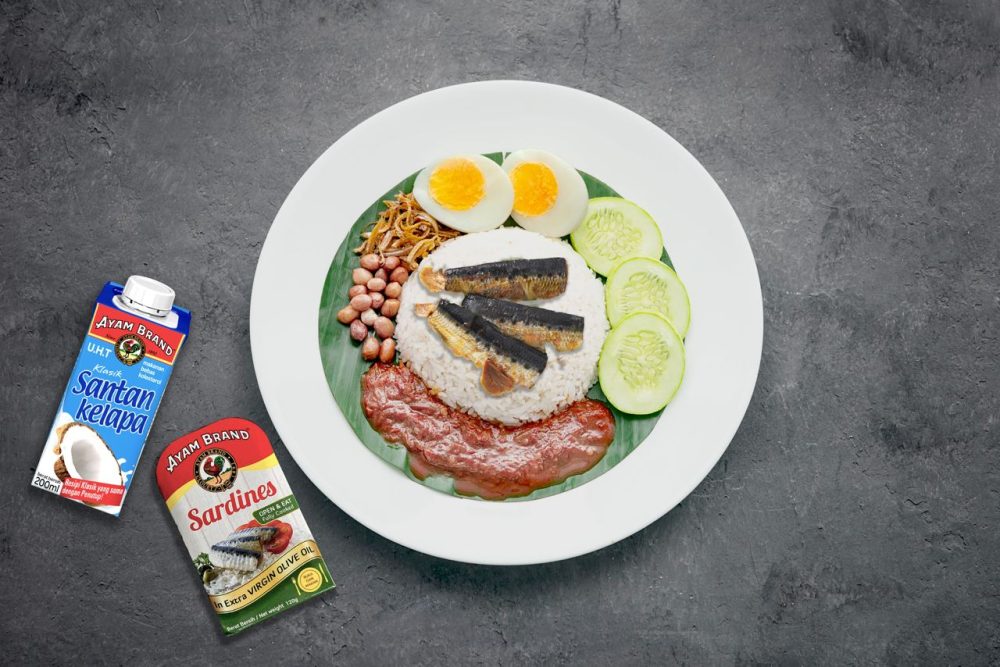 Cook some nasi lemak the night before – simply add one pack of Ayam Brand Coconut Milk to replace a cup of water when boiling rice, add some pandan leaves and a few slices of ginger. Optional:  boil one egg per person the night before.
In the morning, open a can of Ayam Brand Fried Chilli Sardines. Place your nasi lemak on a plate, add two to three fried Chilli sardines at the side, spoon a little of the chilli gravy on the rice if you like it spicy, add sliced boiled egg and microwave for two minutes on medium.
Wash and slice cucumber, tomatoes or other ulam as your side dish, add peanuts and fried ikan bilis if available.
Skill level: Easy
Time : 10 minutes
Serves : 2
Prep required : Make Nasi Lemak and boil eggs the night before
Cost: RM6.30 per person
Ayam Brand Pasta Surprise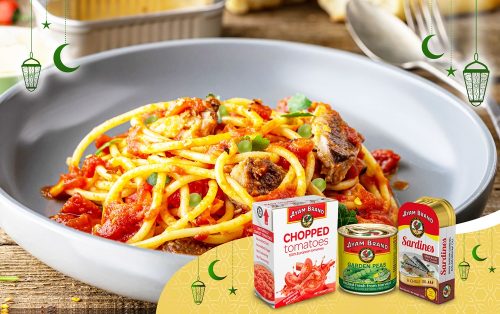 This is a go-to meal whenever I'm short of time and is a great addition to your Sahur recipes.
Boil pasta following the instruction on the pack, we used Alce Nero Organic pasta. At the same time heat another pan, empty out two cans of Ayam Brand Sardines in Extra Virgin Olive Oil, and fry some garlic in the oil (you can find peeled garlic in supermarkets – saves a lot of time). Add finely sliced chilli padi, diced carrots and a can of drained Ayam Brand Garden Peas, fry until lightly cooked. Next add a pack of Ayam Brand Chopped Tomato and bring to the boil. Once pasta is done, use kitchen tongs to move pasta to the sauce pan. Add a quarter cup of pasta water for a silker sauce. Stir well until pasta is well coated, dish out onto plates and ready to serve. You can add some coriander leaves to make it fancy.
Skill level: Easy
Time: 15 minutes
Serves: 4 (leftovers make a tasty Buka Puasa meal)
Cost:  RM7.60 per person
Fried Sardines and Chips with Peas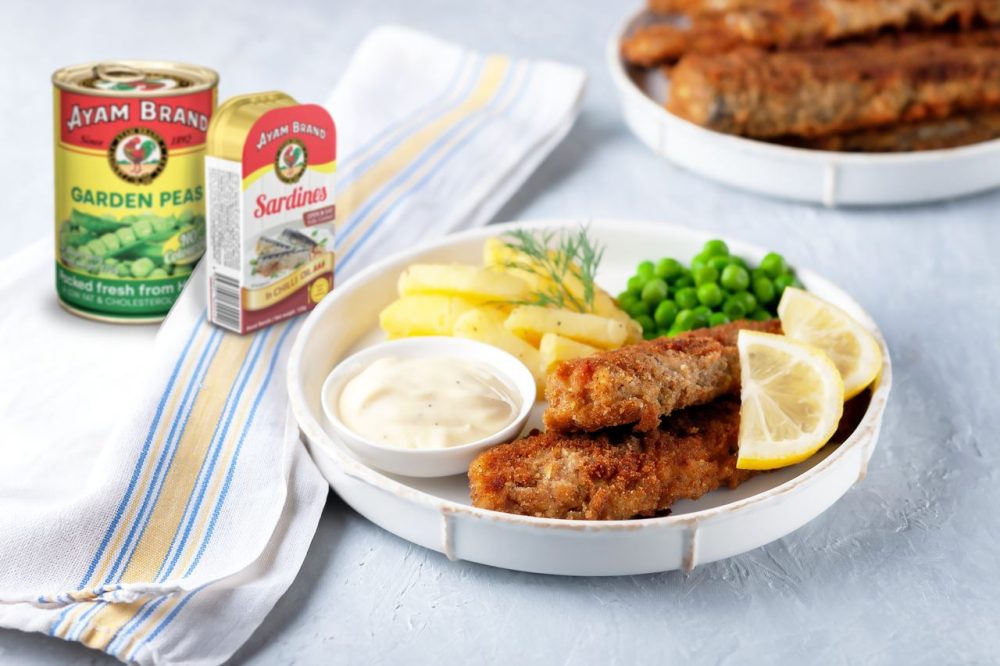 This is a super easy version of fish and chip that makes a very tasty and  impressive-looking Sahur meal. Air-fry enough chips (ready-to-fry frozen French fries or wedges are convenient) for each person. At the same time, open a can of Ayam Brand Garden Peas, drain then add some mint or basil for acidic brightness. Microwave on medium for two minutes until hot. Open a can of Ayam Brand Fried Sardines in Chilli Oil, dip the fillets into tempura batter, and fry until golden. Place two to three fillets on a plate, add the garden peas as a side, then add air-fried chips. Serve with tomato ketchup or chilli sauce. You can top the chips/fries with vinegar or pepper to taste.
Skill level : Easy
Time: 15 minutes
Serves : 2
Cost: RM7.75 per person
Thai Curry with Rice 
Some of us need rice and curry at Sahur to fuel our day during Ramadan. While it may seem daunting to whip up a curry/gulai at 4am, Ayam Brand makes it easy.
In a pan heat a tablespoon of cooking oil, add two 50gram packs of Ayam Brand Thai Curry Paste of your choice (there's Green Curry, Red Curry and Yellow Curry)and fry until fragrant for around 30 seconds. Add 200 to 400 grams of chicken, beef or seafood (smaller cubes or slices cook more quickly), fry until tender, then pour in 200ml of Ayam Brand Coconut Milk. Add vegetables of your choice such as carrots, ladies' finger, eggplant or tomatoes, bring to boil then simmer for five minutes. Optional : garnish with chillies, kaffir lime leaves or coriander. Serve with rice, also tastes amazing with rotis such as chapati, roti canai or parathas.
Skill level : Easy
Time : 15 minutes
Serves: 2 to 3 adults
Cost: RM5.65 per person
Do you have an amazing Buka Puasa, Kuih Raya or Hari Raya recipe using Ayam Brand Coconut Milk? Join the Ayam Brand Bok Bok Raya Masak, Kongsi & Menang contest. Whip up your best dish using Ayam Brand Coconut Milk in any of these categories, upload the photos or video (max 60 seconds) and recipe to your Facebook or Instagram account with the hashtag #BokBokRaya and tag @AyamBrandMy on Instagram or @AyamBrandMalaysia on Facebook. You could be in the running for total prizes of RM18,900 including three grand prizes of RM3,000 each, three Tefal Home Chef Smart Multicookers, three Tefal Ingenio Resources Cooking Sets and 60 weekly prizes of RM50 cash vouchers! Head over to https://www.ayambrand.com.my/index.php/masak-menang-contest for all the details.
Ayam Brand products are widely available from Aeon, Aeon Big, Giant, Cold Storage, Jaya Grocer, Village Grocer, Bens, Hero, Mydin, TF Value, The Store/Pacific, Econsave, Matahari or visit the Ayam Brand Official stores on Shopee and Lazada. Look out for the Ayam Brand Coconut Milk Value Pack of 3 X 200ml. This festive pack is ideal for families or if you will be doing a lot of santan based cooking.  Available at RM8.55.