Thai Coconut PCL is showcasing its latest plant-based meat range at THAIFEX – Anuga Asia 2022. The launch of its latest plant-based meatless Choi ushers the company into the future-forward plant-based segment. The Choi range is vegan friendly, is a source of fibre and is low in saturated fat. Choi's meatless products are 100% made from plants and do not have antibiotics, preservative and GM ingredients.
The Choi range includes plant-based Asian dumplings, plant-based Asian street appetite and plant-based western snack.
Plant-based Asian Dumplings:
Plant-based Shrimp Dumplings (Ha Gao)
Plant-based Steamed Shrimp Dumplings (Shumai)
Plant-based Beef Bulgogi Mandu
Plant-based Pork Gyoza
Plant-based Gyoza Cheesey Pork
Plant-based Potstickers (Chinese Pan-Fried Chicken & Vegetable Dumplings)
Plant-based Asian Street Appetite:
Plant-based Shrimp Spring Roll
Plant-based Grilled Pork with Coconut Milk
Plant-based Teriyaki Chicken
Plant-based Chicken Satay
Plant-based Chicken Tikka BBQ
Plant-based Western Snack:
Plant-based Chicken Strips
Plant-based Cheese Pops
Plant-based Chicken Pops
Plant-based Chicken Nuggets
Plant-based Coconut Calamari
Plant-based Coconut Shrimp
As a coconut producer, some of the plant-based products also feature the use of coconut as the ingredient.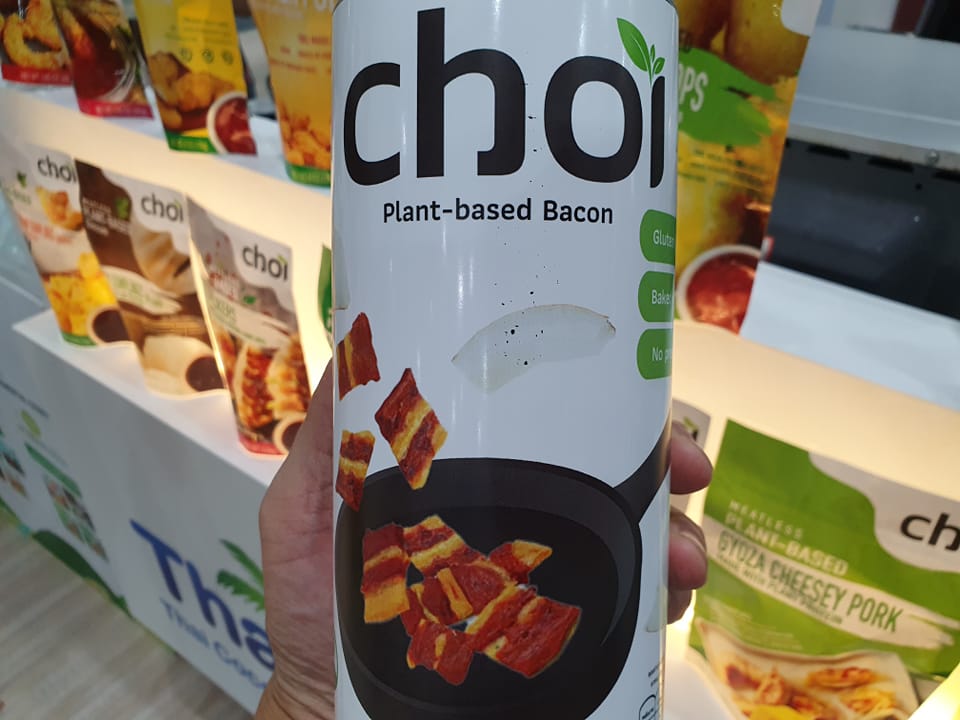 The Choi range includes a plant-based bacon made from young coconut meat, mature coconut meat, natural colourant and flavouring agent to mimick the taste and texture of bacon.
We are seeing more companies expanding their reach into the increasingly crowded plant-based segment. As an agri company, Thai Coconut has the advantage of having access to coconut as a raw material, which the company has creatively added into some of its plant-based range.