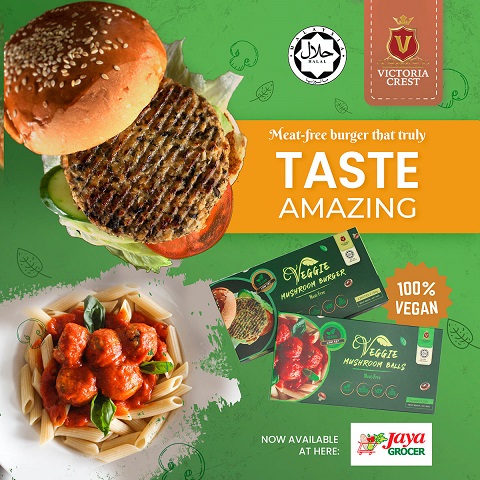 Victoria Crest, a Malaysian company that specialises in the production of premium Halal meat products, has recently introduced meat-free mushroom burger patties made from whole mushrooms. The vegan-friendly, meat-free burger patties are said to have "the hallmarks of meaty flavours and juiciness." Also including in the range is Veggie Mushroom Balls. Both products are certified halal by JAKIM and are available at Jaya Grocer and AEON Big and other retail outlets.
For best results cook from frozen. It can be cooked defrosted. Veggie Mushroom Balls/Veggie Mushroom Burger are made from textured wheat protein, soy, onions, water, breadcrumbs, vegetable oil, mushroom, spices, salt, permitted food conditioner and flavouring. The protein content is 11.6g per 100g.
The price per pack is RM 19.90 at AEON Big.