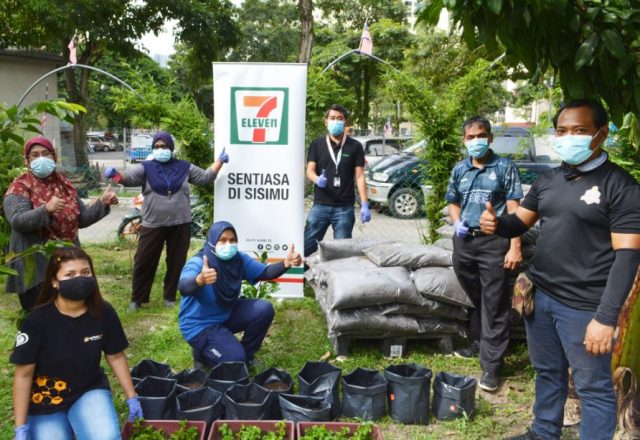 KUALA LUMPUR, 21 SEPTEMBER 2020 – The largest 24-hour standalone convenience store operator, 7-Eleven Malaysia, in collaboration with its partner NGOhub, has taken the initiative to contribute to the edible community garden in Pangsapuri Mutiara Magna, Kepong, Kuala Lumpur.
This community care initiative aims to provide residents in the low-cost flats with the opportunity to grow edible plants and provide fresh produce to vulnerable group in the community. The contribution includes polybags, soil and various vegetable seedlings such as brinjal, Brazilian spinach, broccoli and mustard greens, among others.
7-Eleven Malaysia's General Manager of Marketing, Ronan Lee said: "At 7-Eleven Malaysia, we believe passionately in giving back and creating a sustainable community together. In this regard, community gardening will certainly help the residents to generate extra income by growing and supplying vegetables to the community especially when they utilise spaces and resources available for better living."
"Apart from this, we hope that the initiative can help to promote community resilience as well as building caring communities by providing temporary relief in the event of food supply disruption while allowing residents to take ownership of the surrounding environment and ultimately promotes social sustainability," concluded Lee.
Expressing his gratitude, Chairman of Mutiara Magna Community Garden, Zuredisham Zulklepli said, "We are ever thankful to 7-Eleven Malaysia for the generous participation as it means a lot to the community here. Our volunteers have been working hard to grow different types of edible plants and we are able to harvest and provide pesticide-free vegetables to the vulnerable group in the community."
"The Mutiara Magna Community Garden has, in fact, helped to sustain low-income families whose monthly incomes are affected by the current pandemic as we provided them with different types of vegetables at lower prices. Although managing community gardens require time and resources, but it is definitely very fulfilling as it develops a strong community," he added.