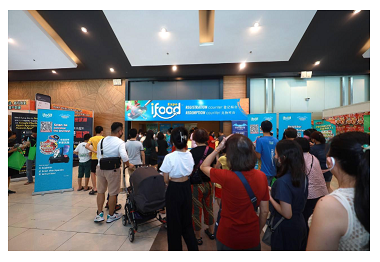 Rebates Platform Proves Itself a Digital Native With Value-Added Solutions
13 June 2022 – GETBATS, Malaysia's largest anchor company for merchant data markets and Malaysia's number one instant rebates shopping platform, has been taking the country by storm with its irresistible deals and activations. With the brands' most recent collaboration with the iFood Expo in Penang, they have demonstrated their dedication to pioneering technology advancement in the field, paving the way for accessible marketing techniques.
Entitled the 'iFood Hunter' campaign, the mechanics saw iFood Expo visitors scanning a QR code at the entrance of the fair in order to stand a chance to win up to RM5,000 in cash daily. The allure of such a grand prize enticed the visitors to register with GETBATS via the QR code, resulting in over 3,000 app downloads for the brand, and the redemption of over 1,000 prizes.
Alvin Lee, Chief Marketing Officer of GETBATS, said "Technological integration is becoming more and more vital to ensure an event is a roaring success. By incorporating creative approaches to attract consumers, we managed to consolidate a vast network of data while raising awareness for the GETBATS platform. A targeted approach to this campaign that considered generational tech preference was the key to locking in further activations, and we're glad to say that we succeeded in engaging with over 30,000 visitors in just a span of 3 days."
Brands are constantly challenged to be proactive in coming up with creative ways to influence consumers. In order to stay ahead of the competition, many are incorporating existing and emerging technologies to respond to consumer preferences and boost the industry's growth. GETBATS' goal of testing data consolidation with the iFood partnership simultaneously allowed them to measure attendee behaviour and consumption with the usage of QR codes, while split-testing live-marketing tactics to make data-driven decisions. 
"Tech innovations have fuelled our desire to promote creative projects – but ultimately, all we want to do is provide a better experience for the user," shared Alvin further. "A seamless digital experience will encourage greater adoption of our platform, and by enticing them with attractive offerings and creative tech-based approaches, they are more likely to experience GETBATS to the fullest."
The iFood Hunter campaign saw other attractive prizes up for grabs, such as a Vivo Y17 phone, Canon printers, and F&B vouchers from Starbucks and KFC. Visitors were required to register as a GEBATS user via the provided QR code, and from there, began a treasure hunt which led them to different booths scattered throughout the expo. Users then scanned QR codes at the multiple 'checkpoints' and visited the GETBATS counter to complete the treasure hunt, and be eligible for the grand prize. 
GETBATS has been consistently expanding its touch points throughout the years, and focusing on conceptualising both online and offline programmes designed to not only attract, but retain customers. This strategy has paid off well, assisting GETBATS in expanding their market reach, while bridging offline marketing to online conversions. 
Make sure to experience GETBATS' innovations at the upcoming iFood Expo at Pavilion Exhibition Hall Bukit Jalil, Kuala Lumpur, from the 1st to 3rd July. To find out more, please visit getbats.com. GETBATS is a brand owned by Starbox Rebates Sdn Bhd, which is a wholly-owned subsidiary of Starbox Holdings Berhad.