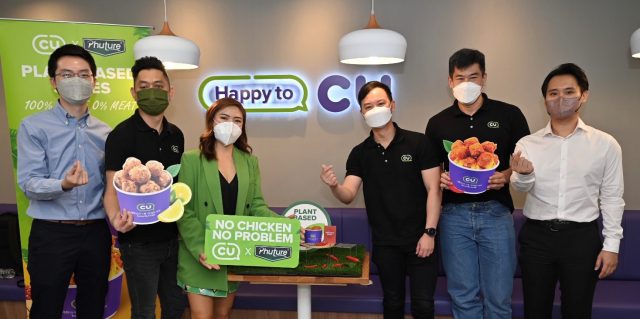 From Grand Hyatt, to KyoChon and myNEWS partner-CU Malaysia, amongst others
Confident in growth in Malaysia & region with hero product, High Fibre "Chicken"
Anabelle Co Martinent of La Juiceria Group joins Phuture
Kuala Lumpur, 16 June 2022 –  Malaysian plant-based meat company Phuture positions itself firmly in the local market through partnerships with leading brands. This comes at an apt time, as we witness spikes in food costs worldwide and the current chicken shortage in Malaysia, which have pushed restaurants and retailers to look at alternative food choices for consumers.
The chicken shortage in Malaysia reached its peak in May 2022
According to research, Asia Pacific is set to experience a 200% surge by 2025 in terms of global plant-based food and beverage consumption. In 2020, the region's potential for this market is worth US$17.1 billion, and is set to grow exponentially with concerns about food safety, food insecurity and climate change.
Founded in 2018 by Malaysian duo Jack Yap and Lim Jin Yin, Phuture's vision is to tackle growing global issues through the manufacture of nutritious, tasty plant-based products at its factory located in Klang, Selangor. The Phuture plant proteins and fibers matrix intends to mimic the texture and taste of meat with enhanced nutrition. This is achieved through a mix of plant protein, carbohydrates, fats, natural colours and flavouring, and the use of thermal processing.
Phuture has thus far secured close to RM7 million in funding from investors in Singapore and Hong Kong as proof of concept and achievement of product development. It looks to further fundraise to scale its operations beyond Malaysia. Given the current surge in demand, Phuture projects to increase its half-year performance by 100% at the end of 2022. Currently, Phuture has its footprint across Singapore, Malaysia, Hong Kong, Macau, and Thailand.
This 2022, the company is also looking to expand to the Philippines and Indonesia as the market potential is significant. Indonesia's plant-based trend maturity is set to grow at a compound annual growth rate (CAGR) of 33% and the Philippines at a CAGR of 8% according to research done by AI Palette, the world's first AI platform for leading product innovation.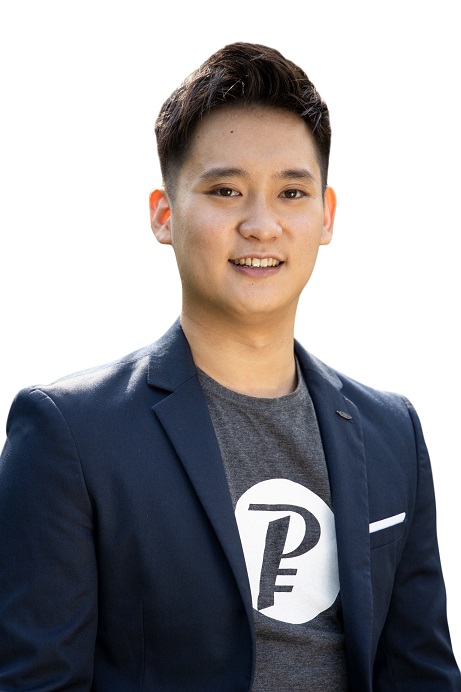 "In the last few months, we have witnessed a surge of buy-ins, winning over the confidence of reputable brands. From KyoChon, one of the largest Korean fried-chicken restaurants, to Grand Hyatt, a leading five star hotel and most recently Korea's No 1 Convenience store, CU Malaysia, who are partners of the well-known myNEWS.com chain. We are now available widely, and at an affordable price," added Yap.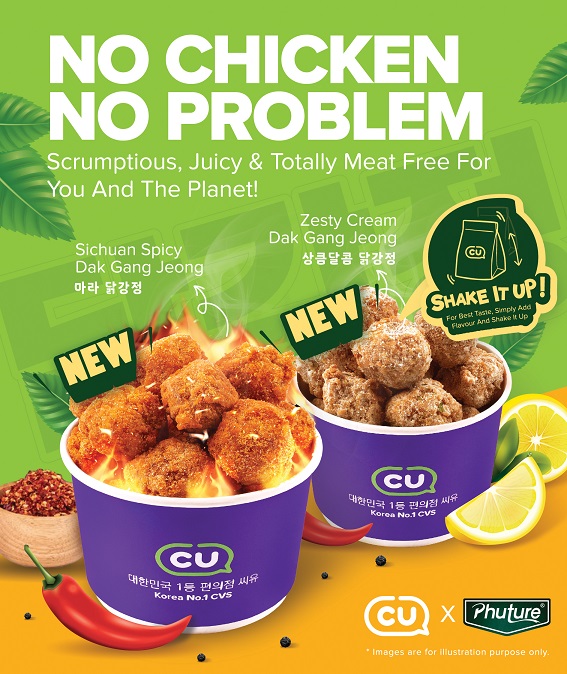 David Lee Ming Tee, Senior Fresh Food manager of CU Malaysia said "We are the first convenience store in Malaysia to offer plant-based crispy Korean fried chicken in Malaysia. At RM8.99 per meal, everyone can enjoy what was previously inaccessible to many. We plan to make this available in all 90 outlets across Malaysia."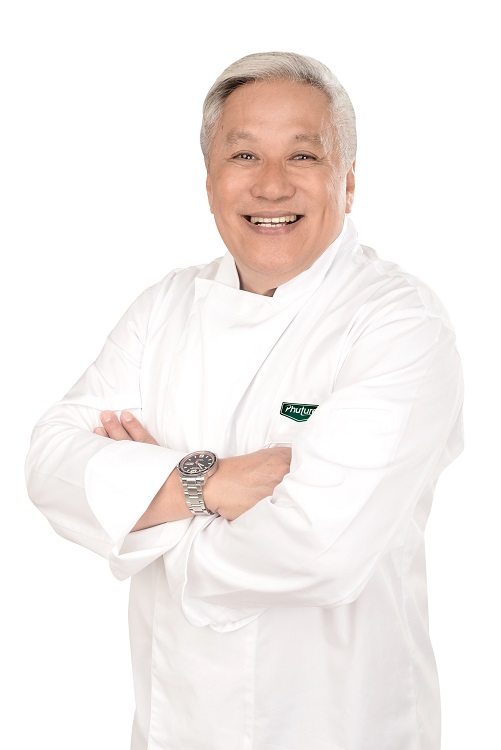 This is in line with the company's plans to expand its base and operation by capturing over 25 other major clients inclusive of hotels, reputable restaurant chains, caterers and F&B providers. Some notable names include Berjaya Times Square Hotel, La Juiceria Superfoods, ZUS Coffee, Salad Atelier, Sala KL, Fowlboys, M'Laboori by Murni Discovery, Mori Kohi and others*. It also plans to expand its Halal base with sub-brand Phuture Daging, which has the popular Chef Wan on board as a celebrity chef.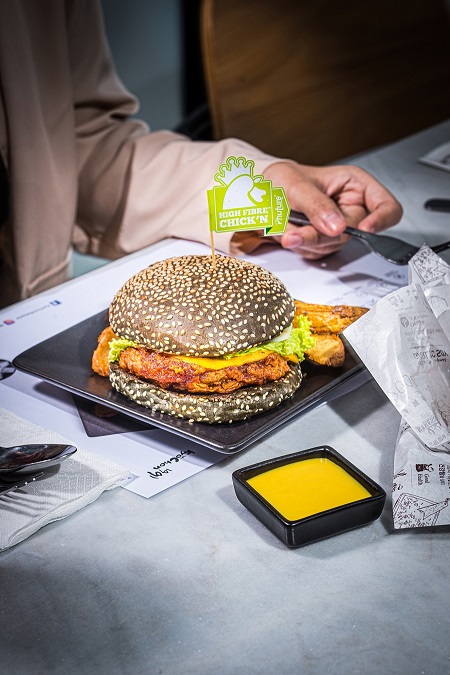 Phuture's hero product across all markets will be its high fibre chicken, given its an important element in Asia as it is an affordable, accessible and versatile type of protein. With Malaysia chalking an all time high for obesity at 50.1%, Phuture's nutritious high fibre "chicken" comes at an apt time as its recipe is made from a mix of plant protein, carbohydrates, fats, with natural colours and flavouring.
"Plant-based meats were previously not popular here in Malaysia but we are beginning to overcome perceptions with our ability to customise products according to the preference of our B2B clients. With our recent sign ups including KyoChon and CU Malaysia, we are strategically enabling Malaysians to experience plant-based meals affordably," Yap further added.
As part of its aggressive regional expansion plan, the company has recently onboarded Anabelle Co-Martinent as Chief Marketing Officer. Well known for merging her passion for health food, marketing and entrepreneurship, she is synonymous with the visionary growth of La Juiceria Superfoods group, Super Saigon and Hawker Hall restaurants.
"I'm excited to come onboard Phuture at such a pivotal moment. Post pandemic, many have realised we cannot solely rely on meat, with Covid-19 highlighting personal health, sustainability and food safety issues. My interest in food, technology and my love for marketing come together under this brand, and I hope to continue my quest in making healthy eating sustainable in Malaysia and throughout the region," added Anabelle.
Terry Goh, CEO of KyoChon Sdn Bhd said "At KyoChon, we have always believed in serving food that is enjoyable, tasty and most of all nutritious.  Plant-based options offer all of the above and are also more humane and environmentally friendly than animal sources.
"We're proud to be amongst one of the first chain restaurants in Malaysia to offer plant-based options.  We're working closely with Phuture and our research and development centre in South Korea to develop new plant-based offerings as we're targeting plant-based to grow up to 20% of our product sales mix within the next five years."
Phuture meat frozen products are currently available at outlets such as:
AEON, Jaya Grocer, Village Grocer, Ben's Independent Grocer (B.I.G), Vegan District, Ngo Grocer, The Panas Grocer, Groove Grocer (the plant-based company by TME under Grab Mart), and Phuture Shopee.
 *Phuture is also available at other reputable restaurant chains, caterers and F&B providers.
They include:
Furama Hotel, Nourish by Kenny Hills Bakers, The Hungry Tapir,
CC by Mel, Omulab, Shokudo Japanese Curry Rice, One Piece Onigirazu,
Dabao KL, Broom, Rinse KL, Superfine KL, Spargoeat, Chic'In, Hijau KL,