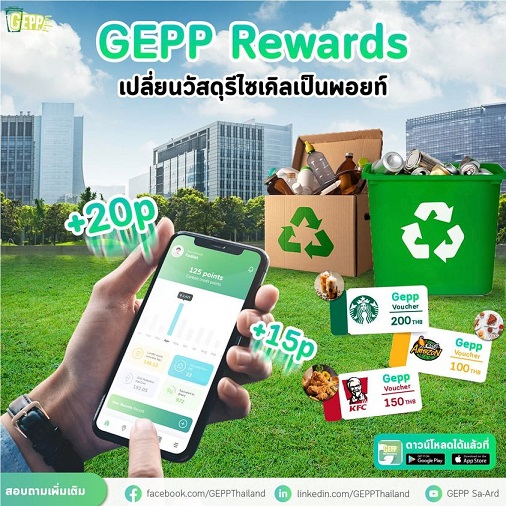 Wednesday 03 August 2022 – Indorama Ventures Public Company Limited (IVL), a global sustainable chemical producer, supported GEPP, a digital waste platform that helps manage waste collection effectively, in launching GEPP Rewards application. The application aims to help consumers dispose of recyclable waste properly while they can earn points that can be redeemed for rewards that match their lifestyle. It is also able to keep track of carbon footprint reductions contributed by individuals to increase the recycling rate, enhance Thailand's circular economy, and encourage consumers' positive change more sustainably.
Yash Lohia, Chairman of ESG Council at Indorama Ventures, said, "As the world's largest producer of recycled PET resins for beverage bottles, IVL aims to reduce the negative impact on the environment and community from inappropriate waste disposal by raising awareness on managing industrial and household waste through providing education on plastic types, proper waste separation and recycling of PET bottles. The partnership with GEPP, an organization that actively promotes proper waste management and acts as a connector between people who want to buy and sell recyclable waste, in launching the GEPP Rewards application, will help increase the recycling rate in Thailand in line with the circular economy. We expect that our collaboration will raise awareness of recycling and enhance the proper waste sorting and collecting to engage more people to create a better world through recycling and help in solving the plastic waste problem for sustainability together."
With the GEPP Rewards application, users can start by downloading, installing, registering, searching for nearby recycling shops or drop-off points to handover recyclable waste, and then recording their collection data. The program will calculate the positive impact, for example, the amount of carbon footprint reduction, and grant points that can be redeemed for rewards of choice. It is expected that the application can reach over 1,300 recycling shops, achieve more than 10,000 user downloads, and collect PET post-consumer bottles at least three tons within eight months of the campaign.
Mayuree Aroonwaranon, Co-Founder and CEO of GEPP, said, "GEPP currently plays its role in waste data management, which is a crucial factor in driving the circular economy in actions. We developd the GEPP Rewards application to facilitate and incentivize sorting of recyclable materials by easily starting at your consumers' homes. The increasing public contribution will help reduce waste to landfills as well as carbon footprint emissions. With the app, consumers can earn points and redeem them for rewards, for example, movie tickets, vouchers from leading department stores, and others. In addition, the application will help expand the recycling partnership network to the new targets. We trust that the collaboration with IVL is a driving force in solving the waste management problem in Thailand, while encouraging Thai people to be aware and participate more in separating recyclable materials."
For those who are interested in helping recycling with IVL and GEPP, please download the GEPP Rewards application on IOS or Android