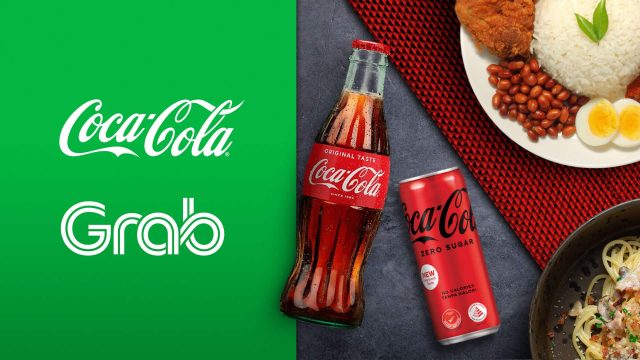 Partnership combines Coca-Cola's extensive offline presence with Grab's large online network to unlock new growth opportunities
Six-market partnership supports Coca-Cola's business model transformation for a digital age
SINGAPORE, August 18, 2022 – Leading beverage company Coca-Cola and Grab, Southeast Asia's leading superapp, today announced an integrated regional partnership that will build on Coca-Cola's extensive offline retail presence and Grab's large online network to unlock growth opportunities in a booming digital consumer market.
Both companies will also collaborate on impact initiatives to accelerate digital skilling for merchants and promote convenience and an array of beverage choices for consumers.
"At Coca-Cola, we are transforming our business model for the digital age. This new multi-market partnership extends our online reach and enables us to stay ahead of changing shopper trends as we drive customer value and growth through digital enablement. We are thrilled to be collaborating with a forward-thinking company like Grab and we look forward to working closely to build new consumer connections and offer a new level of convenience to digital consumers in the region," said Sam Way, Head of Offline to Online, Coca-Cola ASEAN & South Pacific.
"We are very excited to be Coca-Cola's preferred partner in Southeast Asia. This partnership also reflects our shared commitment to support merchants to further grow their business through digitalisation and financial services. By enabling them to capture new and unmet consumer demand, we enable them to provide better services to our users. This in turn strengthens brand love for Grab and Coca-Cola," added Saad Ahmed, Regional Head of Merchant, Grab.
The landmark partnership spans six Southeast Asian countries including Singapore, Indonesia, Malaysia, Thailand[1], the Philippines and Vietnam. It centers on four strategic pillars:
Growing with merchants through GrabFood and GrabMart
The at-home consumption trend continues to see strong growth in Southeast Asia, driven by deepening usage of food and grocery delivery services among consumers. To enable more merchants to ride on this trend, Coca-Cola plans to assist retailers within its distribution network to set up digital storefronts on GrabFood and GrabMart so that they too can market and sell their products to Grab's large digital consumer base.Grab also plans to support interested merchants on its platform to become distributors of Coca-Cola, expanding their product offerings and increasing their sales opportunities. Both companies will also offer digital literacy and e-commerce training to enable merchants to upskill and further optimize their business for growth.
Engaging consumers in refreshing ways through GrabAds
Grab's superapp advertising capabilities offer exciting new ways for Coca-Cola to connect and engage with consumers and drive sales back to merchant-partners.For example, Coca-Cola is now running an exclusive, multi-market "Treat Nights" campaign on Grab across Indonesia, Singapore, Malaysia, the Philippines and Vietnam. Through a mix of offline advertising on the Grab fleet, online advertising in the Grab app, gamification, and product sampling, Coca-Cola is building more purchasing occasions with consumers to grow demand for home consumption of its beverages.
Enhancing support for small, traditional merchants through digitalisation
Coca-Cola plans to leverage Grab's platform solutions such as GrabExpress to address supply chain inefficiencies, and GrabPay in-store cashless payment to support small business digitalisation and growth. Digitalising in-store payments for small businesses will provide Coca-Cola with robust, near real-time insights to forecast beverage sales trends, restock shelves quickly via GrabExpress, and find growth opportunities for merchants.
Using our combined scale to do good in Southeast Asia
Grab and Coca-Cola are committed to drive digital-skilling for underserved businesses. Coca-Cola will also tap into Grab's merchant-partner network and scale to drive trials of zero-sugar beverages to make it easier for consumers in the region to choose the beverages that fit their needs.
[1] Partnership covers all areas except GrabFood in Thailand in 2022