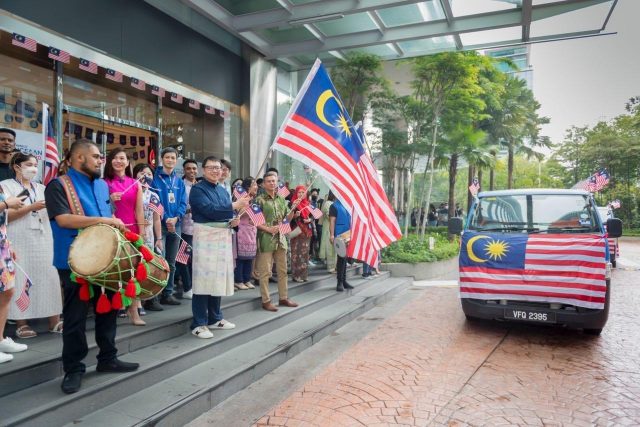 Budget-friendly deals by local sellers
Highlights unique homegrown brands
Recognising Top Performing Sellers and Most Engaging Sellers during
Lazada's Merdeka and Malaysia Day engagement
25 August 2022, Kuala Lumpur – In the spirit of Merdeka and Malaysia Boleh, Lazada's Jualan Merdeka and Kempen Beli Barangan Malaysia (KBBM) are back again with fantastic deals* for Malaysian consumers, as Southeast Asia's pioneer eCommerce platform encourages consumers to buy local and support homegrown brands. The campaigns are in support of initiatives driven by the Ministry of Domestic Trade and Consumer Affairs (KPDNHEP).
Speaking at Lazada's Merdeka and Malaysia Day themed engagement, Alan Chan, CEO of Lazada Malaysia said, "Lazada Malaysia is honoured to collaborate with the Ministry of Domestic Trade and Consumer Affairs (KPDNHEP) and the Ministry of Communications and Multimedia (K-KOMM), in  supporting government initiatives to spur the recovery of the domestic economy, while celebrating Hari Kemerdekaan and Hari Malaysia together with the local community. Through locally relevant initiatives such as the Jualan Merdeka and Kempen Beli Barangan Malaysia that have gained a strong following, we are very optimistic about the positive impact that it will bring to thousands of participating local businesses. It will also foster greater confidence in local businesses while making it very easy for consumers to buy quality 'Made in Malaysia' products at affordable price points. Lazada will keep on innovating to help local businesses grow and achieve more success in digital commerce."
Alan Chan, CEO of Lazada Malaysia (middle) initiating the special flag-off of Lazada Malaysia logistics vans decked out with Jalur Gemilang flags to celebrate upcoming Merdeka and Malaysia Day.
Held at Lazada Visitor Center in Bangsar South on 25 August 2022, the Merdeka and Malaysia-themed engagement was organised in support of the national unity themed celebration initiated by the Ministry of Communications and Multimedia (K-KOMM). The hybrid event was hosted in person and via live stream, with more than 800 employees from Lazada Malaysia. Negaraku national anthem was proudly sang by Lazada Malaysia employees and guests at the special event and the patriotic tune echoed strongly across the vicinity, followed by a symbolic flag-off of the Lazada logistics blue vans that were decked out with the Jalur Gemilang flags. Lazada also recognised several inspiring Malaysian sellers and online stores during the Kita Kita Lazada Seller Recognition Ceremony.
Top Performing Sellers – Lazada Marketplace sellers with high GMV that have consistently participated in both the commercial campaigns and government-driven campaigns.
Most Engaging Sellers – Lazada Marketplace sellers that have actively contributed towards the local seller's community, motivating fellow sellers, as well as supporting seller's engagement initiatives.
Abdul Fayyadh Affan
Mok Chee How
Ling Sing Thai
The Chun Kai
Qiu Xuan Teh
Poh Lee Yeo
Jacquelyn Sow Soon Wei
Ang Lay Sia
Sapot Lokal x Kempen Beli Barangan Malaysia (KBBM) : 25 August – 31 December 2022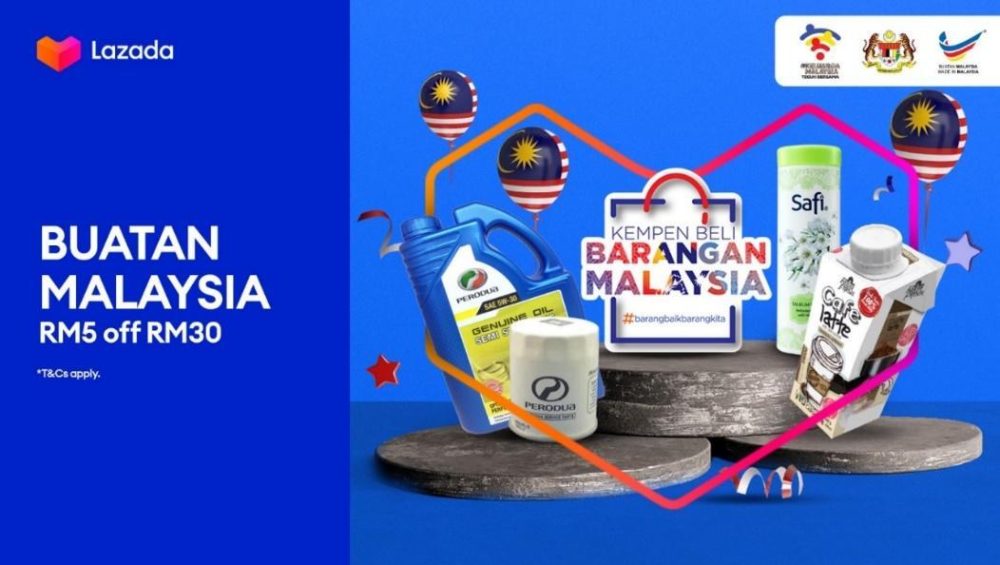 Lazada is home to thousands of Malaysian sellers that are committed to connect with local customers by offering budget-friendly products in various categories. Local sellers such as Pokoktua Pallethouz, Beolicious, 724 ROCKS, KOMIC, Eit Store, ShopWithJoy, Asia Ecomart, Utharsh Designers, Big Care Mart, Niz Craft, Caring Moms, Bambamtots, Pastelbutik, DoraeMii, Pharm Suisse, GAIAS Bedding & Bath, R Pharmacy, Joey Mattress, Kasih Store, Swokii Direct Store, IMOU, Stickerrific, BKS.os, and many more, are striving to grow their businesses on the online marketplace and these campaigns will create greater visibility for them. On top of that, Lazada also provides a platform for a many homegrown brands including, Farm Fresh, Fazbulous by Fazura, Loka Made, Signature Market, The Hive Zero Waste Store, Nutribah, Batik Boutique, Siti Khadijah, Zaahara, The Skinny Bakers, Safi and many more.
Lazada is fully supportive of KPDNHEP effort in driving the digital commerce activity to further promote Kempen Beli Barangan Malaysia (KBBM), as this will contribute towards KBBM's objective of accelerating the growth of the local economy via domestic consumption. It also aims to highlight the commercial value of Malaysian-made products, while creating greater interests, appreciation and a sense of pride among the public in Made in Malaysia products.
Customers can find out more about exciting offers under Kempen Beli Barangan Malaysia by clicking on the 'Sapot Lokal' icon on Lazada. Shoppers also get to redeem *Free Shipping vouchers worth RM6 with a minimum spend of RM30, and RM5 off vouchers with a minimum spend of RM30.
*Terms and conditions apply.
Jualan Merdeka : 29 – 31 August 2022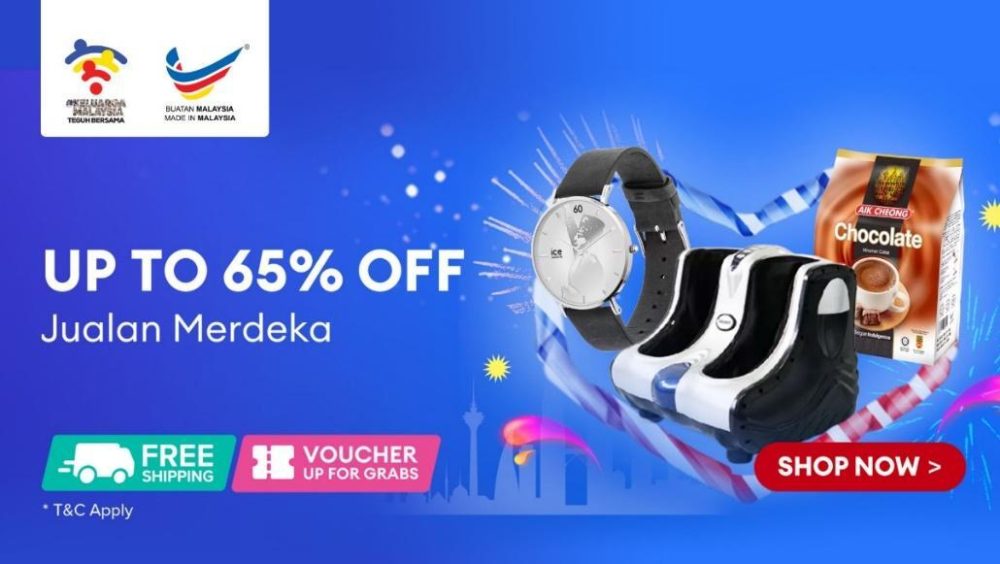 Add to cart your wish list items and grab bigger savings when you shop on Lazada during the Jualan Merdeka. Enjoy special promotions such as, *50% off vouchers, discount up to *65% for selected items, and limited time *Free Shipping from 12.00 pm to 2.00 pm. Just make sure you go to the Free Shipping Page, Voucher Page and Daily Giveaway to collect as many vouchers and rewards as you can. Local consumers could also enjoy exclusive deals from many sellers and brands, including Petronas e-voucher at a special price.
*Terms and conditions apply.