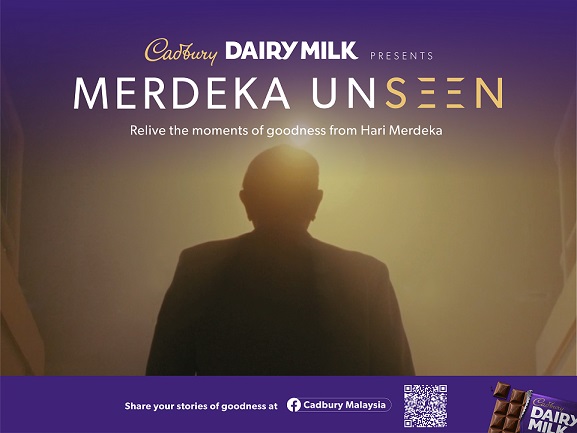 Looking to rekindle the spirit of Merdeka, Cadbury urges Malaysians to dig deep and unearth the goodness in their own Merdeka Unseen moments.
KUALA LUMPUR, 26 August 2022 – Tunku Abdul Rahman's speech has always been at the forefront of every Merdeka; ever since the declaration of independence. While most Malaysians only associate Merdeka with his speech, there are many Merdeka stories that are unseen by many. Celebrating 65 years of independence with Malaysians, Cadbury recently released Merdeka Unseen, a feature film that looks to uncover and shine the spotlight on these stories to inspire Malaysians to view and celebrate Merdeka from a different perspective.
The short film hopes to help Malaysians reconnect with the spirit of Merdeka by taking viewers on a trip down memory lane, peering through the lenses of Johan's eyes. Johan, who was a mere child during the momentous day in 1957, tells his story of Merdeka day from his point of view in the stands of Dataran Merdeka where he vividly remembers the spirit of generosity he witnessed amongst the stands, and where recalled the warm memory of Malaysians having each others' backs.
"Cadbury grounded its roots here in Malaysia as early as 1905 and we've been creating and sharing memorable moments with chocolates that continue to melt the hearts of many for over a century. We've come a long way and we're truly proud and honoured for being able to be a part of the historic day back in 1957 alongside Malaysians and now celebrating 65 years of Malaysia.
We've always believed in the spirit of generosity here at Cadbury, and with Johan's story, we hope to remind Malaysians about the essence of Merdeka. This Merdeka, I urge every Malaysian to look for the goodness in the multitudes of unseen stories fellow Malaysians have to share, and take the time to reconnect and seek the meaning of Merdeka," said Arpan Sur, Director of Marketing for Malaysia, Singapore and AMEA Exports.
Cadbury is rallying Malaysians to share their unwitnessed moments of goodness from Merdeka, in a bid to rekindle the love and appreciation for Merdeka while reminding Malaysians young and old to not lose sight of the Malaysian values that have built us to become who we are today.
So, this 65th Merdeka, come together and perpetuate the spirit of generosity by reaching out to the people around you to seek and uncover their many hidden stories. Share your stories with the hashtag #CadburyMerdekaUnseen and tag @CadburyMalaysia on Facebook and @Cadbury_Malaysia on Instagram.
For more information on Cadbury Dairy Milk Malaysia and Merdeka Unseen, do check out the Facebook page at https://www.facebook.com/CadburyMalaysia.