SHAH ALAM, September 14, 2022- Fishes such as tuna and saba have long been part of the Malaysian diet. These versatile, nutritious, and delicious fishes are prepared in various ways by different ethnic groups, always with the reminder to eat more fish because it is good for you.
Ayam Brand™, a household name in Malaysia and Asia for 130 years, famed for its wide range of quality and healthy canned food that are preservative free and contain no added MSG, is celebrating Malaysia with their tuna and saba favorites in the month of September.
Why add tuna and saba to your diet?
Omega-3, a type of fatty acid cannot be synthesized in our bodies but is required for maintenance of optimal health. This includes brain growth and development in children[1], heart-protective benefits[2] such as helping to lower blood pressure, reduce triglycerides, slow the development of plaque in arteries, reduce the chance of abnormal heart rhythm and reduce the likelihood of heart attack and stroke[3], improve eye health, fight anxiety and depression, promote brain health during pregnancy and early life, reduce symptoms of ADHD in children, fight age-related mental decline and Alzheimer's disease, and can alleviate menstrual pain[4].
Ayam Brand™ Tuna and Ayam Brand™ Saba are rich in omega-3, providing a deliciously convenient and easy way to add health to your diet and to your family's diet. Young, active, mature or expecting, regular consumption of foods high in omega-3 can help build a stronger and healthier nation.
Ayam Brand™ has curated a list of easy recipes from different local cuisines that you can try out as we celebrate Malaysian nationhood through food!
These recipes feature Ayam Brand™ Tuna Chunks In Olive Oil Light, Ayam Brand™ Saba Chilli, Ayam Brand™ Tuna Light Flakes In Water and Ayam Brand™ Chilli Tuna as used in Malay, Chinese, Indian and traditional cuisine.
Nasi Lemak Sambal Tuna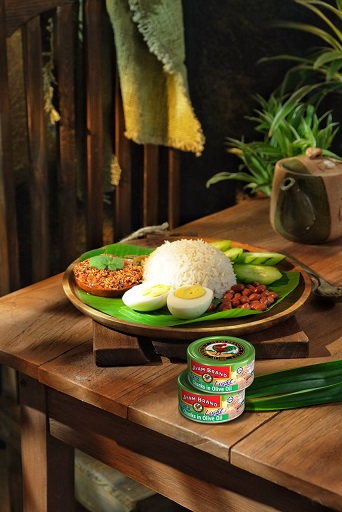 Nasi Lemak is the Malaysian national dish. Every family has a version of it. Make it healthier using Ayam Brand™ Tuna for an omega-3 packed sambal. Here's how:
To prepare the sambal paste, grind onion, garlic, chili paste, ginger, and water. Open two cans of Ayam Brand™ Tuna Chunks In Olive Oil Light, pour the olive oil into a heated fry pan. Top up with some cooking oil if required. Sauté the sambal paste in this fragrant oil for five minutes. Add sugar and salt to taste, and the lemongrass. Then add the reserved tuna chunks, allow to cook down until it achieves the desired consistency.
For even more convenience, take the guesswork out of cooking nasi lemak by using Ayam Brand™ Coconut Milk.
Serve the sambal tuna with the nasi lemak. Add sliced cucumber, hardboiled egg, fried anchovies and fried peanuts for the full nasi lemak experience.
Prep time: 15 minutes, cook time: 25 minutes, serves: 4 pax
Saba Peratal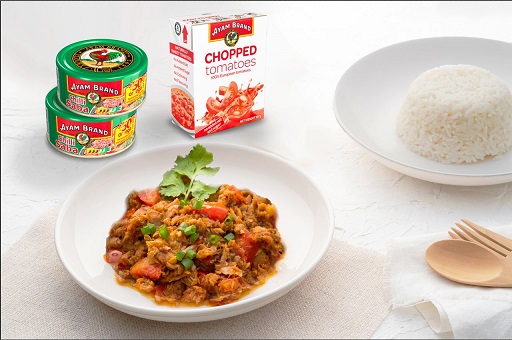 Peratal or dry Indian curry has a thick, concentrated gravy as no liquid is added during the cooking process. It is a favorite in most Indian households, and at banana leaf restaurants too. Increase your omega-3 intake with this extra-spicy, super easy saba peratal.
Heat oil in a pan, sauté onion and garlic until fragrant. Add Ayam Brand™ Chopped Tomatoes, salt, curry leaves, cumin powder and coriander powder. Simmer until the tomatoes soften, forming a sauce. Add Ayam Brand™ Saba Chilli and stir on medium heat until well-coated.
Saba peratal tastes even better with a squeeze of lemon or lime juice, garnished with coriander. Serve hot with rice or rotis such as chapati.
Prep time: 10 minutes, cook time: 20 minutes, serves: 4 pax
Tuna Wonton Soup
Wonton soup is comfort food for everyday. Add the nutritional benefits of omega-3 to your next wonton soup by switching up tuna for meat.
Tuna dumplings are easy to prepare. Drain the Ayam Brand™ Tuna Light Flakes In Water then mix well with pepper, salt, sesame oil and finely sliced spring onion. Add one tablespoon of this delicious filling in the middle of the wonton skin – seal with a little water. Gently add the wontons into hot water, stir and fish them out when they float to the surface.
 Serve tuna wonton with a simple soup and noodles. To elevate the dish, add on steamed pak choy and a dash of onion oil or garlic oil.
Prep time: 15 minutes, cook time: 25 minutes, serves: 4 pax
Ubi Rebus with Sambal Chilli Tuna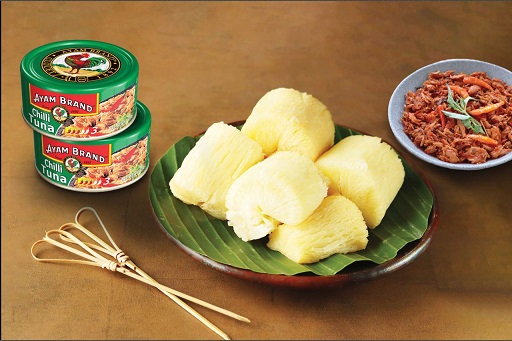 Ubi rebus or boiled tapioca is a favorite across the board especially for those of us who grew up in kampung. While it can be a served as a sweet dessert, the kick to this hearty dish is the accompanying savoury sambal. Make your nostalgic Malaysian favorite healthier with omega-3 rich Ayam Brand™ Chilli Tuna.
Wash and peel the tapioca. Cut it into 5 centimeter pieces.  In a pot, boil salted water. Add the tapioca and boil for 30 minutes. Remove with a slotted spoon.
Serve with Ayam Brand™ Chilli Tuna as the dip. Spice it up further by adding finely chopped onions, chilli padi and coriander to dip. Finish with a squeeze of lime or lemon.
Prep time: 7 minutes, cook time: 20 minutes, serves: 4 pax
Ayam Brand™ products are widely available from Aeon Big, Giant, Cold Storage, Jaya Grocer, Village Grocer, Bens, Hero, Mydin, TF Value, The Store/Pacific, Econsave, Matahari or visit the Ayam Brand™ Official stores on Shopee and Lazada.
Get a practical and useful limited edition Ayam Brand tote bag for free with RM30 purchase of Ayam Brand or yumeat products at selected outlets. Take a photograph of yourself using this tote bag, post it to social media with your most creative caption using the hashtag #Ayam130Tahun and DM your receipt to Ayam Brand Malaysia's Instagram to be in the running to win RM30 e-Wallet credits. Contest runs from September to October, so hurry.
There's more in store from Ayam Brand! Look out for the concourse activation at Sunway Pyramid (Orange Atrium) from 2nd to 6th November 2022 for a host of exciting activities.
Find all these recipes at this link (https://docs.google.com/document/d/1F6qrbrXB
sOvL_2HBDqBO1QiC4H0xprfIEOf8rRZUsVc/edit?usp=sharing)(use a Gmail account to access) and for more recipes, visit www.ayambrand.com.my
[1] https://pubmed.ncbi.nlm.nih.gov/15812120/
[2] https://www.webmd.com/hypertension-high-blood-pressure/guide/omega-3-fish-oil-supplements-for-high-blood-pressure
[3] https://www.webmd.com/hypertension-high-blood-pressure/guide/omega-3-fish-oil-supplements-for-high-blood-pressure
[4] https://www.healthline.com/nutrition/17-health-benefits-of-omega-3#TOC_TITLE_HDR_16