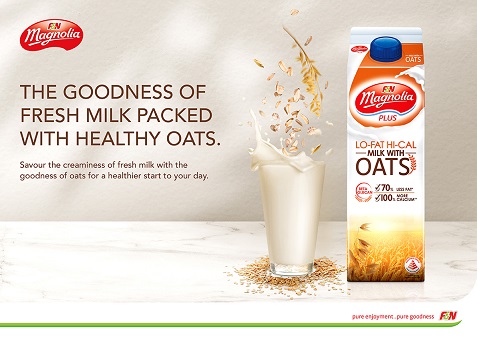 Made with fresh milk that has 70% less fat and 100% more calcium
Singapore, 27 September 2022   –  With the return of the highly sought-after MAGNOLIA PLUS Lo-Fat Hi-Cal Milk with Oats, MAGNOLIA fans can now kickstart their productive day with a simple yet wholesome breakfast. This deliciously creamy beverage containing oats is made with fresh milk and has 70% less fat and 100% more calcium than regular whole milk. Oats are also packed with many important vitamins, minerals, fibre, and antioxidants1.
According to Healthhub.sg, fibre is an important nutrient for a healthy and balanced diet. Dietary fibre is derived from plants and it provides the human body with plenty of benefits such as regulating bowel movements, controlling blood sugar levels, and lowering cholesterol levels which may lead to a lower risk of heart diseases. Dietary fibre may also serve to help maintain a healthier weight as the bulk from fibre keeps the body feeling fuller longer and prevents overeating2.
MAGNOLIA PLUS Lo-Fat Hi-Cal Milk with Oats contains beta-glucan, a type of soluble dietary fibre found mainly in grains like oats and barley which has shown positive effects on heart health, cholesterol levels, immunity, and blood sugar levels3.
Beta-glucan has been proven to lower the levels of total and LDL cholesterol in a person's blood which helps lower the risk of heart diseases3. It also plays an imperative role in the regulation of blood sugar and insulin levels, which may help improve blood sugar management for people with type 2 diabetes4.
The invigorating MAGNOLIA PLUS Lo-Fat Hi-Cal Milk with Oats carries the Healthier Choice Symbol accorded by the Health Promotion Board (HPB) and is Halal-certified. It is available at most supermarkets, hypermarkets, participating retail outlets, and e-commerce platforms with a Recommended Selling Price (RSP) of S$3.50 for a 946ml pack. For more information, please visit www.magnolia.com.sg.
Footnotes:
1Rasane, P., et al. (2015). Nutritional advantages of oats and opportunities for its processing as value added foods – a review. J Food Sci Technol., 52(2), 662–675.
 2High Fibre for a Fit and Fabulous You. Healthhub.sg, Ministry of Health: https://www.healthhub.sg/live-healthy/1049/more-fibre-for-a-fit-and-fabulous-you
 3Sima, P., Vannucci, L., & Vetvicka, V. (2018). β-glucans and cholesterol (Review). Int J Mol Med., 41, 1799-1808.
 4Shen, X. L., et al. (2016). Effect of Oat β-Glucan Intake on Glycaemic Control and Insulin Sensitivity of Diabetic Patients: A Meta-Analysis of Randomized Controlled Trials. Nutrients, 8(1), 39.