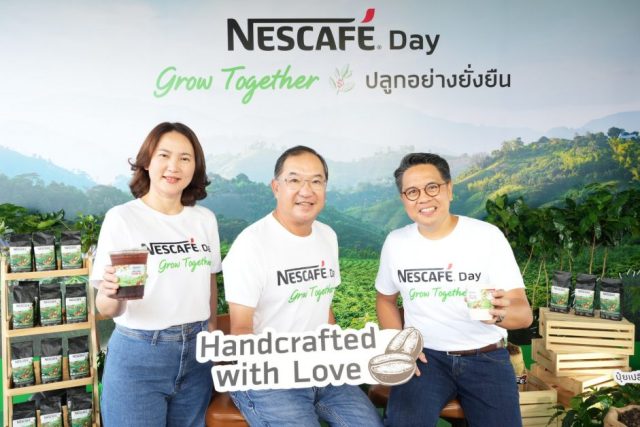 Monday 26 September 2022 – As October 1 marks International Coffee Day this year, NESCAFE is holding the "NESCAFE Day Grow Together" campaign, inviting cafe-hoppers and Thai coffee lovers to celebrate International Coffee Day with the launch of new "NESCAFE Single Origin Chiang Rai." It's made from 100% Arabica coffee beans handcrafted with love and dedication in every step. Coffee lovers are invited to enjoy four special beverage menu items which will be available at NESCAFE Street Cafe nationwide from October 1 onwards.
Limited-edition NESCAFE Single Origin Chiang Rai, the pride of Thai coffee farmers, is the result of decades of great work under the NESCAFE Plan global sustainability initiative, which supports Thai coffee farmers in creating a more sustainable future for Thailand's coffee sector using NESCAFE's heritage, scale, and reach to improve their livelihoods. Regenerative agricultural practices are at the heart of the NESCAFE Plan to promote sustainable growth for Thailand's coffee sector while protecting and restoring the environment.
Mr. Jojo Dela Cruz, Business Executive Officer – Coffee and Creamer Business Unit, Nestle (Thai) Ltd., said, "We strongly believe that everyone in the world deserves a great cup of coffee. A small cup of coffee has much more power than we think. A cup of coffee can be a catalyst for big change, playing a meaningful role that can enhance people's lives, because 'Every Small Bean Can Make a Big Impact.' Behind our quality coffee, there are always dedicated coffee growers. This is why, every year on October 1, we celebrate International Coffee Day, which we also call NESCAFE Day."
NESCAFE Single Origin Chiang Rai is outstanding both in taste and touch. By delivering a great balanced taste of fruity notes of grapefruit, citrus, and caramel, light-to-medium roasted, it's ideal for coffee lovers who are seeking complex flavors and touches in a coffee that is easy to drink and well-balanced.
Cafe hoppers should not miss out! Indulge yourself with four specialty menu items crafted by baristas who put their hearts into it at NESCAFE Street Cafe. These items include Signature Hot Drip: Delicate drip coffee that distinctively shows off the character of the quality Arabica beans, offering juicy fruity notes and a lasting soft aroma of caramel; Supreme Black: Premium iced Americano with a well-balanced refreshing citrus flavor and intense aroma with a hint of caramel; Mellow White: A meticulously crafted iced latte served as a cold shake to elevate the perfect blend of flavor and the sweetness of a unique homemade brown sugar sauce; and Dirty: Milk coffee served in separate layers, with special-formula cold milk topped off with a strong shot of coffee called Ristretto that delivers a unique, great taste.
Prices for the limited-edition NESCAFE Single Origin Chiang Rai menu items are Signature Hot Drip at 75 baht, Supreme Black at 75 baht, Mellow White at 75 baht, and Dirty at 80 baht. They are available from October 1 until December 31, 2022, at participating NESCAFE Street Cafe nationwide. Coffee lovers who are interested in making these menu items at home can purchase NESCAFE Single Origin Chiang Rai coffee beans in a 500-gram pouch for 490 baht or order it online via Panda Mart. For this special NESCAFE Day, NESCAFE is offering bags of "Coffee Pulp Compost" made specially by coffee farmers in Chiang Rai from October 1, 2022, onwards. Supplies are limited while stock lasts.